Welcome to the first post in an ongoing series to get the word out that CA State Parks Matter! Regular readers know I believe parks should not close. Cindy Crawford runs CAOpenSpace.org which is a photo journal website of California's outdoor spaces. She's recently taken a very active role in the Save McGrath State Beach community. She's just a regular California resident doing something to help save the parks. I asked Cindy to write a guest post about why she thinks closing the parks is a bad idea:
California State Parks are important to us in many ways.
They generate revenue for the state, for every dollar put into State Parks $2.35 is returned to the General Fund. A State Park's visitors contribute to its local economy, it is estimated every visitor spends up to $58 at nearby businesses. And the list goes on.
But most importantly State Parks are places family and friends can gather and spend quality time outdoors in nature. Our State Historical Parks are our heritage, places we can take our children to learn about our state history, to experience it firsthand rather than just in classroom.
As I walk through a State Park I see people walking, hiking or jogging, often with their children. Some gather to look at a native plant or an animal, taking pictures. Others just relax on a bench with a gorgeous view. I see children joining educational activities with the campground host. And, of course, always people laughing and talking around the campfire.
I spent a lot of time at state parks and beaches with my children as they were growing up, some of my best memories. I'd pack up my sons and all their friends and take them camping, just me and the kids. At the State Beach near my neighborhood my children and I could always find people we knew. We could walk the beach and meet up with neighbors and friends, stop for a game of family Frisbee or just good conversation while watching our kids play in the surf. Many good times, which I hope families in the future can also experience.
But as the population in California increases, the number of parks is now decreasing which will lead to fewer opportunities for families to get outdoors. For example, when McGrath State Beach in Ventura closes this September, 300,000 Southern California beach campers have to find another beach for camping. And when you add the number of State Parks visitors from the other 69 parks closing that is a lot of people looking for another place to go…and then factor in population growth. What will be the impact of this to us? The last thing we need in California is fewer state parks!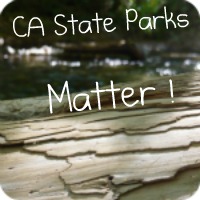 Visit my California State Parks Matter! Resource page to learn more
Subscribe to our State Parks Vlogs email list