Adventure Play Park at Sendero Field in Rancho Mission Viejo is right outside San Juan Capistrano off Ortega Highway.
This intersection of Ortega Highway and Antonio Parkway/La Pata has changed so much from the wild space it used to be. For me, it was a gateway to Caspers Wilderness Park and a place for getting away from it all. The housing now goes on for as far as your eye can see.
In the midst of it all is this pretty awesome community park. If you live here, you can get some enjoyment out of this park and the programs put on by the Reserve at Rancho Mission Viejo.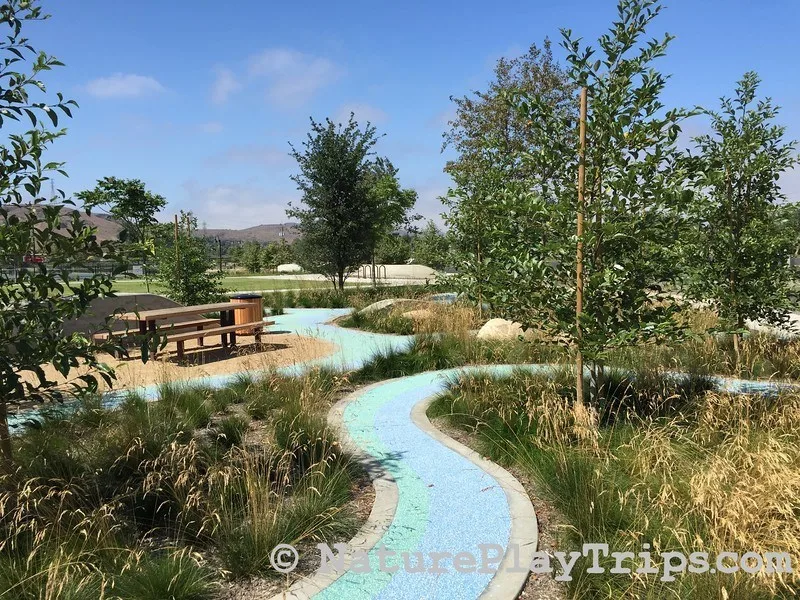 How to Get to Adventure Play Park and Sendero Field
The entrance to Sendero Field is off of Ortega Highway. However, it's a little tricky to navigate!
If you are coming on Ortega Highway from San Juan Capistrano, you cannot turn left into the entrance – and you cannot make a U-turn at the light. Instead, you have to travel ACROSS Antonio Parkway/La Pata to make a U-turn at the next light. That will get you on the correct side of Ortega Highway for the right turn (in this direction) into the parking lot.
Otherwise, you can take Crown Valley Parkway all the way to a right onto Antonio Parkway – and make another right when you get to Ortega Highway, which will put you on the correct side. Note: The park is not actually on the map yet, although construction is visible in satellite view. MAP TO ADVENTURE PLAY PARK AND SENDERO FIELD IN RANCHO MISSION VIEJO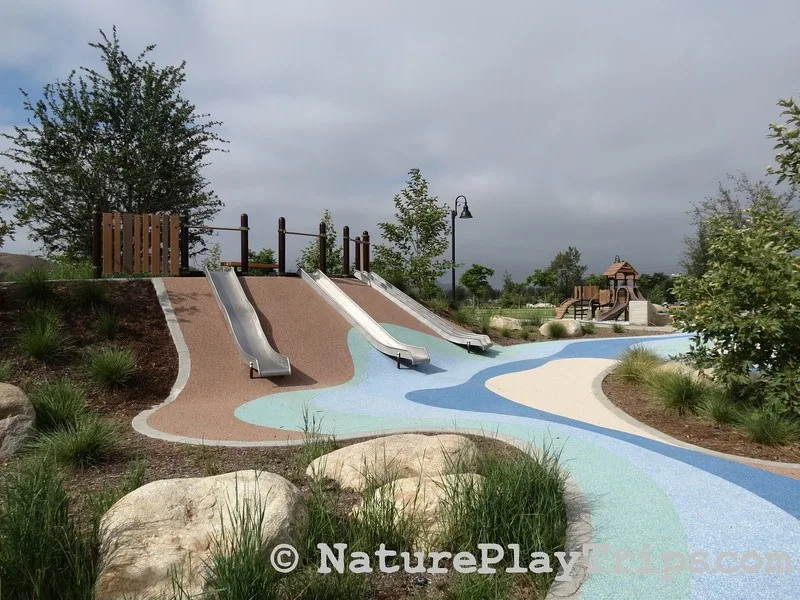 Highlights:
They call this a "nature-inspired" playground and the entry area with the long grasses and blue pathways make it feel that way.
There is a wide sidewalk and nature biking path nearby – take a stroll and look for lizards, turkey vultures, swallows, and nests in the sycamores.
Kids will love the balance beams, rock climbing and "spiderweb" rope ladders, and the toadstools for balancing near the hollow log tunnel.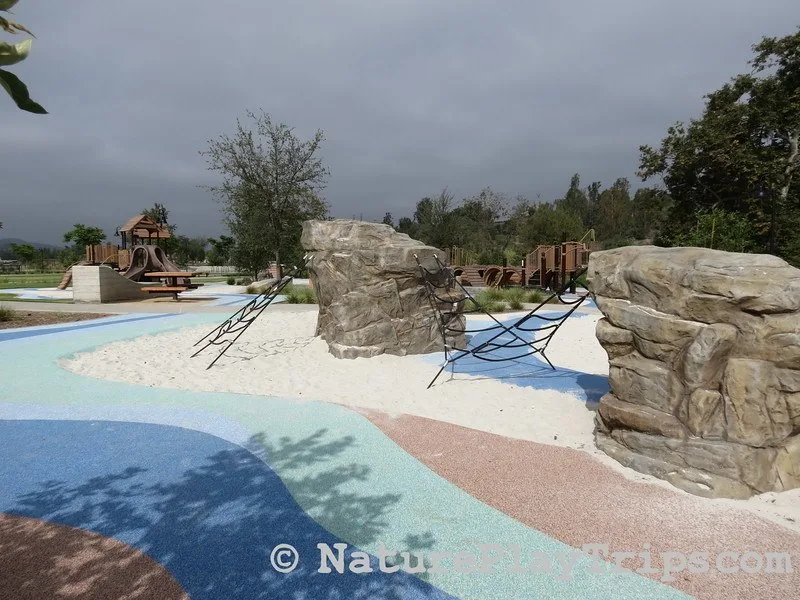 My favorite is the bumpy-tunnel-ladder-arches like in the featured photo at the top of this post. I've never seen these before at local parks and they are fun!
Lots and lots of lawn for sports and event lawn for gatherings.
1 baby swing, 3 bench swings
You can also walk to Starbuck's or In-N-Out through the tunnel to get to the Sendero Marketplace shops.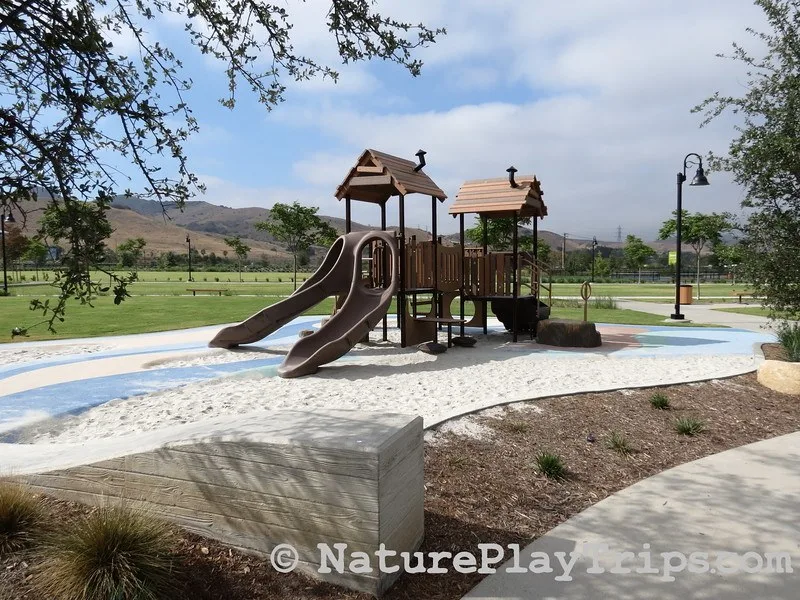 Be Aware
Don't promise this park to the kids, because it's not always accessible. The parking lot is gated and access to the park access has been impacted on the 3 times I visited. I confirmed it is open to the public, but sometimes there is maintenance work that needs to be done and a decision is made to close the gates. Pedestrian access seems to be unaffected at these times. Otherwise, I've seen security close the gates right around sunset. (A good "runner-up" playground is at Caspers Wilderness Park a little further into Ortega Highway – $3-$5 admission — or head back to San Juan Capistrano and hit the Los Rios Playground).
It's hot in the summer! The shade trees haven't matured yet. Be especially careful of the metal slides and the recycled rubber surface which can become VERY hot.
It can be slippery. Watch out for the accident-waiting-to-happen combo of sand-and-recycled-rubber or sand-and-concrete. The mom I talked to on my visit had her kids take their shoes off to avoid falls – but that's not a super safe option in a playground setting, especially when it's hot.
There are some fall points for the toddlers on some of the play structures and one of those twisty ladders that I know some moms dread.
It's somewhat wide open and you can see the kids, but because of the vegetation and rocks it would be easy to lose sight when you bring a big group of kids. Up at the top of the slides is a pretty good vantage point for supervising.
The metal slides have openings beside the slides that feel kind of steep (see photo below). If they get sandy, they'll be slippery. My friend's toddler skipped the sidewalk path around the back of the slides and scaled the hill besides the slides instead.
A little more traffic noise than most normal parks because of the proximity to the major intersection – but little kids will love seeing the dump trucks and construction equipment going by.
Checklist:
Dedicated parking lot
Play surface: sand, recycled rubber, and concrete
Plenty of picnic tables – a group clustered in the shade near the restroom building, some inside the playground, and an unshaded group past the swings along the baseball field, and a small group of shaded tables way out behind 2nd base
Restroom building right near playground
Drinking fountains outside restroom building
4 pickleball courts
1 baseball field
A couple soccer practice fields
Official website for The Reserve at Rancho Mission Viejo (guided nature programs)
Information on park hours and facilities is through the HOA at 949-625-6500 and a map of the private amenities for residents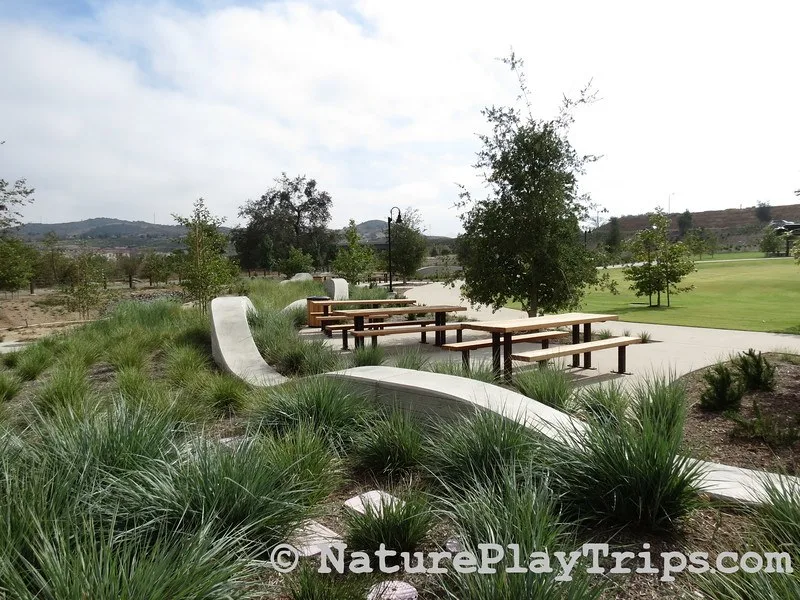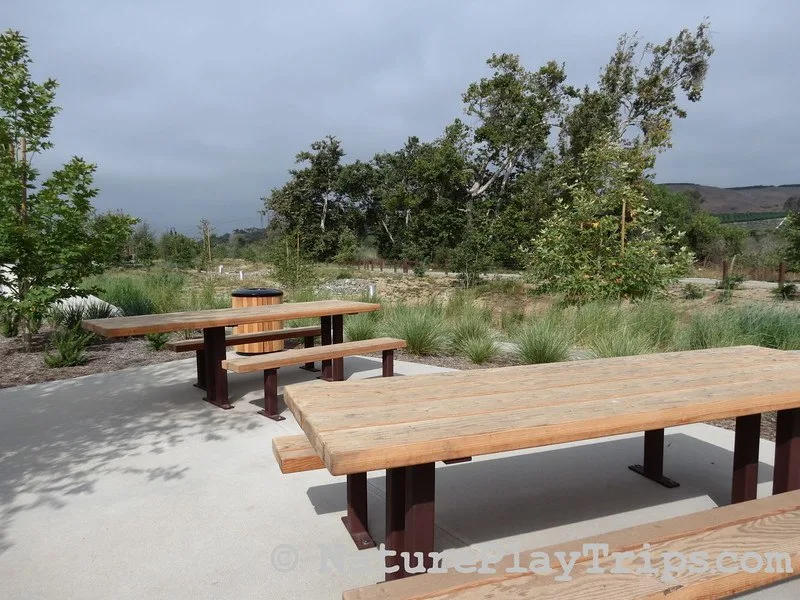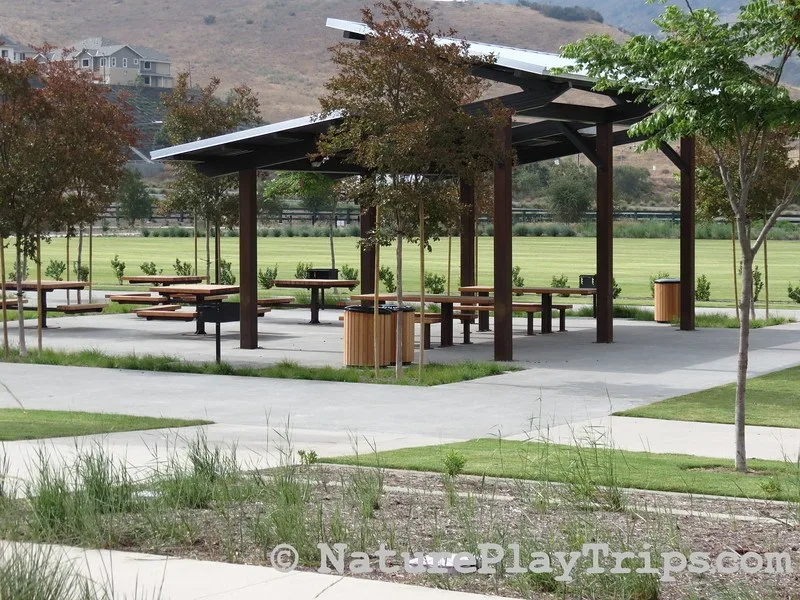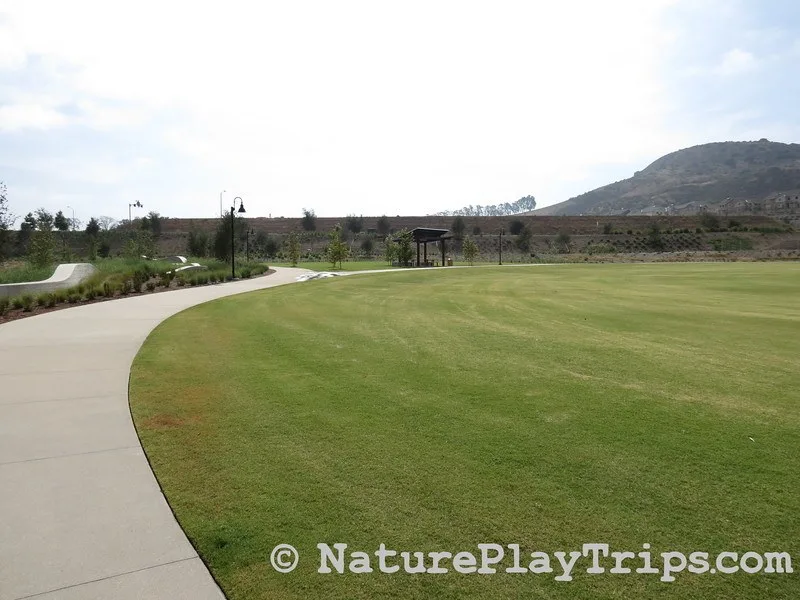 Originally published in July 2015.