Vista Verde Park in Rancho Santa Margarita is small, but shaded by a few big trees. The park's main feature is a huge baseball field. We brought our own coffee and breakfast – and tucked ourselves into the picnic area near the playground.
Directions to Vista Verde Park: I must admit that I often get lost in Rancho Santa Margarita. A good way to reach this park is to take Antonio Parkway, turn left onto Bienvenidos and another left onto Alma Aldea to get into the park. Or you can take Rancho Santa Margarita Parkway (exit Alicia Parkway in Mission Viejo from Interstate 5), turn right onto Avenida Las Flores which turns into Alma Aldea. I marked the exact location of the playground on the map to help you find it. MAP TO VISTA VERDE PARK IN RANCHO SANTA MARGARITA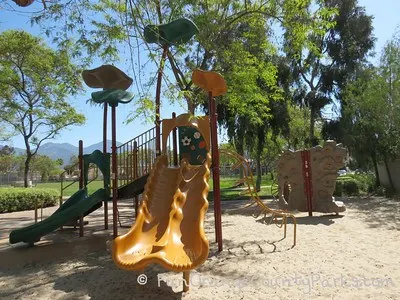 Highlights:
It's a small playground for 5-12 year old kids located at a junction between ball park, apartments, and housing.
The playground is a nice, quick stop to run out some energy in between errands. You can park nearby and access restrooms.
For the daredevils, this equipment has some nice climbing features.
The twisty-turny Jacob's ladder was a popular challenge.
There's a double yellow slide, short green slide, and a "caterpillar" ladder that leads up to the top of the equipment.
You could bring sand toys for younger children or balls to play on the field
Benches near the playground and it's on a shaded walking path that runs through the neighborhoods and between playgrounds.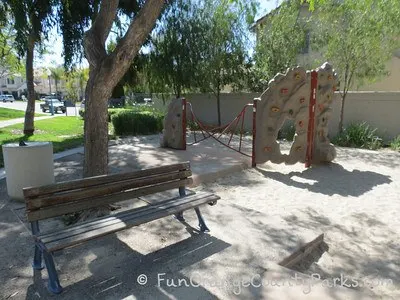 Be Aware:
This isn't what I'd call a destination playground, but the kids had fun playing while we picnicked
It can be awfully hot during the summer
NO swings
The drop off the double yellow slide is pretty deep
Not so good for kids under 5 because of drops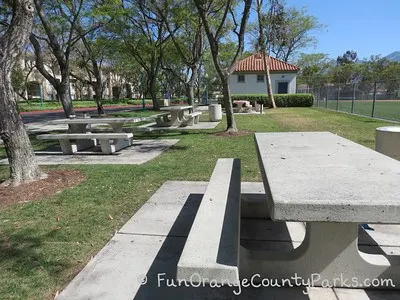 Checklist:
Dedicated parking lot
Play surface is sand
Restroom building very near the playground
Picnic tables and a grill at one of the picnic tables
The Rancho Santa Margarita branch of the Orange County Public Library is nearby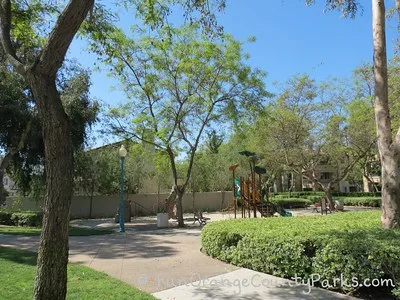 Parks in the area: