Trestles or Trestle Beach is a bit of a mystery, unless you're a surfer. I'm betting the surfers like to keep it that way!
We enjoyed a great off-season family outing here without tromping on anyone's saltwater turf. It's a hike down to the sand, but manageable even for little ones.
Trestles is actually part of San Onofre State Beach. Huell Howser from California's Gold and KCET (our Southern California local PBS station) filmed some great coverage of the park back in 2007. I highly recommend watching before you go!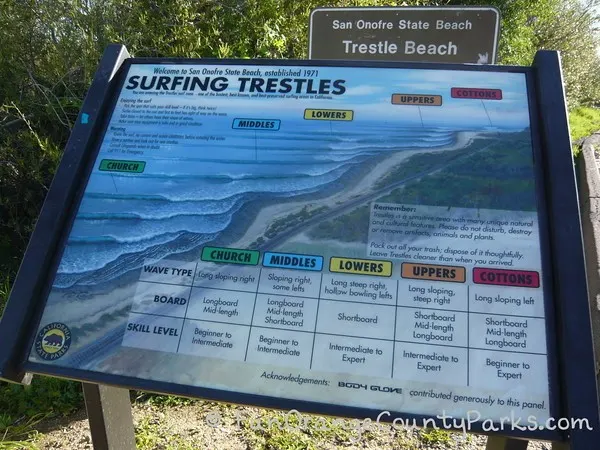 How to Get to Trestles: Off Interstate 5 at Cristianitos Road in San Clemente. We exited the freeway at Cristianitos and drove away from the ocean.
We parked alongside the fence on the right. If you turn left on El Camino Real, then you can park in the designated parking lot on your right.
However, it's a pay lot where you pay at a machine. Looks like they are serious about checking if you paid, too! MAP to Trestles Beach in San Onofre State Beach (San Clemente)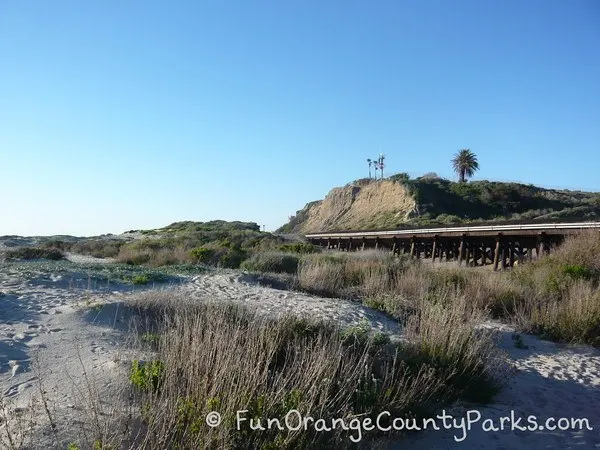 How to Get To the Beach at Trestles
So here's the hike part. You park up on Cristianitos or on nearby El Camino Real and walk through the opening in the fence. You'll go down a trail with great views of the ocean and the San Mateo Creekbed.
It winds under sycamore trees and through scrub brush. We saw lots of bunnies and even a hawk in the tree.
Then you'll walk UNDER Interstate 5. Next you go up a short hill and end up near the bridge (to your left) and the entrance to the beach park marked by signs (in front of you).
This is probably the halfway point on your walk. [If you look toward your right you'll see a paved road which also hits Cristianitos. I just don't recommend coming in this way because you have to walk on the overpass OVER Interstate 5 and cross streets to get in this way. Plus, it's just so pretty coming the other way.]
From here, it's a straight shot on a paved road to the trestle and beach.
We also explored the bridge and took peeks at the creek below on our trip. Keep your eye out for bicyclists while you're walking.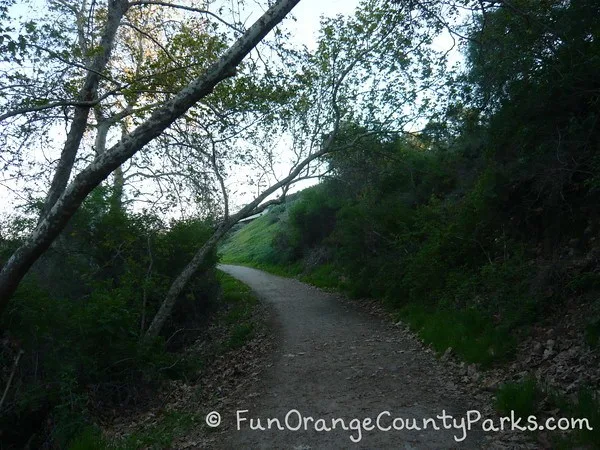 Highlights:
You can stand with one foot in Orange County and the other foot in San Diego County on the beach!
It's a fun nature-filled walk to the beach.
Entertaining for the kids to watch the trains go by.
Off-season it was pretty quiet on the beach. Great views of Dana Point Headlands and the San Clemente coastline looking north. See the infamous San Onofre power plant and views of north San Diego to the south.
San Mateo Creek provides more wildlife viewing.
We liked walking over the concrete bridge and looking down into the creek.
If you're lucky, you can see some world class surfing. In fact, type in "Trestles" on YouTube and you'll see some fun surfing videos.
There's still evidence of the fight to "Save Trestles" from a proposed tollroad. Trestles is known as the "Yosemite of Surfing."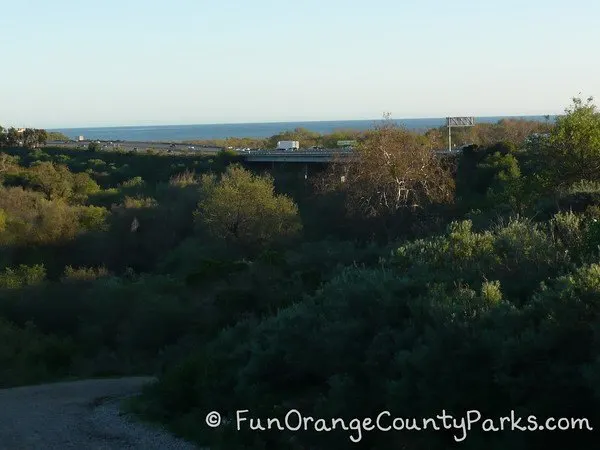 Be Aware:
Use the restroom before you leave home! There's a portable toilet, but it is far down the trail near the railroad tracks. Better to go before you get here.
Can feel pretty isolated. I don't think I'd do this walk on my own with the kids. Although, I did see a mom with her toddler there. I'd recommend it more for a family or group outing.
If you're not ready for a decent walk, then don't pick this beach! San Clemente State Beach (where Calafia dead ends into the beach) is a better pick.
You are NOT allowed to cross OVER the railroad track — there's plenty of room to cross under the trestle (bridge).
You may need to pay for parking and I can see it being busy during high surf, surf competitions, and the summer months.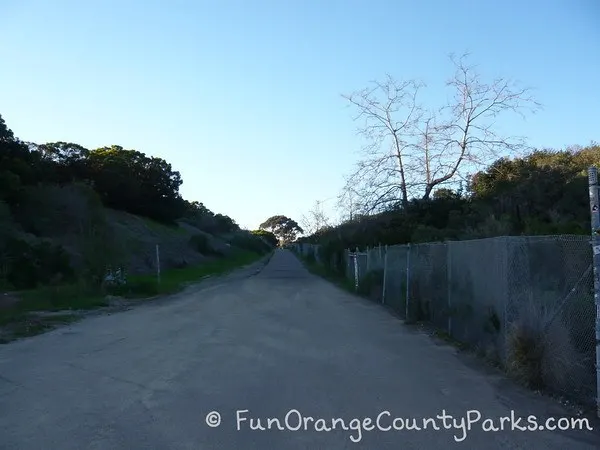 Checklist:
Bring sand toys. NO playground – except for the big sandbox called a beach.
Water and snacks are a good idea for those children that need it.
There's a portable toilet when you reach the trestle, but I'd recommend using the restroom before you leave home.
Not necessarily stroller friendly (unless you have a jogger stroller) — better for little walkers.
I wrote a post called Quiet Trestles Beach with some photos from when you actually get to the beach. So pretty!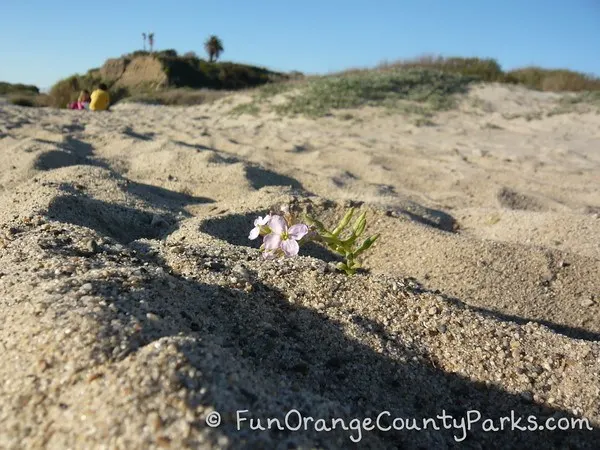 Originally posted in March 2010.