The instructions were simple: "Set a goal for how many playgrounds or parks you want to visit, based on your work schedule and other commitments." I've been adding my playspaces to the KaBOOM Map of Play since 2008. The other Park-A-Day Challengers are amazing! Those moms and dads have added 50 to 100 parks to the Map of Play — just this summer! If I had a two year old — a Park-A-Day would be a necessity. Here were my goals for this summer:
Create a "park inventory" spreadsheet detailing the 200+ parks on my blog and which ones I've added to KaBOOM's Map of Play. This will help me keep track of which parks are on the Map of Play (some of my listings were complete, some were missing photos from a bulk upload, some were new to the map).
Visit at least ONE new-to-us playground a week, especially focusing on the ones missing from my index for South Orange County. (We ended up visiting 20 new parks in 12 weeks.)
Post a new playground to my blog every weekday in August. These posts take 3-4 hours when you include the time to: choose a park, PLAY at and photograph the park, upload and edit the photos, find resource links to city websites, sometimes create video slideshows, map it on my blog's playground map, write the blog post, and add the park to KaBOOM. So with 23 weekdays in August — that made for at least a 70+ hour commitment just for the last month of the challenge.
Play outside every day – whether we visit a playground or not. There were many days that we hung out at playgrounds that are already on the map. We also spent a lot of time with free play in our community pool and just playing in the yard.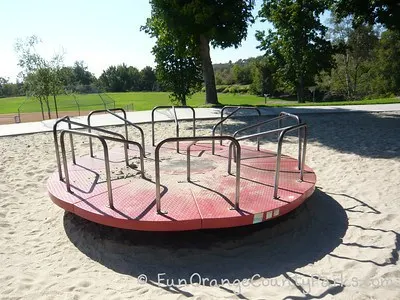 The kids soaked in all the benefits of a summer outdoors: wildlife sightings, stress relief, extra exercise, putting a priority on family free time, turning off technology, sharing adventures to new places, and getting to know our community better. I took in all those benefits, too. But I was extra thoughtful about what Mom's might get out of this time at the playground. I found that I leave a playground extra happy when I: 1) strike up an interesting conversation with a stranger, and 2) discover old-style playground equipment from my childhood.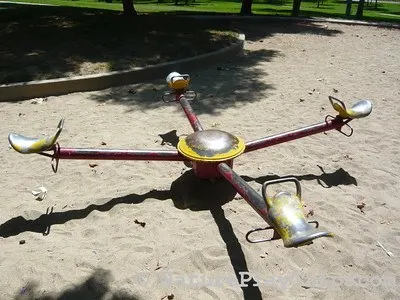 Top 5 Mom Highlights from my KaBOOM Park-A-Day Summer Challenge
I need to finish my updates of the Map of Play this weekend, but I'm sad to see my Summer Challenge come to an end. I salute all the other Challengers for their efforts to put play on the map.