The festive atmosphere at Orange County free summer movies in cities all over the county is contagious. I don't normally do well with crowds, but somehow it doesn't feel too bad if you get there early. We'd pick our spot along the edges and watch the crowds roll in without feeling too cramped.
I first made up my "BIG Long List of Summer Movies" in 2019. You should know these lists are incredibly time consuming! My list was very unofficial and casual.
I had ALL the official information on Orange County free summer movies by city and region, then you could click the links in a bulleted list. I also had this post separated into South County, Central Orange County, and finally North Orange County. Because, even if you couldn't make a movie in your city, maybe a neighboring city's concert might work with your schedule?
This is a complete labor of love and NOT an official movie schedule listing. I post to my blog as a community service to get families outdoors. It's something I'm passionate about and these events add to a sense of community spirit. (Make sure you check OFFICIAL sources before you head out the door! I can't guarantee that there aren't changes in schedules or cancellations due to weather, etc.).
List of ALL the Orange County Summer Movie Lists for Families
For 2022, there are so many who have jumped on the Summer Movie Lists bandwagon. So, instead of duplicating their hard work — I'm going to link to the existing lists. Kind of a "meta" type of a project!
Some of the movies on their lists do have fees associated and are not free (for instance, if you go to a summer movie at a theater).
Summer Movies in Orange County — Jill at Sandy Toes & Popsicles was 100% the original blogger with this idea. Her list has been around for YEARS. It is all updated for 2022! Her list is fun because it's listed by theme (on the beach, splash-in movies, drive-in movies) and then by date so it's easy to zero in on events.
2022 Orange County Summer Movies Guide — Pattie and her team at Living Mi Vida Loca came along next with their list. This list is in alphabetical order by city.
Discount Movies in Orange County — Heather at @OCParentGuide (Instagram) came up with a list of discount movies at theaters like Cinemark, Regal, Starlight Cinemas, AMC and Regency. So these ones aren't outside, but maybe you prefer indoors? Make sure you hit the arrows to scroll through the photos.
Orange County Summer Movies 2022 — Dani at Go Park Play came on the scene this year with her list. She split her list into May, June, July, August and then goes alphabetically by city with dates in bullet points after that.
Again, thank you to all the family bloggers and moms who come up with these lists for us all to enjoy! I am still going to include the official sources for movies by region because maybe that's the easiest way for you to get your info?
So scroll down for South, Central, and North Orange County official sources.
South Orange County – Free Summer Movies
Links to Official Information on South Orange County Free Summer Movies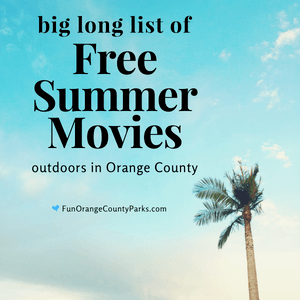 Central Orange County – Free Summer Movies
Links to Official Information on Central Orange County Free Summer Movies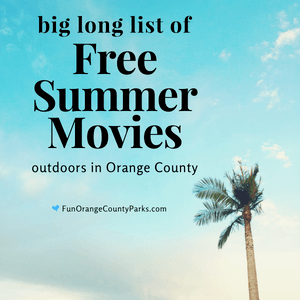 North Orange County – Free Summer Movies
Links to Official Information on North Orange County Free Summer Movies