Lions Park in Costa Mesa (Airplane Park) still has the beloved concrete airplane that many generations remember playing on as kids.
According to the City of Costa Mesa website, Lions Park was the first park in the city opening in 1940 as Costa Mesa Park. It's name changed after it became know as Lions Park because the local Lions Club "holding their Fish Fry community fundraiser in the park."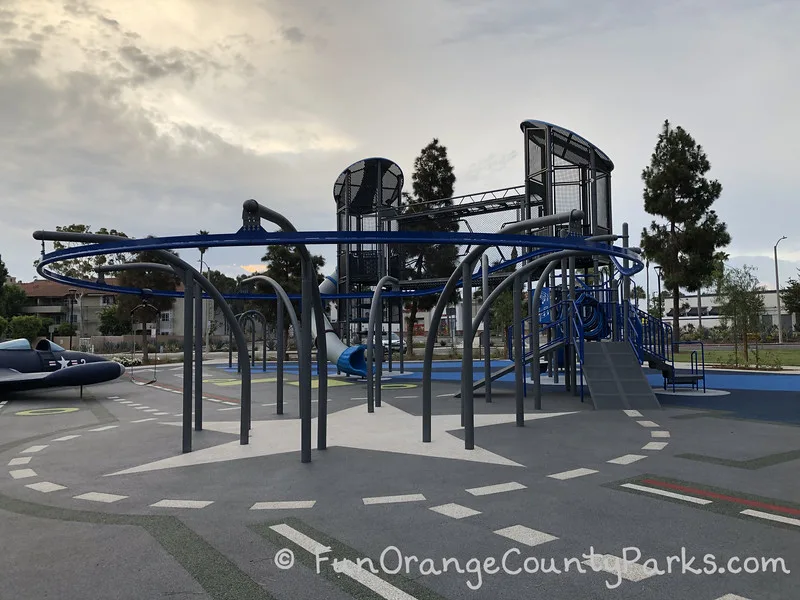 How to Get to Lions Park in Costa Mesa: Coming from I-405, you'll want to take the 55 South towards Costa Mesa and Newport Beach. If you want to park along 18th Street, just turn right at 18th Street and you'll see parking ahead of you with spots along the street. If you want to be super close to the actual playground, you'll want to turn right on 19th Street — which comes before 18th as you are driving – and then make a pretty immediate left at 24 Hour Fitness onto Park Avenue. Then you'll approach the park from the direction of the library and you'll be facing the correct way to park right in front of the playground on Park Avenue. (Address: 540 W. 18th Street, Costa Mesa) MAP TO LIONS PARK IN COSTA MESA
Highlights:
Airplane Park will feel familiar to those who grew up playing there, but there is a "WOW" factor when you drive up and see what it's become! The tall structure with a bridge between towers greets you as you park.
One tower has a regular metal ladder. The other tower requires climbing inside floating plastic circles which requires whole body movement to lift up through them to be rewarded with access to the sky bridge a big tunnel slide!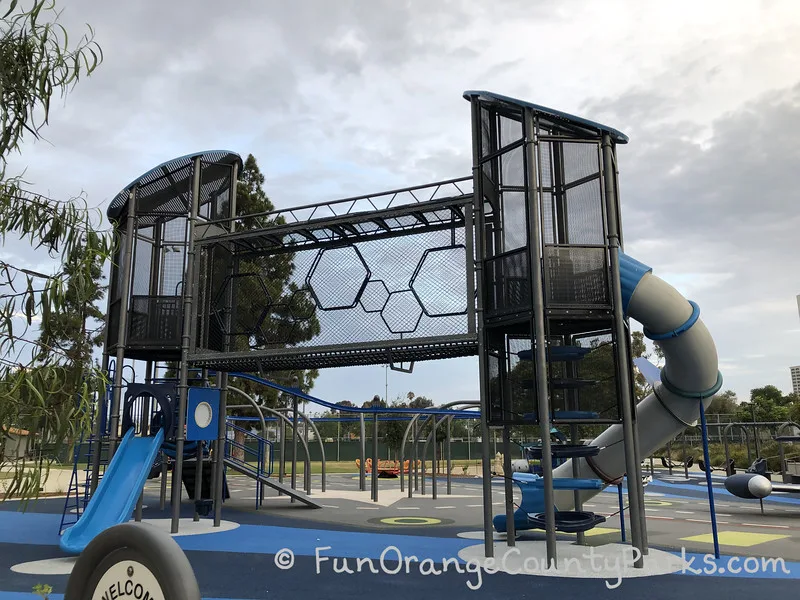 Of course, the concrete airplane is the masterpiece that will keep kids asking for Airplane Park visits. It's a Korean War-era Grumman F9F Panther jet which according to newspaper articles was originally installed in 1960.
The recycled rubber looks like an airstrip when you can get an aerial view of the playground from inside the library.
The zip line is unlike anything you may have seen before. It runs in a circle instead of a straight line. You start off up on the playground structure and launch yourself off for a fun ride around. NOTE: I hear all the time from parents and caregivers who have visited and said the zipline is missing or not-in-service. So if you are visiting just for the zipline be aware it might not be working.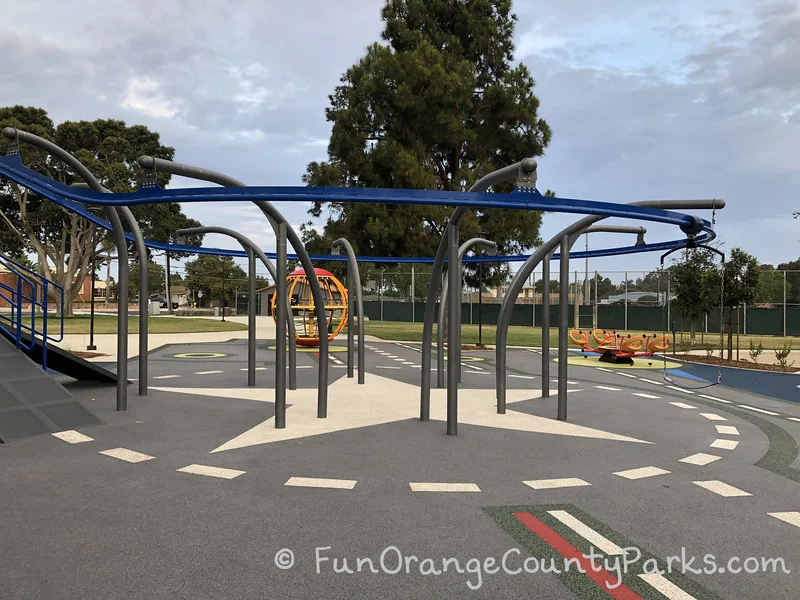 I've never seen swing-with-me swings quite like this. These are less for parent/baby and more for friends to swing together. If you like this idea, I have a list of parks with swing-with-me swings.
As you can see, there is one bench swing. One accessible swing. And two swing-with-me swings.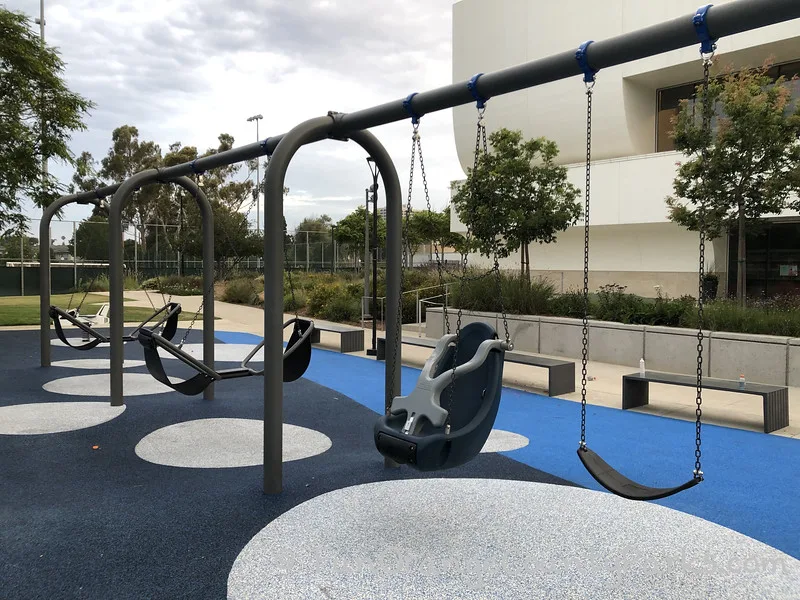 The toddler area is very near the swings. There are some ride-on spring toys in the form of a helicopter and airplane (of course!) and a sandy area with a digger and a sandcastle.
There is a small toddler play structure with its own cute little slide and tunnel for crawling. It also has two stools and a little table for restaurant pretend play.
You'll also find a 4-person teeter-totter at this end of the playground with what I call a globe spinner where kids can get inside and have friends spin them.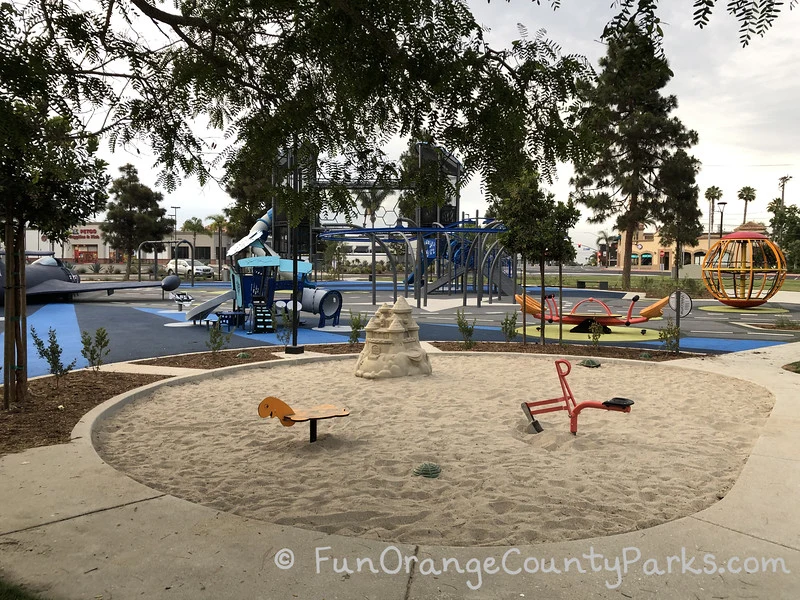 Don't overlook the green grassy bumps area right next to the library. Kids will have fun playing pretend over here.
There are benches surrounding the play areas, but they are sleek hard benches without backs.
Many parents will like that there is a restroom building in the corner of the lot near the field and also restrooms inside the library when it's open.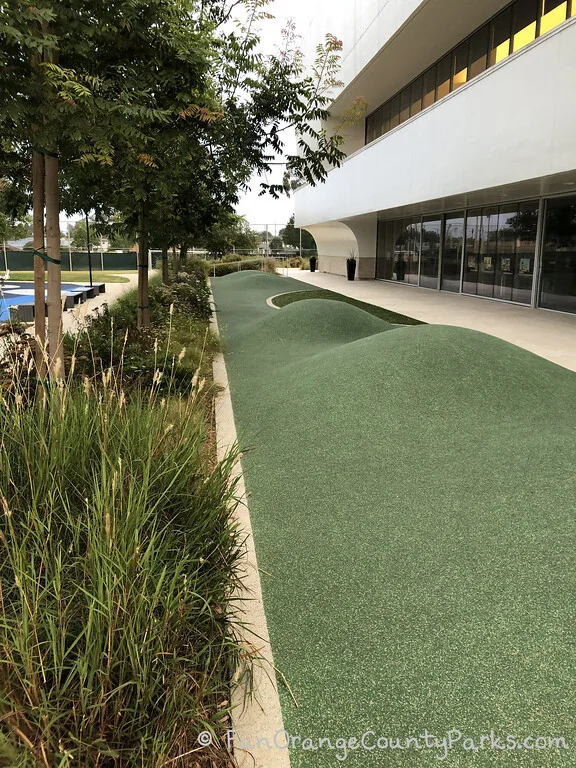 Any park right next to a library is awesome for the double play value! The OCPL branch called the Costa Mesa Donald Dungan Library overlooks the park. Entrance to the library is on the opposite side of the building from the park.
The park is more like a community complex which includes: Davis Field, Costa Mesa Historical Society, Downtown Recreation Center, Norma Hertzog Neighborhood Community Center, Costa Mesa Donald Dungan Library, and Fire Station 5.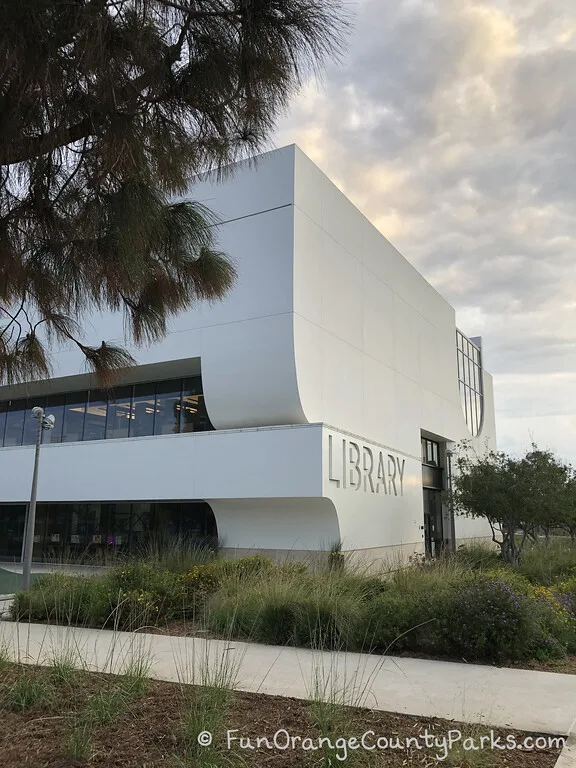 Be Aware:
That zip track / swing! It will come flying off the launch and if there are unsuspecting little ones walking through the playground they might get knocked down. There's no stopping that swing once it gets going. Watch for little ones if you are a rider! Watch for riders if you have little ones and keep them away from the path of the track. Also, as noted above, it might be unavailable or out-of-service at the time you visit.
This park definitely has separate play equipment for 2-5 year olds in what I call the "toddler area." The much taller equipment with the bridge is probably rated for 5-12 year olds. There are very steep drop points when children are climbing inside the towers.
No shade on the playground which could be very hot in the summer, although it is pretty close to the coast so there are some ocean breezes and sometimes fog in the mornings.
Parents use words like "hectic" and "chaos" to describe the energy at this park when it's crowded. Best to find a calmer time to visit if you are worried about your toddler getting trampled or accidentally hit by a zip line rider or the swings. Early morning is a better bet than afternoons.
It is in an urban location so there are cars zipping by on the surrounding streets and the Costa Mesa Police Department substation is across the street from the park. There used to be a population of people experiencing homelessness here, but from what I've seen/heard that's not happening on this 2021 iteration of the playground.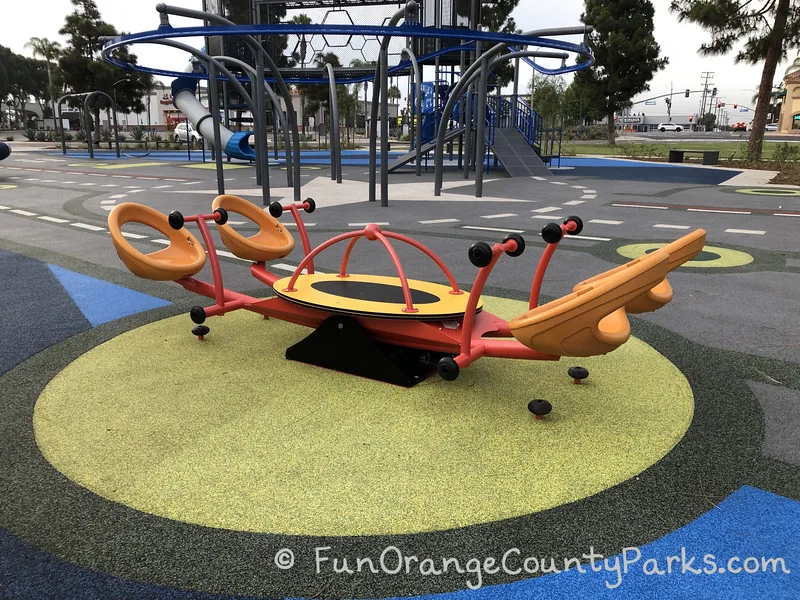 Checklist:
Parking in a single row of angled spots along the street on Park Avenue and 18th Street
Play surface is recycled rubber and a sandbox
Restroom building at the corner of the lot and restrooms inside the library when it's open
Side Street Cafe is near the park for classic breakfast and lunch menu and if you want something more gourmet there's Toast Kitchen and Bakery which is only a few doors down
Nearest public library branch: Costa Mesa Donald Dungan Library with a cute children's sections which almost brings in some of the colors and design elements from the playground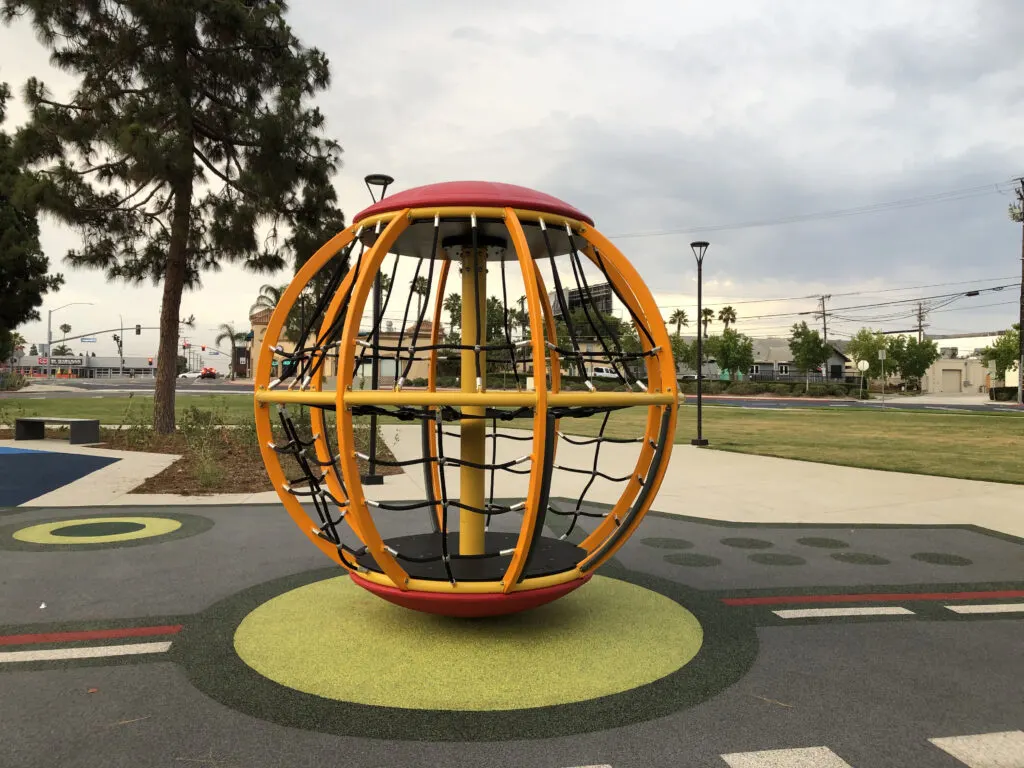 Parks Nearby Lions Park in Costa Mesa