My friend, Christie, texted me about the Huell Howser Exhibit at Chapman University when it first opened to the public in March 2014. The anniversary of Huell's passing (January 2013) reminded me to go this year. A Chapman University professor is responsible for creating a documentary called: A Golden State of Mind: The Storytelling Genius of Huell Howser. It aired on my local PBS station and brought back some great memories of episodes and featured commentary by so many who loved him. I highly recommend watching the documentary before visiting the exhibit. Because, even if you "know" Huell this documentary gives us a lot of nuggets about his past — like how his name was a combo of his parents names: Harold and Jewell.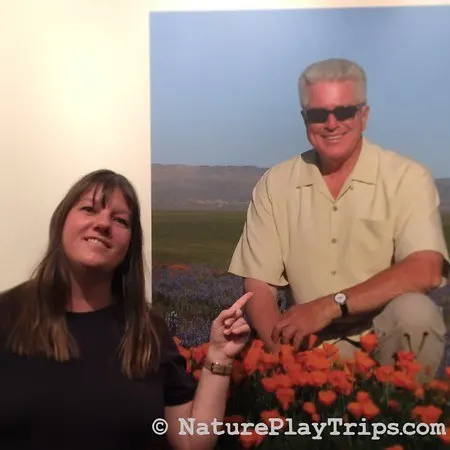 Location: Chapman University is in the heart of the City of Orange. Take Interstate 5 to the 55 Freeway and exit at Chapman Avenue (2 exits for E and W — you'll want to take the 2nd exit to put yourself driving towards downtown Orange — left). Turn right onto Center. Parking in the Argyros Forum lot is on your left at the corner of Center and Walnut.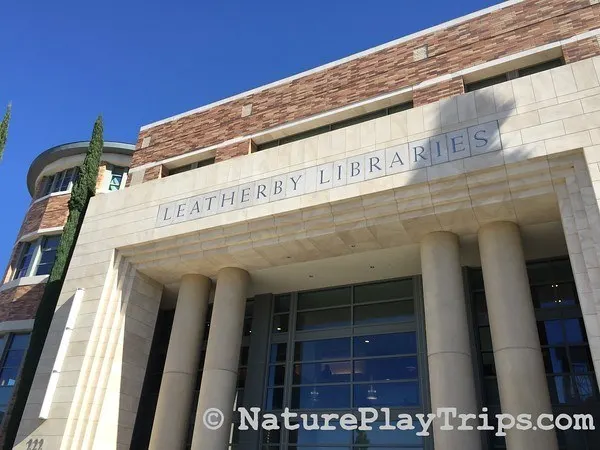 Highlights:
The California map on the floor of the exhibit room marks all the places Huell visited.
Huell's humorous quotes on the walls
A timeline of Huell's personal history that's quite impressive with many, many years in television production
I personally loved seeing a sheet from his calendar
A display case with unusual gifts and personal keepsakes
Seeing how simply his office was arranged and a feel for how work was done behind the scenes
I felt like we got to really take in the whole exhibit because it's in a small room
A library of resource books and place to pour over the AAA California's Gold tour map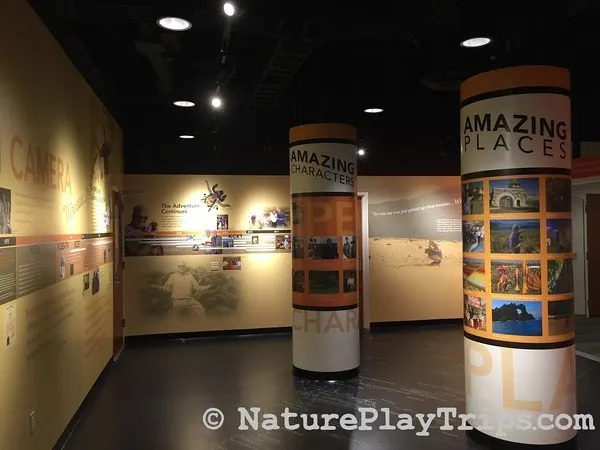 Be Aware:
Closed Sunday and Monday.
Best for families who are already familiar with Huell through his PBS shows on California
The exhibit room was quiet, so a noisy toddler in a library setting would feel awkward (however, you could have one parent hang around outside at the fountain area and walk around campus while the other one visits the exhibit – and then switch). It's very manageable to see the whole thing in a short visit. We were the youngest visitors there on a Saturday – and my kids are school age.
I wouldn't recommend visiting when school is in session because parking would be harder and everything would be more crowded. But you could walk here from Old Towne Orange and skip the parking hassle if during the week is easier for you.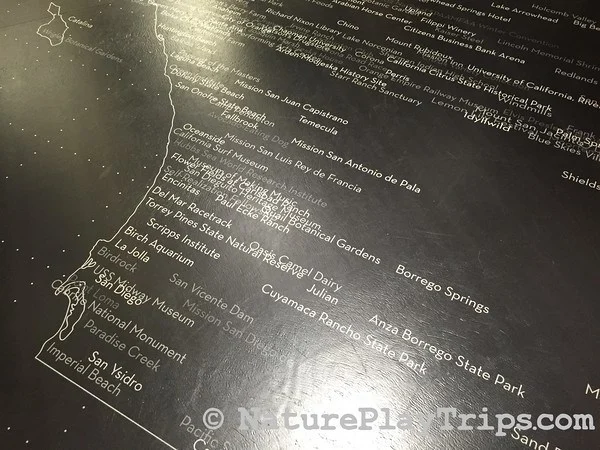 Checklist:
Hours are T-F (9am-5pm), Sat (10am-6pm), and closed on Sunday and Monday
Parking is $2 for 2 hours and that will be plenty of time to visit the exhibit. The Archives website asks for you to park in the Argyros Forum lot which is at the corner of Walnut and Center. Read all the parking information here.
We parked in the Lastinger Structure on our Saturday visit (open to campus visitors on weekends if you purchase a temporary permit at the kiosk). The Lastinger parking lot is on Walnut (between Glassell and Center). It's an underground lot. Try to park by the big staircase close to the buildings. Walk up the stairs to the Leatherby Libraries building (to your right) located on the big plaza "Attallah Piazza" with fountains. Enter the Library building and take the stairs (on your right) down to the basement.
Huell Howser Archives house free digital copies of all his productions
2 maps of Huell's Road Trips