Creative kids don't wait for someone to hand them directions. They just grab available items to create their own crafts. Here are some of the SIMPLE AND CHEAP things I always try to have around the house:
Loads of recyclables (save those cereal boxes, bottle caps, toilet paper rolls, paper towel rolls and egg cartons)
Air Dry Clay – for special projects
Construction paper
Glue sticks
Kid size scissors
Buttons
Pipe cleaners in various colors
Colored pom-pom's
Googly-eyes
Yarn
Popsicle sticks (or craft sticks)
Scotch tape and masking tape
Washable paints
Felt
Hole punch
Washable markers and crayons
Here's what they kids came up with COMPLETELY on their own. A clay kitty face: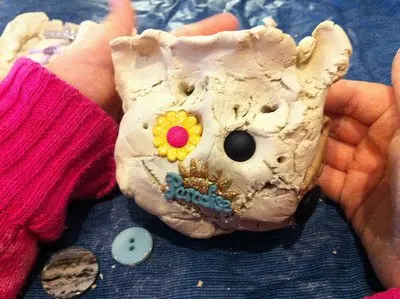 My daughter has been wanting a hula ensemble – when I didn't deliver – she came up with this idea on her own. I helped with the yarn, but she had all the pieces cut out and ready for me.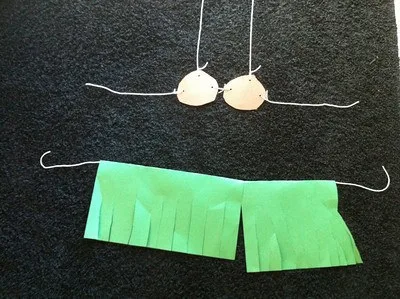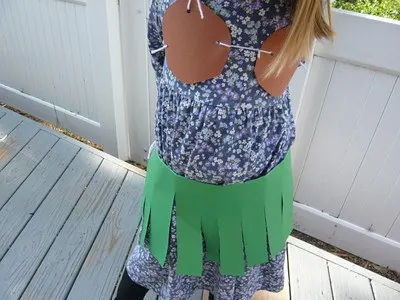 On a play date at the park with a HUGE group of kids, they all decided to make a ladybug habitat! Yes, they actually called it a "Ladybug Habitat" and spent a lot of time making it cozy for the little bug.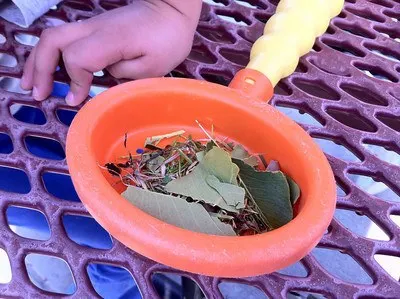 Sometimes the kids need a little help with projects. My 9 year old wanted a Zen Rock Garden. So we went to Home Depot and came up with a solution he could help build! He used the saw and the power tools to put it together!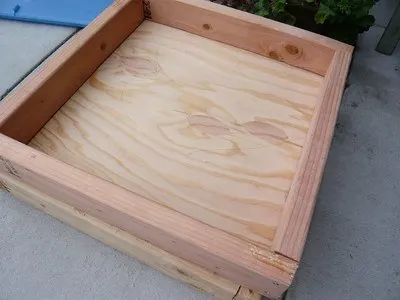 Here's the finished product: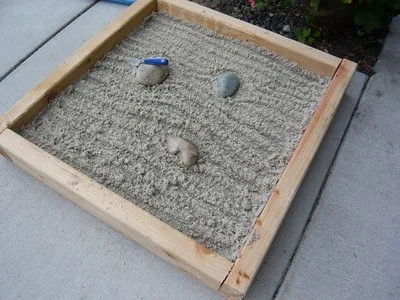 Of course, my daughter wanted one, too. But she made hers into a beach for her Little Humbug dolls: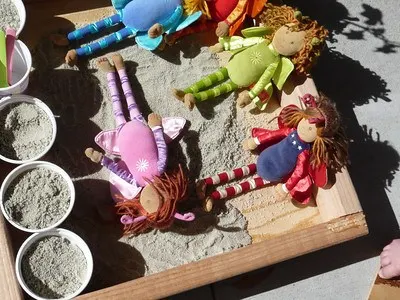 Decide what's age-appropriate and let your creative kids be crafty kids!
Disclosure: Michele is friends with the creator of the Little Humbugs dolls, Marghanita Hughes, but this photo was too cute not to post.