Noguchi Garden (California Scenario) in Costa Mesa near South Coast Plaza looks and feels like a unique park, but it is actually a public garden with sculptures by Isamu Noguchi. California Scenario is the name of the installation. The pieces are:
Forest Walk
Spirit of the Lima Bean
Water Use
Desert Land
Water Source
Land Use
Energy Fountain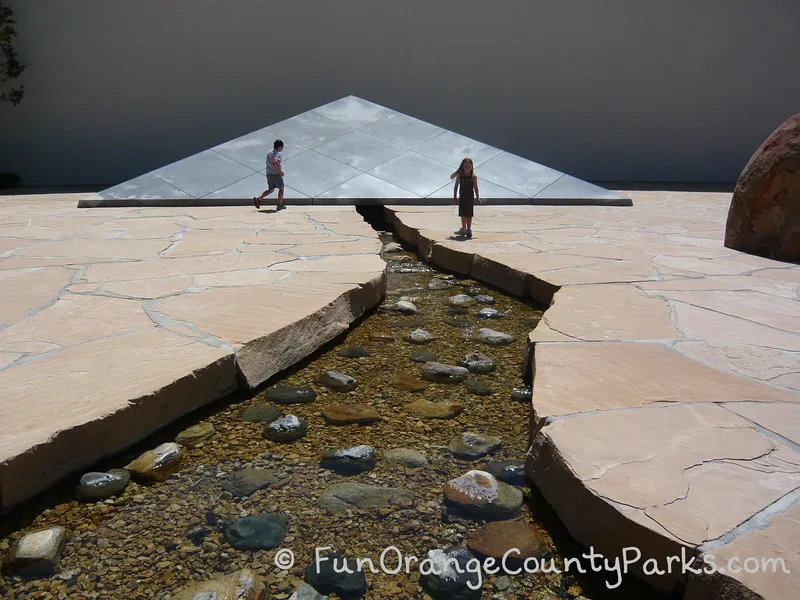 My husband and I first discovered it back in college in the early 90s, but we weren't really aware of its artistic significance. We took the kids for a visit in 2010, because we thought it was a place to play. (Hint: It's playful, but NOT a playground).
Read on to find out more about this intriguing space!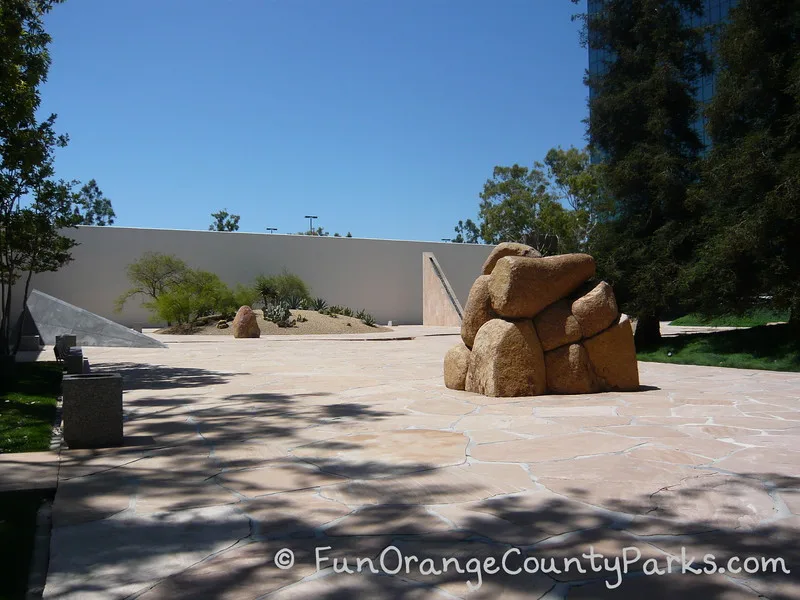 I just love the feel of it. It feels like home if you grew up in California. It inspires the kid in me to jump over the brook or hide in the redwoods. In fact, this spot is on my list of 7 Places to See Redwoods in Orange County.
My kids wanted to do those things, too. Or to play a game of hide and seek. It's hard to resist, but please be respectful upon visiting this space. It's better for a date night or bringing older kids.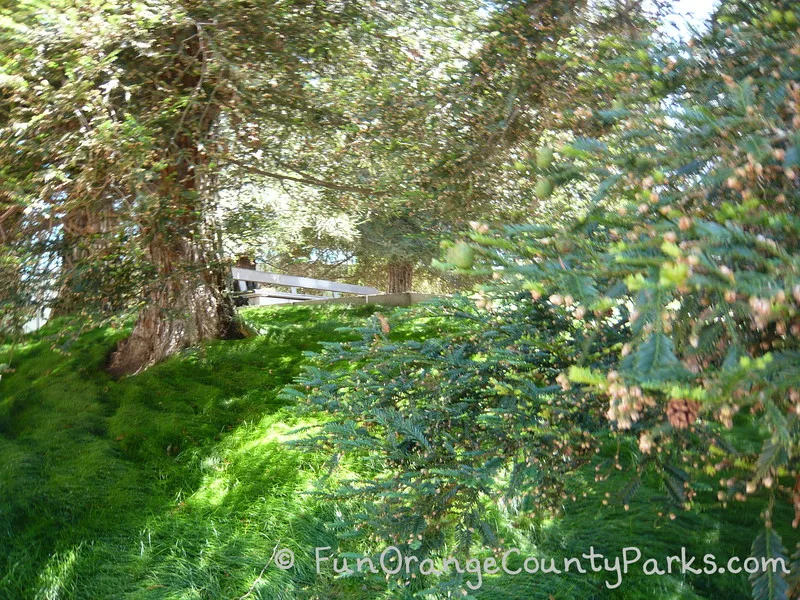 This space is so meaningful to me! A sculpture garden directory from the Birbeck University of London explains it as "is an abstract analogue of the state of California from Mexico to the Oregon border, and the Pacific Ocean to the Colorado River." Ahhh, now it all makes sense! The stand of trees, the river running through it, the red in the stones, and the desert flora.
There is a sign at the entrance now that explains the entire installation.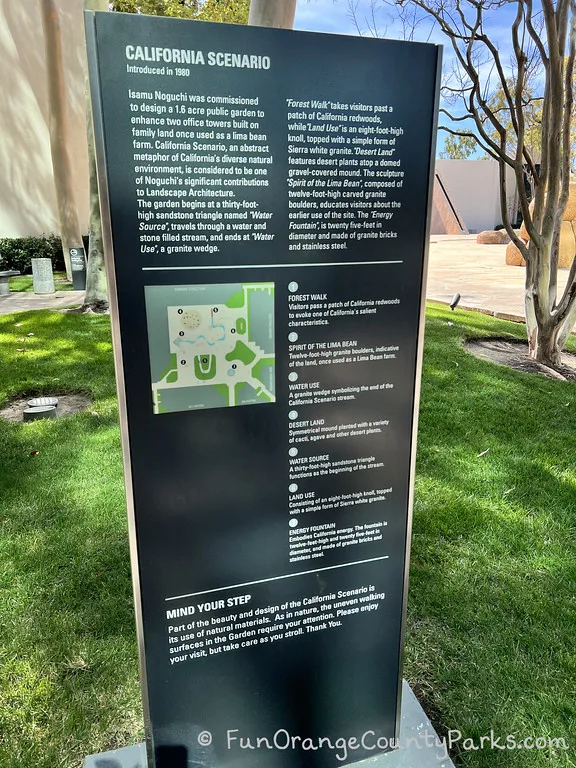 In reading more about the artist, you'll learn he created sculpture for play! In speaking about his Life and Work, the Noguchi Museum says: "The creation of playgrounds and play sculpture was an important part of Isamu Noguchi's attempt to make sculpture useful in everyday life."
In the article from Landscape Design Online, it says: "Rather than requiring that children slide on the slide, they could climb it, or roll down it, or use it as part of an imaginative evocation of their own inner theater. Each playground design became more and more interactive as time went on, and the public reaction to them became more and more varied."
I think Noguchi was a PLAY ADVOCATE foiled by planners at every turn! Peruse the timeline to see his playground projects which were unrealized back in the 1930's and 1940's because of their "great potential danger" to children. Oh, how I wish Mr. Noguchi had won some of these battles! Maybe our playscapes would be more reflective of his style today?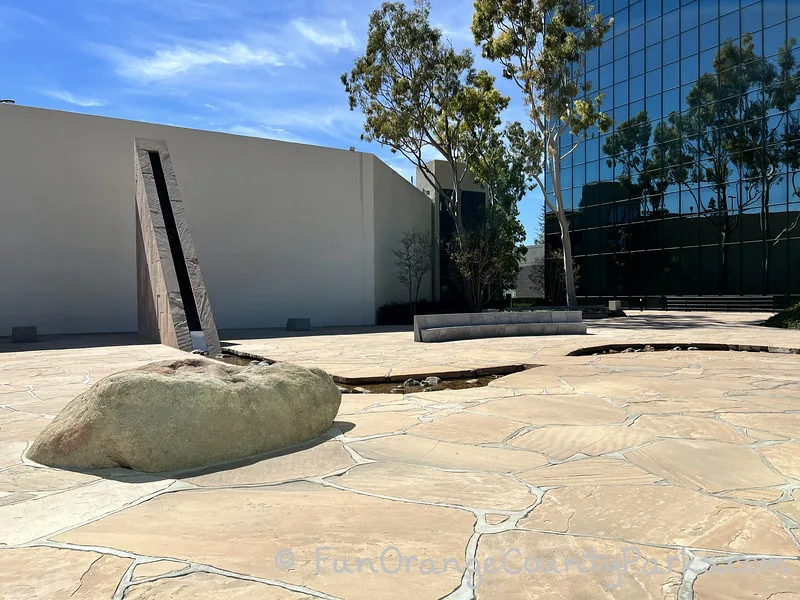 Be Aware:
As much as I'd love it to be, this is NOT a playground. It's a sculpture garden. I definitely recommend a visit, but you'll probably have to tell the kids "no running" and "no playing" or suffer a warning from a security guard. May be a better option for a date night?
The ground is uneven in some spots, but I believe this would be an accessible place to visit.
Probably busy during the week. Better to visit on a weekend.
Checklist:
I was lucky to see a Noguchi sculpture (Water Stone, 1986) at The MET in New York this past Fall 2021. It evoked some of the same emotions for me. I felt like was outdoors even though I was inside. So peaceful.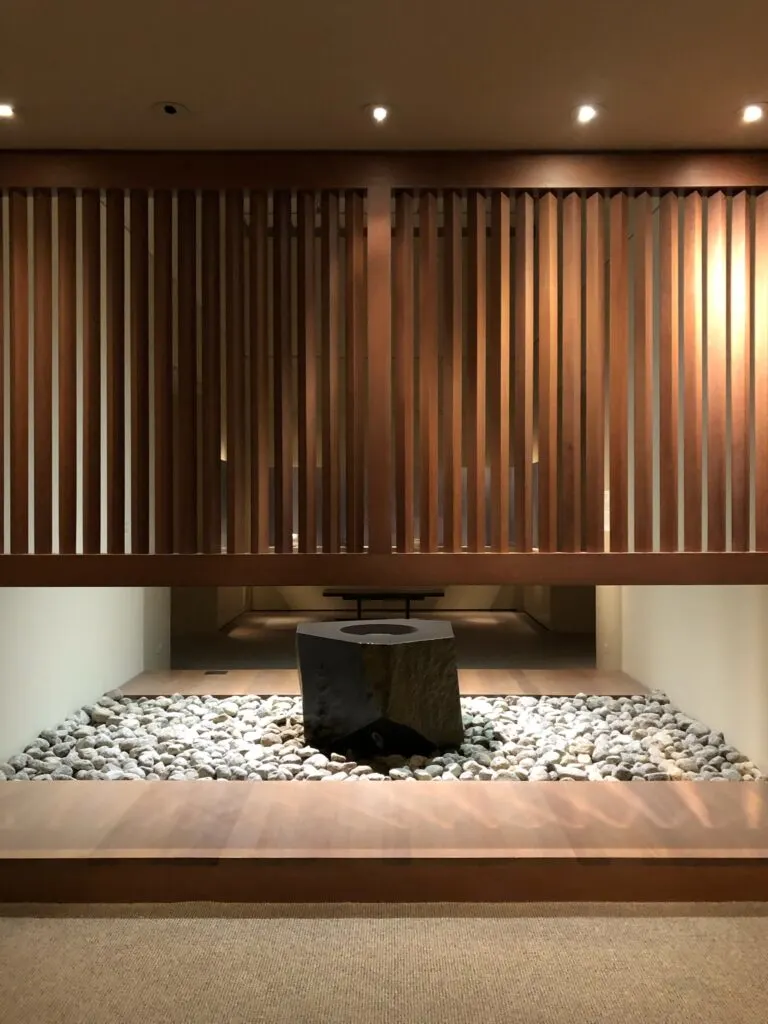 California Scenario is near South Coast Plaza in the courtyard of office buildings. It almost feels like an adventure just going to the gardens because you go from the freeway to a drab parking structure to this vibrant public garden reflecting the whole state of California back at you with deserts, water, and redwoods!
Directions to Noguchi Garden (California Scenario): So where is this hidden garden? About a block away from South Coast Plaza. I park at the old TGI Friday's and just walk behind the building to the area between the high rise buildings. (Garden Address: 611 Anton, Costa Mesa) MAP TO CALIFORNIA SCENARIO IN COSTA MESA
Where to Park to See Noguchi Garden (California Scenario): This next photo is a peek at the parking garage and how it looks coming right off I-405 northbound exit. You will have Segerstrom in front of you, but turn left into this structure and park near the NORTH ELEVATORS of the structure that leads to the buildings.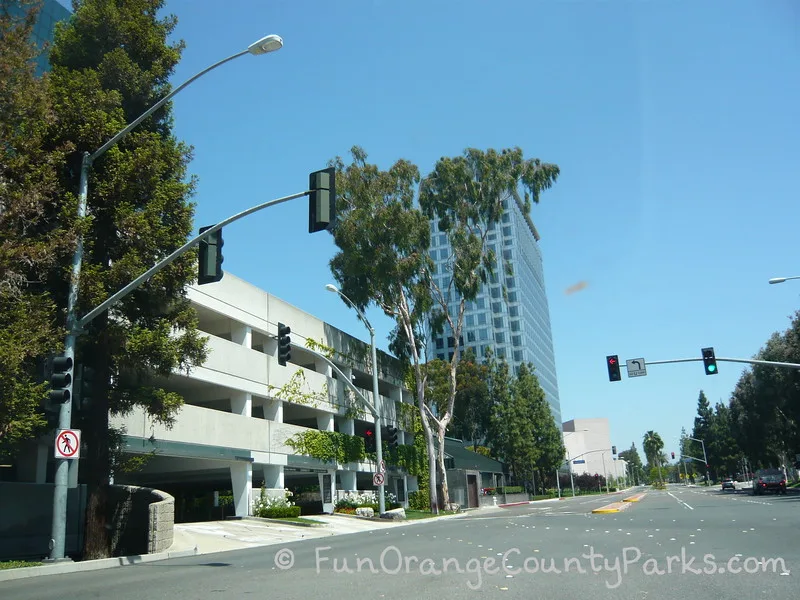 The gardens are completely hidden from street view by the buildings and parking structure. You will want to walk out where you see this sign in the garage.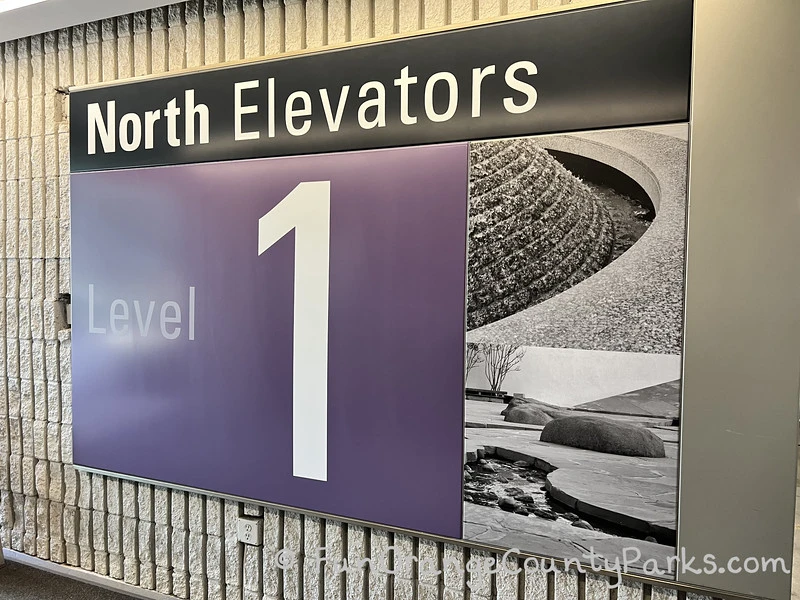 FAQs
Is Noguchi Garden free? Yes. There is no admission charged. It is a public garden.
What are the Noguchi Garden hours? It's open from 8am to Midnight, which makes it a very cool place to come after dinner and a show at Segerstrom.
Originally published in June 2010.