Central Park Huntington Beach is so massive that it has an east and west side. It's a beautiful oasis of nature right in the thick of Huntington Beach. The new playground inside Huntington Central Park opened in January 2022.
We go most often to visit the Secret Garden and take walks around Central Park East.
However, I think Central Park West is my favorite side with Shipley Nature Center, the new playground, and the lake.
It feels quieter over here — but maybe not for long with the popularity of this playground!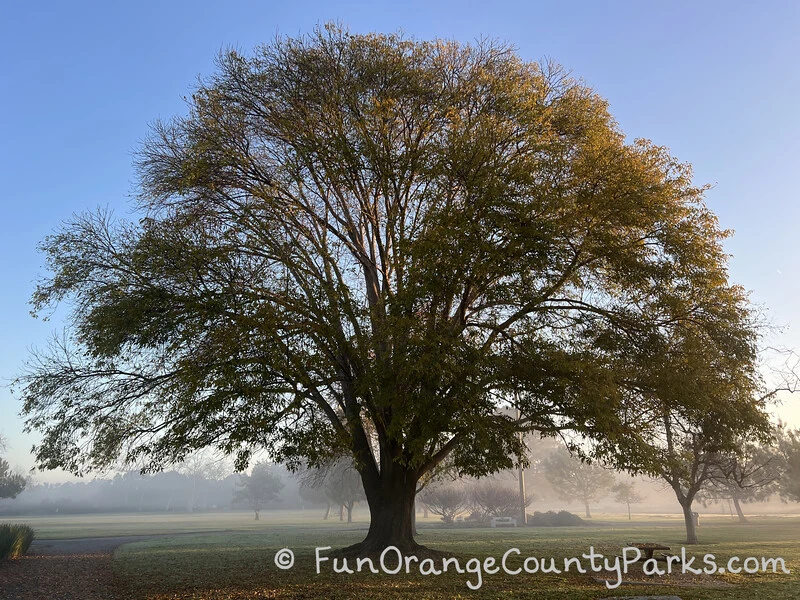 Huntington Beach Central Park Map
This map gives a pretty good overview of the streets and you can easily see how Goldenwest splits the park in Central Park West and Central Park East.
This next map is my favorite, though! You MUST follow HBCentralPark on Facebook. This is the small, but mighty community group who keeps an eye on this park and makes it a place we all want to visit.
This is the map that Shari created which makes the park so much more accessible and spotlights the Secret Garden!
The best part of this map for families is that it shows the location of restrooms, playgrounds, and parking so you can see the closest parking for the amenity you'd like to access. The new playground is at number 5 on the map below and replaces an existing play structure (photo album of old playground at the bottom of this post).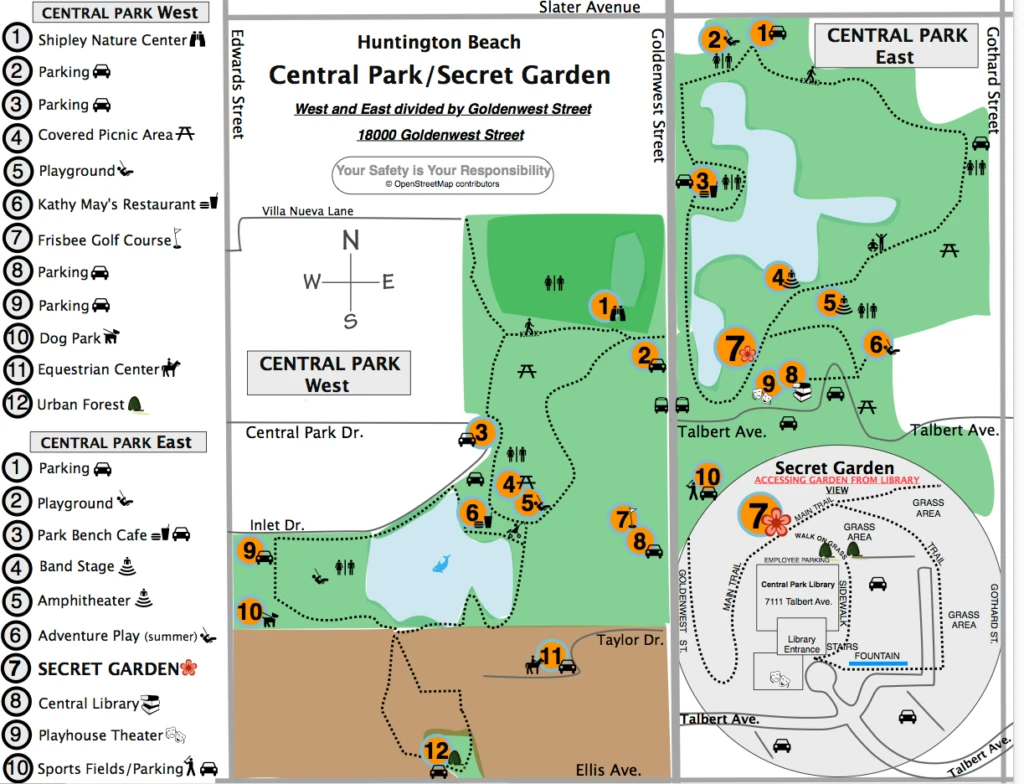 Huntington Central Park West
Huntington Beach Central Park West features Lake Huntington, an equestrian center, a disc golf course, a senior center, a dog park, a restaurant (Kathy May's Lakeview Cafe) and nature center.
It's also close to the Huntington Beach Urban Forest, although you may want to drive to get there.
I love the wide open spaces you'll find here and all the bird life is amazing, especially first thing in the morning.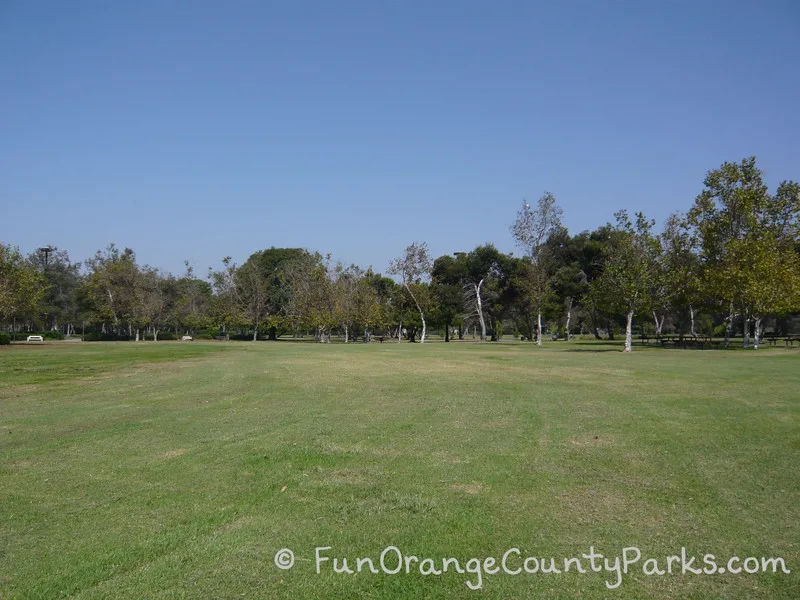 Directions to Huntington Beach Central Park West: The best way to visit the WEST side of the park is off Edwards. (If you don't live in Huntington Beach, make sure you consult the map. Streets dead end, change names, and run on diagonals here so it pays to know your map or have the navigation take you there.) Hint: Put Kathy May's Lakeside Cafe (6622 Lakeside Drive, Huntington Beach) into your nav system to find the closest parking to the Central Park West playground. MAP to Huntington Beach Central Park WEST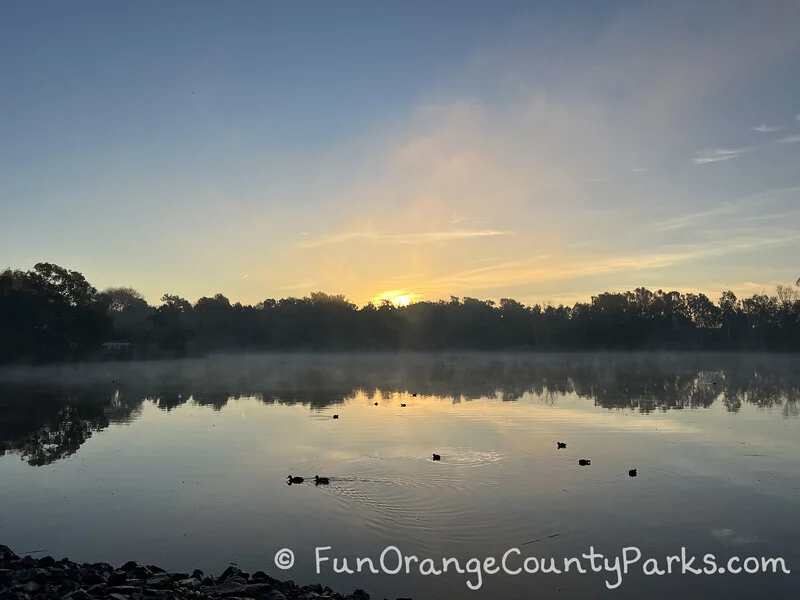 Central Park West Highlights
The new playground is simply amazing! It is on par with the private playgrounds you might find in exclusive Irvine communities. I think older kids will have so much fun with this one.
Let me take you on a tour! (This was a sneak peek before the ribbon cutting and official playground opening on January 13th. Everything is finished now.)
It starts at the high end with very tall climbing opportunities and tunnel travel.
Be Aware: A play friend let me know there is quite a wide triangular opening in the floor of the treehouse. Fine for older kids, but hard to cross for smaller kids. Most playgrounds are rated for 2-5 year olds and 5-12 year olds. This tower section is most definitely for 5-12 year olds.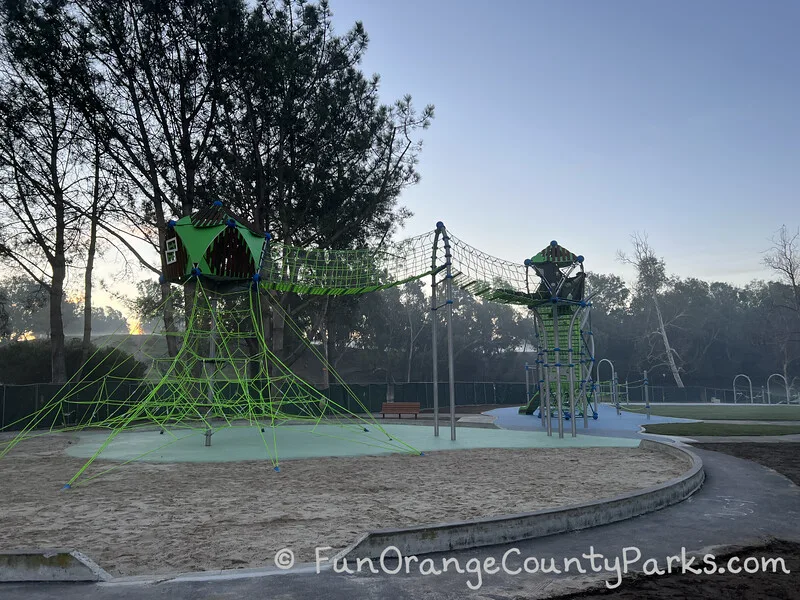 My nickname for this park is "Hot Lava" because you can almost get from one end to the other without touching the ground. Let's see if your kids can do it and report back to me!
Next comes a long tunnel and more climbing across a number of obstacles to finally reach a zipline at the end.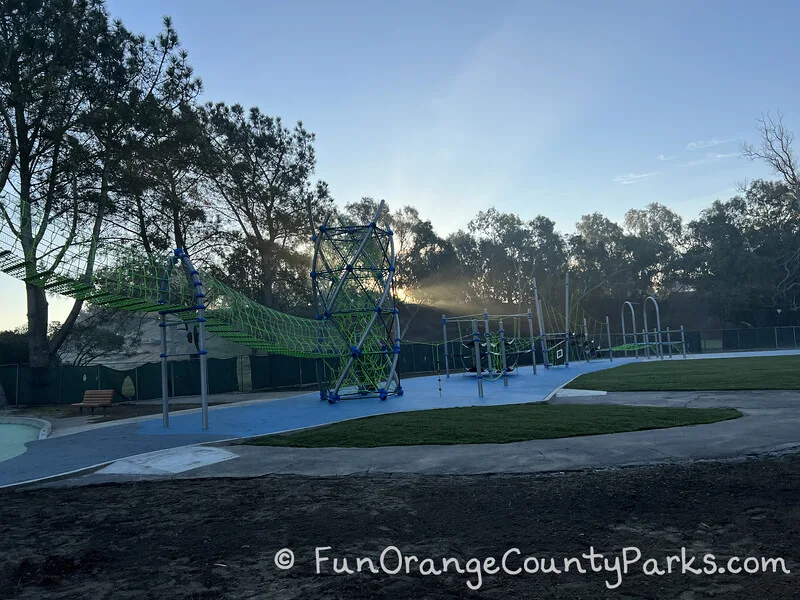 In the photo below, you can kind of see the blank spot in the flow of the equipment where the zipline sits on its way to the final stop at the end — after the kids need to climb horizontally to move across the play structure.
Be Aware: The ziplines are not ALWAYS up. They do have to go up for repairs from time to time since this is such popular playground. So please take it easy on them and have a Plan B for when they aren't there.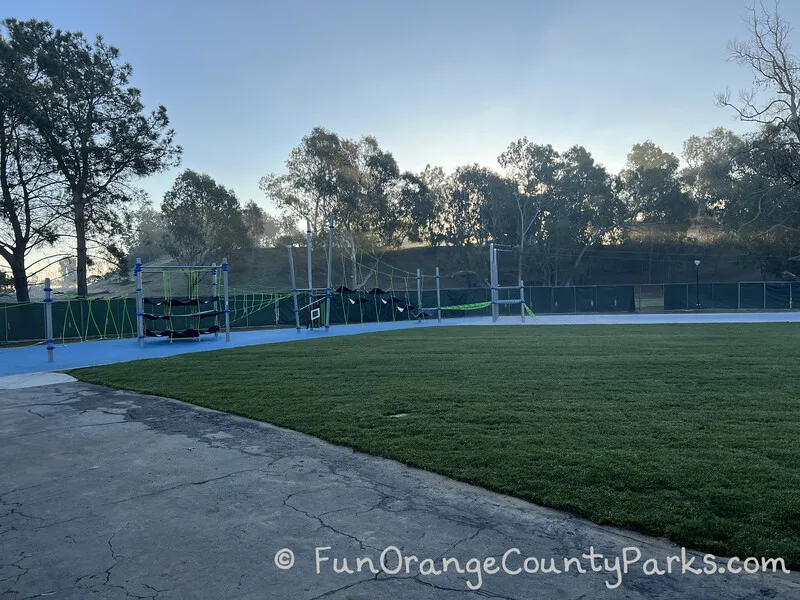 Never fear! There is a "toddler" area or safer space for younger kids away from the frenzy of the climbing equipment. It's close to the lake so you'll have an amazing view as the kids play.
It has a teeter-totter, 2 baby swings, 2 bench swings, one swing-with-me swing. Of course, there's also a structure with a slide and more fun play opportunities for the smaller kids.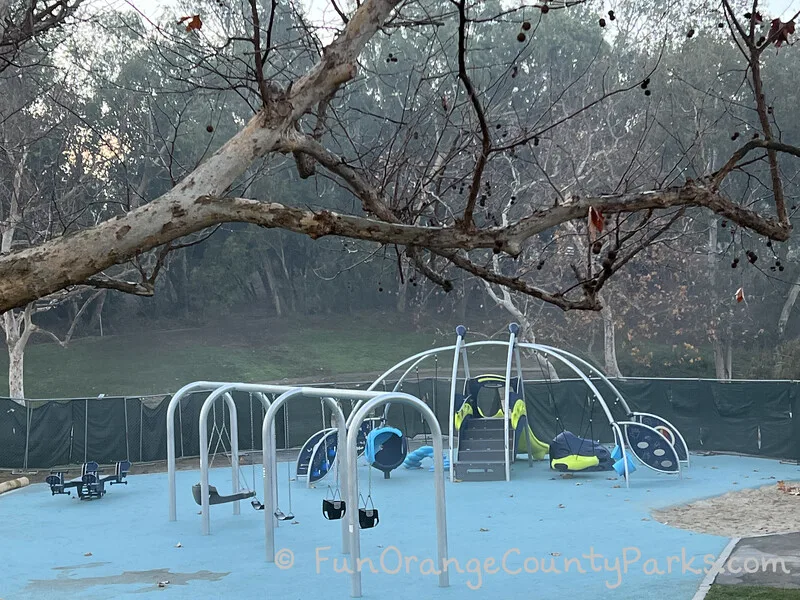 Shipley Nature Center is an outdoor treat not to be missed. Open from 9am-1pm on Tuesdays, Fridays, and Saturdays. Little ones will thrive on the adventure spirit and wildlife abounds on the manicured trails. Take a stroll, visit the small museum, borrow some binoculars and have a ball. PBS personality, Huell Howser, even paid the park a visit. See the video!
Covered picnic shelter rentals, barbecue grills, two play areas, dirt and cement trails for walking, bicycling and jogging, nature and bird watching and more.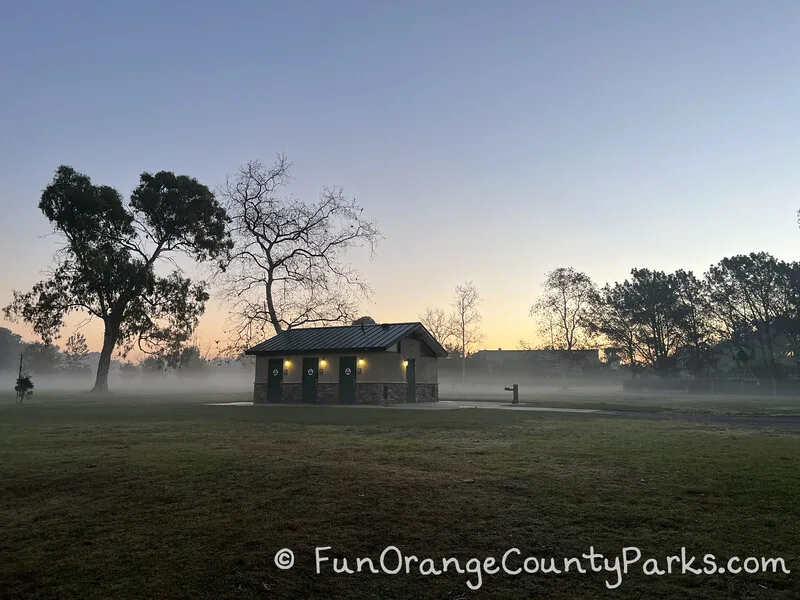 Checklist for Huntington Central Park West
Parking: Plenty of FREE parking near Kathy May's Lakeside Cafe which is either right on the park or also in the center of Central Park Drive. You can also find a lot near Shipley Nature Center which has been paved in recent years, although it's a bit more of a walk to the playground.
Sand and recycled rubber play surfaces at the playgrounds.
Restrooms near the playgrounds at Central Park West.
Huntington Central Park East
Huntington Beach Central Park East features:
ponds and lakes,
walking paths,
sports park,
outdoor amphitheater,
Slater Avenue playground (new play structure as of April 2023),
fitness trail,
and a restaurant (Park Bench Cafe) which is super dog-friendly.
Lots of water wildlife: turtles, egrets, white pelicans, mallards.
Great spot for long stroller-friendly walks and exploring.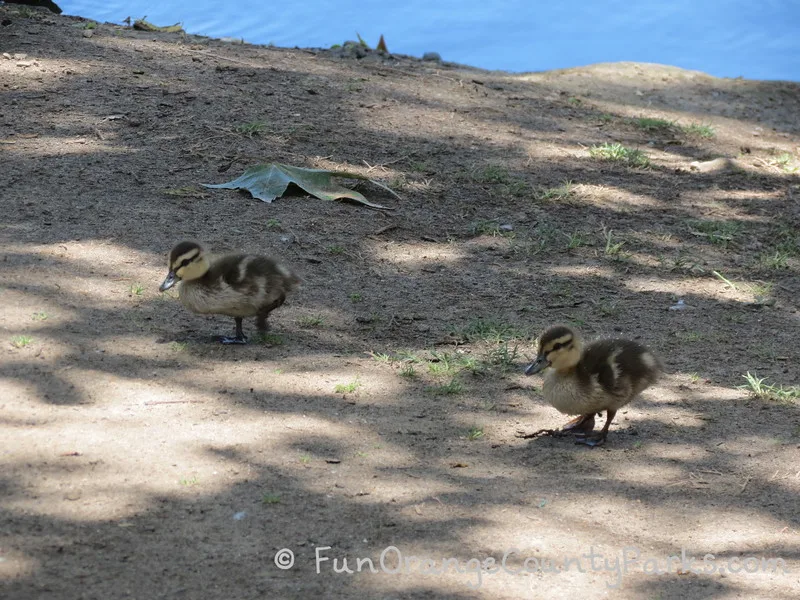 The Secret Garden is finding new life thanks to a group of dedicated volunteers at HBTrees.org keep a WONDERFUL page at HB Central Park on Facebook and also keep up the HB Urban Forest. Amazing advocates for the park!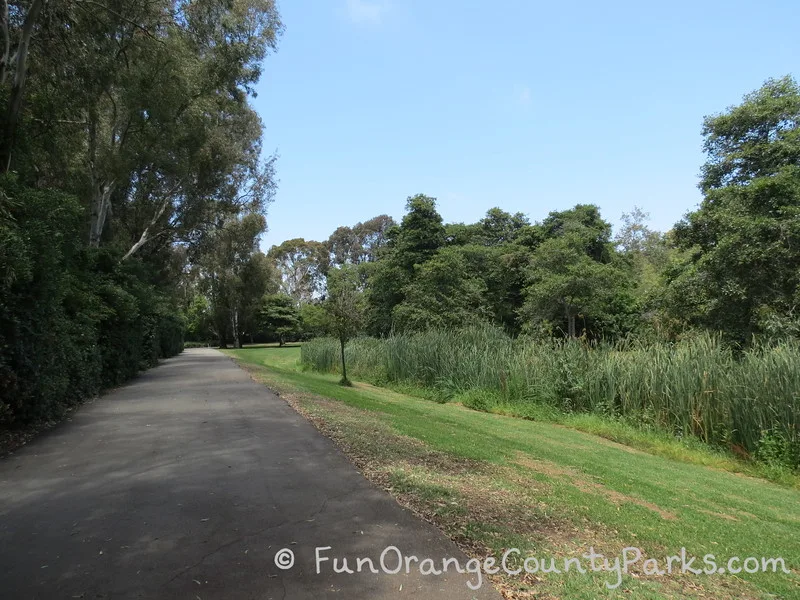 The new playground at Slater Avenue has gotten good reviews and it's much nicer than what was there before.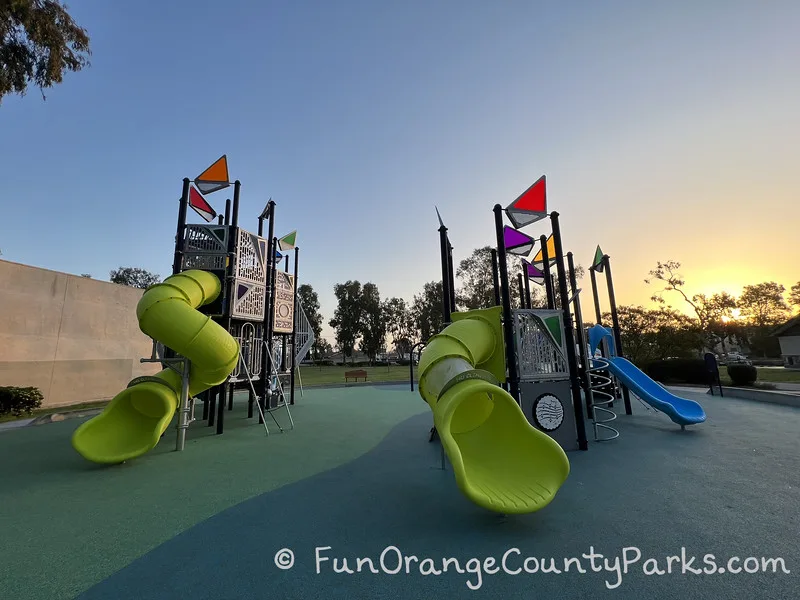 Central Park East Checklist
Parking: Park near the library helps for families wanting to explore Central Park East. Or you can also
Recycled rubber play surfaces at the playground.
Also restrooms inside the library and at the east side of the park near the Slater Avenue playground.
What You Need to Know for Your Visit
This park is HUGE – give yourself plenty of time for exploring because my kids are disappointed every time we leave.
Some of the play equipment is dated, but still lots of fun. Just don't come expecting state-of-the-art playgrounds for anywhere other than the NEW 2022 playground in HB Central Park West.
Don't feed the ducks!!! Feeding the waterfowl may cause botulism outbreaks resulting in paralysis and oftentimes death for the ducks.
SHADE everywhere! TONS of trees!
Smaller groupings of picnic tables all over the fields under trees and in meadows. Plus a number of benches, too. Grills everywhere.
Official City of Huntington Beach park website — and this is the Surf City website page all about Central Park where you can learn even more about each part of the park.
Official Huntington Beach Central Library info (not to be confused with the "Huntington Library and Gardens in San Marino") — browse around inside, there's a Friends of the Library bookstore and gift shop. There used to be a $25 non-resident fee to get a library card, however all California residents are now entitled to a free Huntington Beach library card! I think that's pretty cool.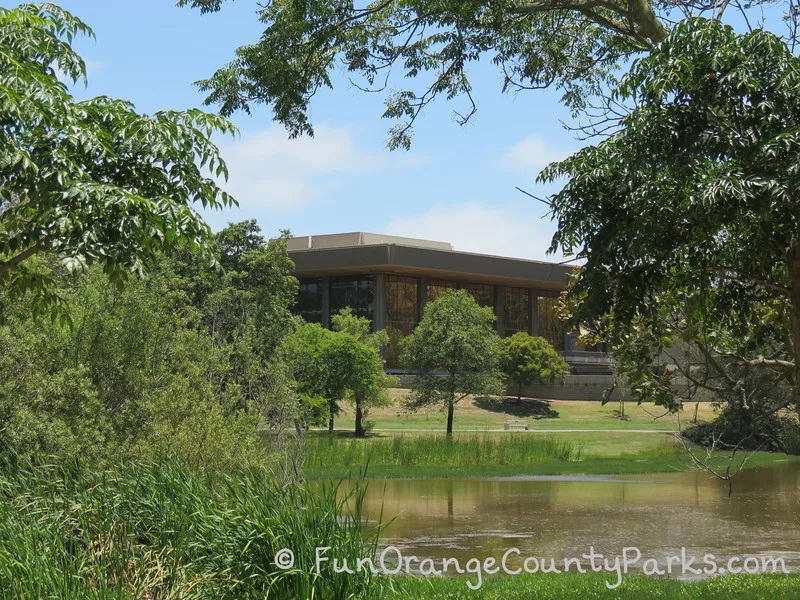 Originally published September 2008.

Photo archive of old playground!
What an improvement, huh?