The Butterfly Habitat at Mason Regional Park in Irvine opened in November 2010. The kids and I finally stopped by to find the hidden garden during our summer exploring in 2011.
As with most of our amazing regional parks (OCParks.com), Mason is pretty massive to cover on foot. There are 3 play areas scattered throughout the park. I thought the Butterfly Garden would be back in the corner of the park closer to Harvard. I was right, but it took a little searching. It's not necessarily a "destination garden," but it's certainly a destination park! It's beautiful for a lazy afternoon and there are some lessons to be learned about native plants and local wildlife.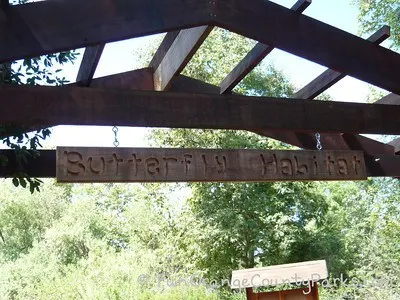 Where is the Garden? The easiest way to find it is to turn right when you enter and park your car by the playground and fitness course on that side of the park. Walk straight in, past the playground, and turn right at the Amphitheater in front of you. We took a more "mysterious" approach by parking at the far end of the playground parking lot — closer to the exit. There's a sidewalk that leads through the trees and we turned left back towards the playground. We investigated the rustling in the bushes and marveled at how big the leaves are on the oak trees here.
Butterflies? Yes! We saw a few butterflies, but I can never catch good photos of them. Look for little placards on the plants to identify their names (like the coast sunflower on the right of this post.) All different kinds of sage seem to be popular and native to our area.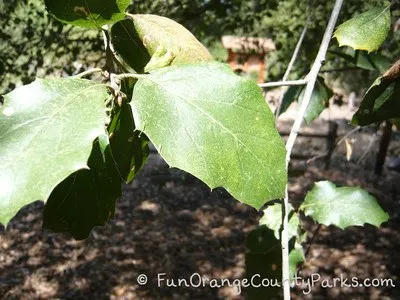 Location: Between Culver Drive, University Drive, and Harvard Avenue winds around it. Very near Tanaka Farms and the San Joaquin Golf Course. MAP to Mason Regional Park in Irvine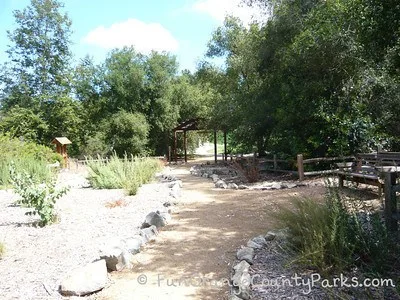 Checklist:
Parking is in the county fee-based parking lot. During peak season it's $3.00 on weekdays and $5.00 on weekends. Check official OC Parks website for more info. (I think the annual parking pass is a great investment in our beaches and parks, especially if you go often.)
Drinking fountain in the garden
Restrooms near the lake and playgrounds
Lots of trees in the park and shade on the edges of the garden
Picnic tables and grills everywhere in the larger park – many under shaded gazebos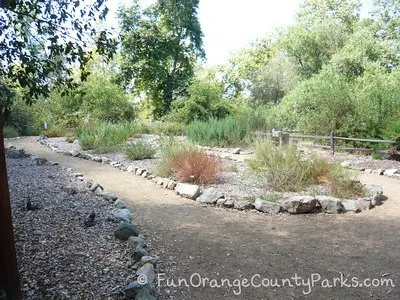 More about Mason:
Dara talked about Mason in her Scooter-Loving Mom post.
Read my original review of Mason.
A long time ago, my husband and I used to cross Culver and hike/bike around on the sidewalks in the wilderness area between Culver and Tanaka Farms.
The UCI Marketplace is also within walking distance and there is a HUGE Farmer's Market there on Saturday mornings.
Drive a little further on University and you can turn right onto Campus for a visit to the San Joaquin Wildlife Sanctuary.
*Added to KaBOOM.org as part of their 2011 Park-A-Day Summer Challenge