Bonelli Park is what's written on the archway over the entrance to LA County's Frank G. Bonelli Regional Park in San Dimas. We've probably passed by this park hundreds of times traveling on the 57 freeway between Orange County and Pasadena. As we drive towards the mountains, we go through Brea, Diamond Bar, and then hit San Dimas.
Bonelli Park shares this exit with Raging Waters. As you turn off the freeway exit and head towards the park, the turn off for Raging Waters is on your left.
Directions to Bonelli Park in San Dimas: Right off the 57 Freeway in San Dimas. (Address: 120 E. Via Verde Street, San Dimas) MAP TO BONELLI REGIONAL PARK IN SAN DIMAS
Highlights:
Wow! This park is a massive 1800 acre park with a 250 acre lake/reservoir.
Puddingstone Reservoir is the centerpiece of the park and allows for fishing, sailing, boating, swimming (during the summer), kayaking, jet skiing and water skiing. I also liked it for birdwatching in winter.
Also views of the snowy San Gabriel Mountains on clear days in the winter.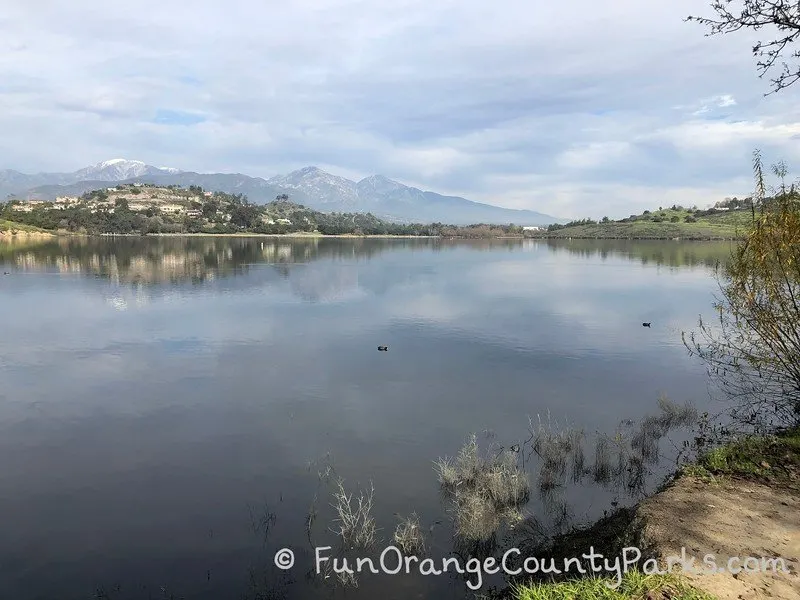 It has FIVE distinctly different playgrounds running along the Picnic Valley area and turning the corner towards the lake access
You can almost stand at a central spot and see your kids from a distance run between the 5 playgrounds
It has a Picnic Valley! Isn't that the best? It's just an expansive grassy area dotted with playgrounds, picnic tables, trees, and picnic shelters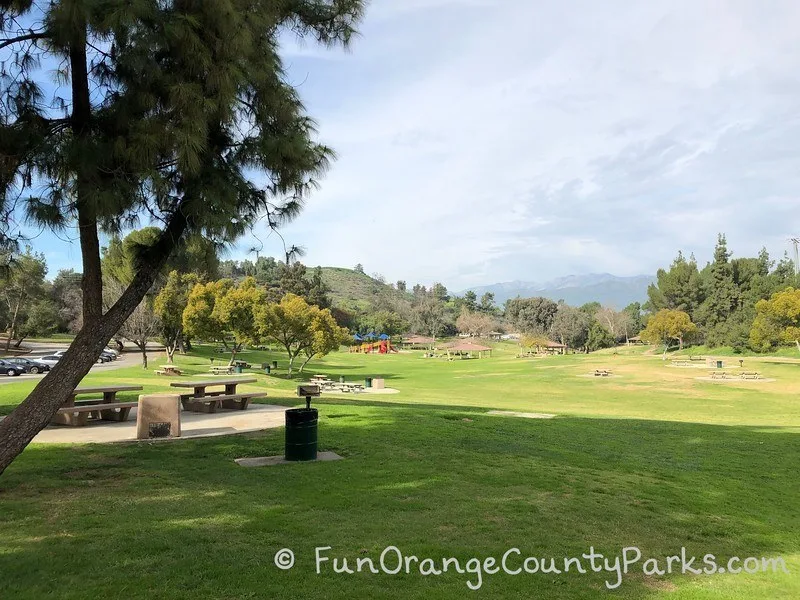 Playground #1 as you enter the park is a large red, blue, and yellow playground. Big red tunnel slide + other slides, monkey bars, ladders and a little shade.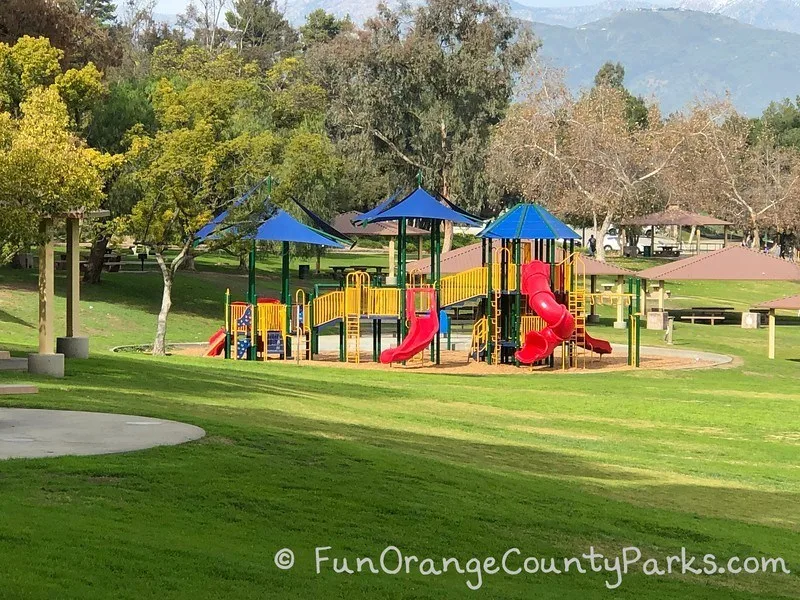 Playground #2 – The next playground you'll come to is a Kompan playground near the restroom building. If you look in the shady area of this photo, you'll see some fun spinners.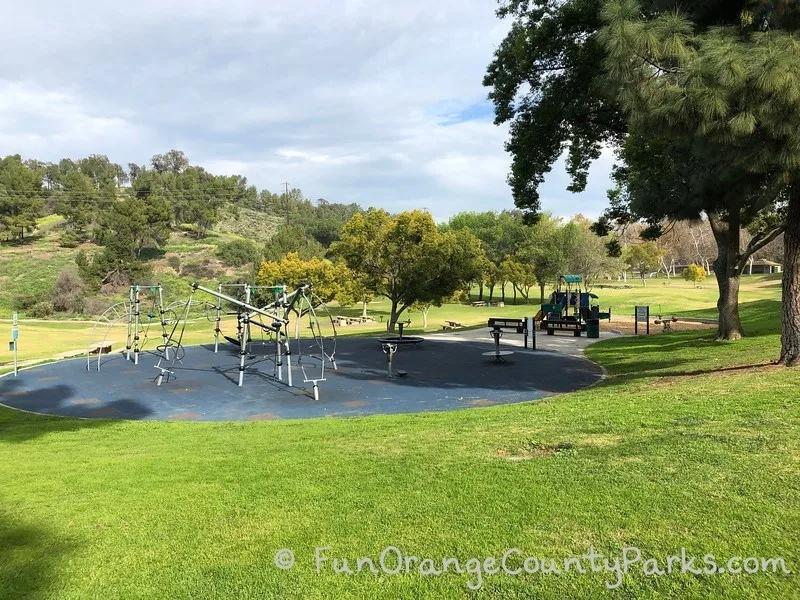 Playground #3 – Then we come to my FAVORITE playground of them all. I don't even need to tell you why. Bring your rock climbers here! I saw someone describe this as the Stonehenge Playground.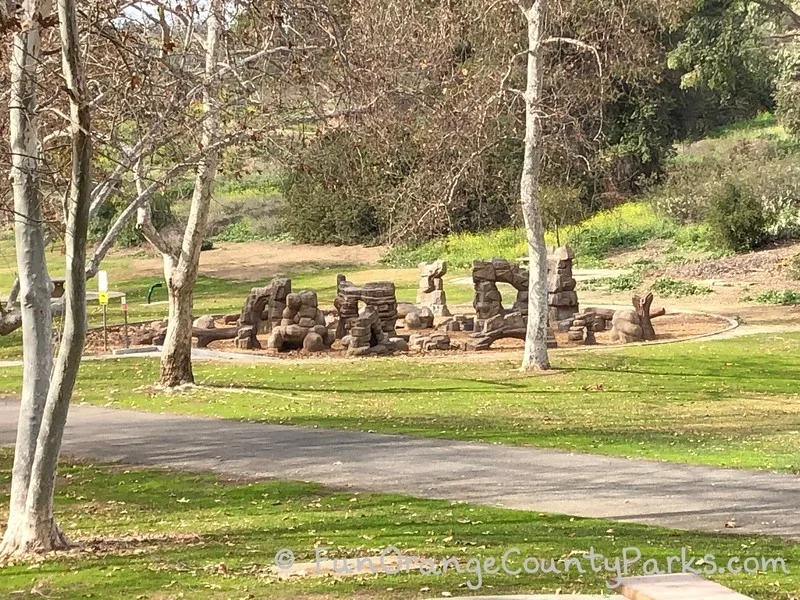 Playground #4 – This playground dwarfed the adults who were standing nearby – even though it looks small in my drive-by photo. It's a big cheery yellow playground, again with lots of slides including a tunnel slide.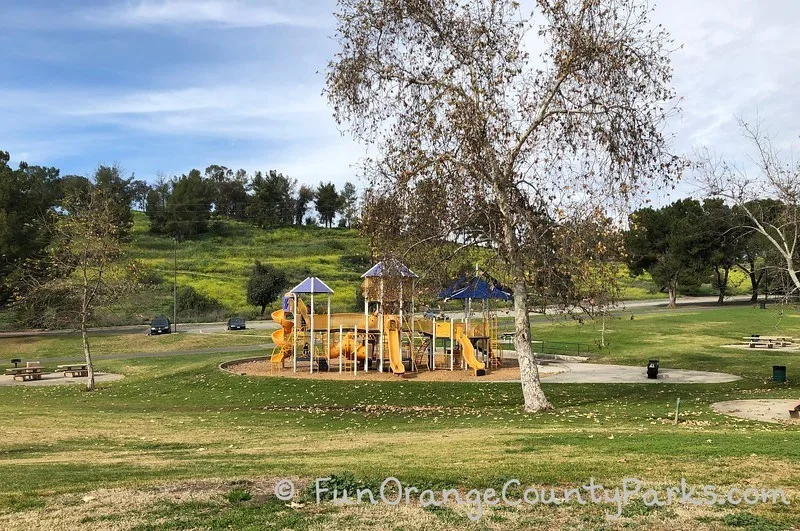 Playground #5 – Finally, you'll come to the last playground in the line of playgrounds. It's maybe the simplest one of the bunch, but it's the one with a swingset (2 baby swings, 2 bench swings). It's a better playground for younger kids because the slides aren't too tall.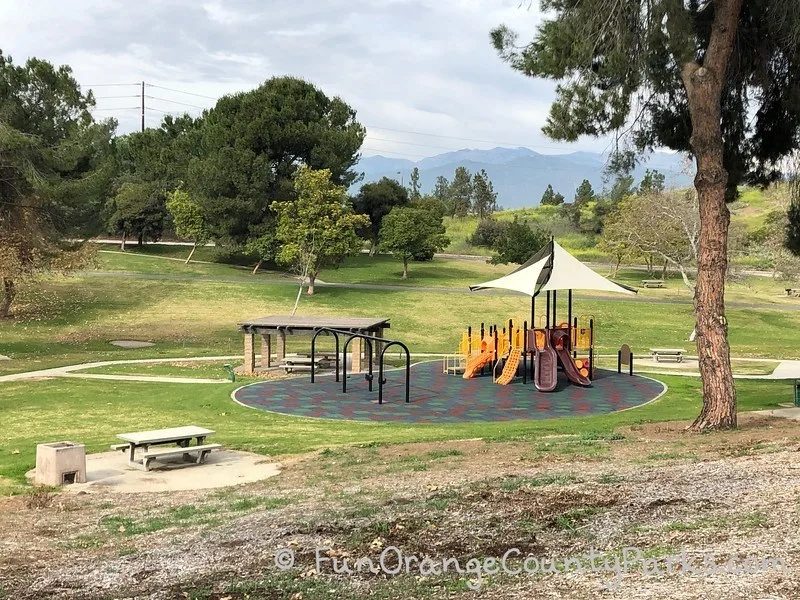 I get a lot of requests for places to fish. This lake is a beautiful setting for fishing.
There are hiking trails. We asked the attendant at the booth by the Sailboat Cove for a hiking map. It's really pretty December to March when the hills are green from winter rains.
The East Shore RV Park is at the top of a hill overlooking the lake.
This park is built for picnics and there are grills and picnic tables everywhere.
You can pair this park with Raging Waters.
There's a RailGiants Train Museum nearby which is only open the second weekend of each month (confirm this on the calendar before you go)
Be Aware:
Park is open sunrise to 7pm during winter hours and sunrise to 9pm during the summer
So far, this post is only describing the playgrounds along the south shore of the lake. The lake extends past Raging Waters (or you can route around Raging Waters) along the lakeshore where there are even MORE playgrounds at the north shore.
Parking does cost $10, unless you happen to be there on weekdays during the winter months
Swimming only allowed during summer at swim beach
I imagine this park is extremely busy on holiday weekends and during the summer.
Hot temps during summer months and although there are trees for shade, the playgrounds might be exposed to lots of sun.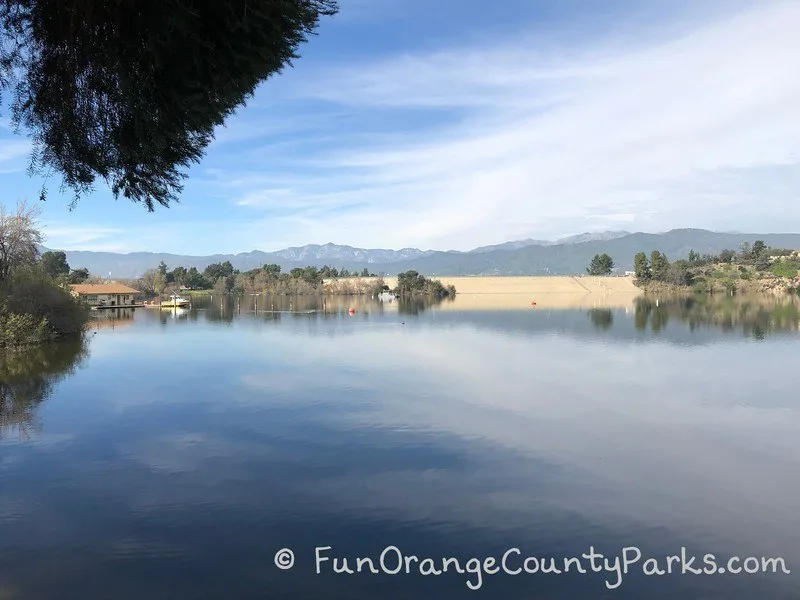 Checklist:
$10 entrance fee, depending on the day
Playground surfaces are recycled rubber and wood chips
Restroom building near playground #2 and playground #3. Another restroom building near lake access past the playgrounds and also near Sailboat Cove launch area.
5 playgrounds in the Picnic Valley area, plus additional playgrounds on the north shore
Ask the gate attendant for a hiking map