My 2023 Wild Rivers Irvine visit was the first time I've been to this new location at the Great Park in Irvine. The old water park was near old Verizon Amphitheater closer to Laguna Canyon.
I didn't get a chance to experience it when it first opened in 2022, but Wild Rivers invited me to try it this year. (Wild Rivers paid my parking & admission, so this was a partially hosted visit.) However, I always give you my honest review and this time I asked for your questions ahead of time for me to research while I was there.
You asked the BEST questions! Especially this one from Jenine: "Just a truly honest review. Others seem a little too rosy. Yelp reviews are a mixed bag."
I will try to answer them all of those questions in a "truly honest review" in this blog post.
Just as a brief background, I was a YMCA Swim Instructor & Lifeguard when I was in college and I have written an in-depth article on drowning prevention during my freelance writing career. Water parks have some of the best lifeguards around! Please give them respect and listen to their instructions. I would ALWAYS supervise your kids when they are in the water. It's an inherently dangerous place and just accept that it's going to be a more active outing for you.
However, I do think these memories stick! I can remember my water park visits from when I was a kid! Do you remember your visits? Did you get to go?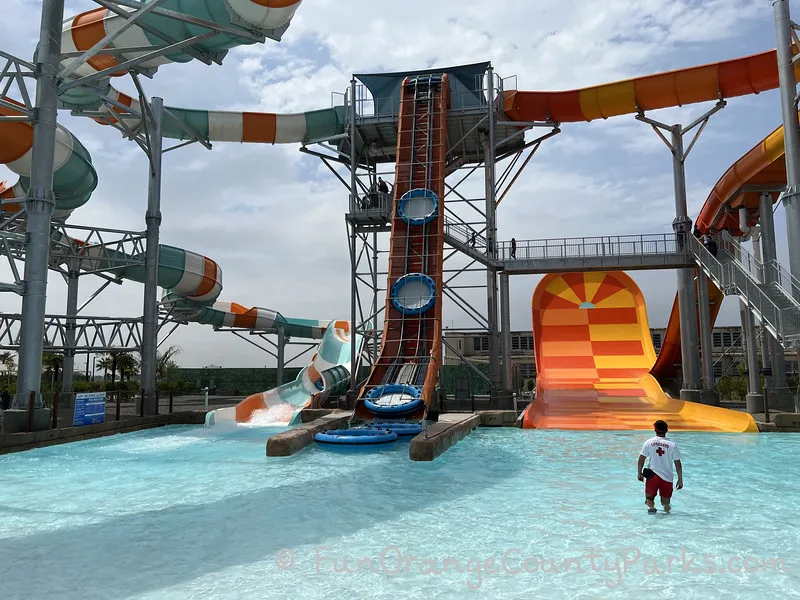 My Wild Rivers Experience – Quick Overview
First, let me give you my overall experience. We went on Grand Opening weekend on a Saturday towards the end of May. It was overcast when we arrived right before 10am and the sky cleared around 11am to be a relatively sunny and comfortable day in the 70s.
I found the park to be clean, much bigger than I expected with all rides running, really nice and responsive staff, and saw lots of happy families with happy kids. Really, except for a few little ones who were either cold or a little spooked by the water, kids were skipping, laughing, and genuinely happy to be there. Even the teens! We were able to find shady spots to sit and the lines weren't too long. It was set up pretty well for a typical family day at the park.
Of course, there are a few things parents point out as tough to navigate here. You've told me the cost is a big barrier. Also, you are NOT allowed to bring outside food into the park which can make it tough with toddlers or those with specialized diets or food allergies. I also did not find it to be particularly accessible. You need to be able to climb the stairs to the top of the rides. I didn't see any accommodations that would allow for those rides to be possible if you couldn't climb the stairs.
I focus a lot here on the 3 family areas for young kids (because those are the questions you asked), but there are 14 other attractions for kids over 42″ and adults! There is tons to do! A teen will have no problem filling their day here!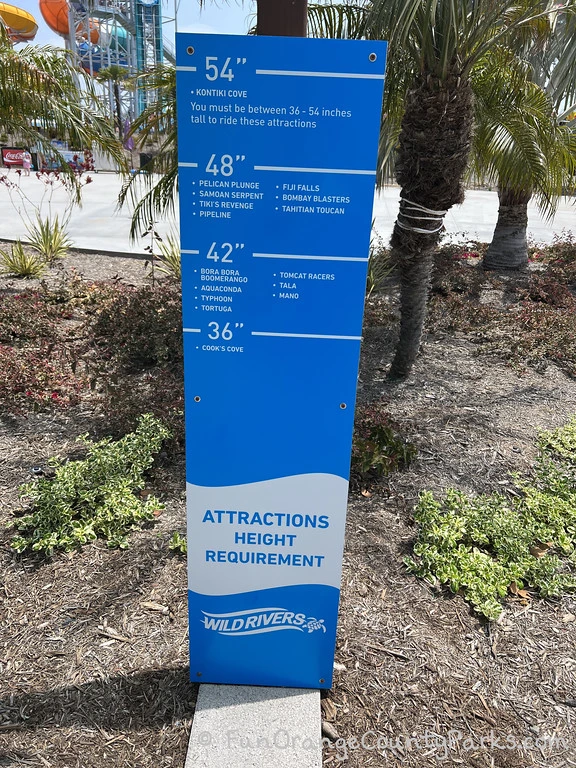 Toddlers and Height Requirements
Little kid areas plus height requirements on bigger slides
Good for 2.5 year old?
Worth it for 4yo and 18mo? How cold is water?
I have a 1yo and an 8yo. Should I try it w/o my husband or wait for a family trip?
Lines, how much is little friendly, average height for most slides
Food options and 1 and 3 year old friendly spot.
Height requirements for rides, enough to keep young ones occupied?
How many spaces for younger kids (2 & 5 yr old who is smaller 42")
How is the toddler play area? How tall is the water?
What is there to do for a two year old?
Toddler activities?
How realistic is it to go with younger kids. Like toddler age.
I really want to see the toddler area! I have an almost 3 yo and 5 m old and want to see if it's worth it
Things for toddlers to do (ages 4 and 18 m)
It's hard to answer the very specific questions, but I'll try!
First, I really did love the toddler and young kid area. You come into the park and just past the lockers, you will turn left over a bridge that spans Castaway River (their version of a lazy river) and you'll have Cook's Cove on your left and Kontiki Cove on your right. Both have cabanas for rent in the back and also lots of chairs under shade covers for you to settle in for the day.
It's really nice for this area to be separate! There were not really teens here and Kontiki Cove has an upper height range for slides, so it was mainly just parents with kids.
Take a peek at each Cove (Cooks vs. Kontiki) and decide where you think you might be spending most of your day. I think one will obviously fit your kid over the other. If your child is under 36″ then you need to be in the water to supervise them. I would even go a step further and say you should be about an arm's length from your 4 year old. Even though there are lifeguards, I would still actively supervise your own children. No one will watch them like you do!
Kontiki Cove (36″ to 54″)
Kontiki Cove would be more for the youngest crowd and the height range here is between 36″ and 54″ to ride here. Is your child under 36″? The website says: "Children under 36″ should be supervised by an adult." This is the only spot with a low AND high height range. It was heavily staffed with lifeguards and it's 2 feet deep.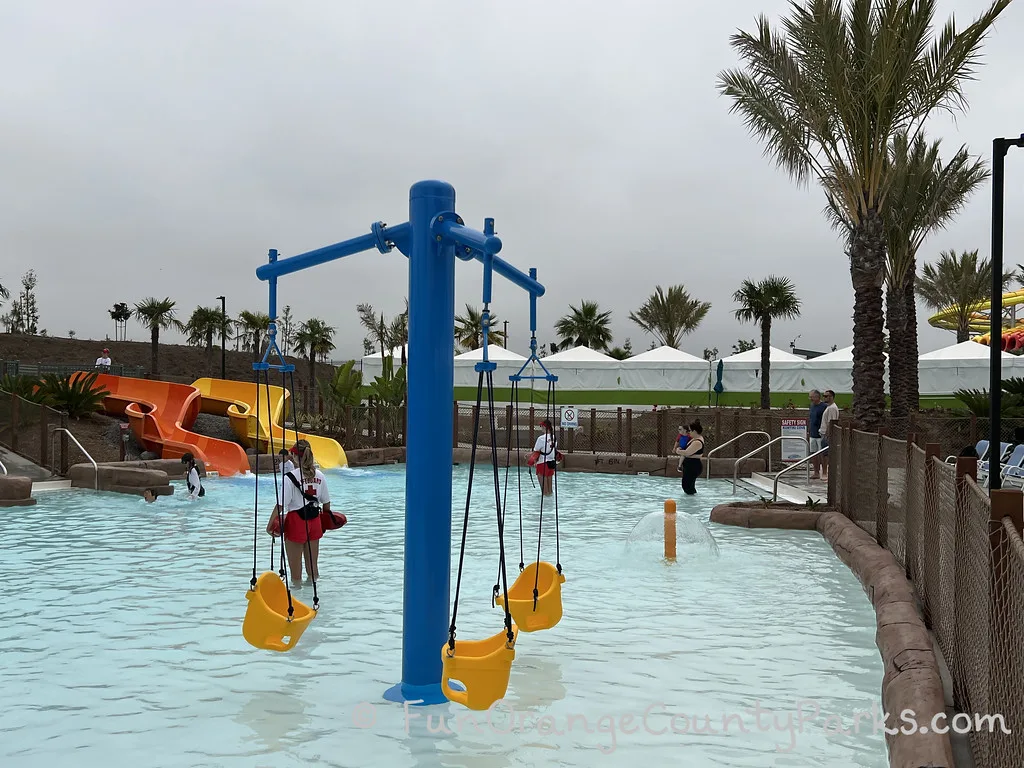 There is a beach entry at the front of Kontiki Cove and lots of space for water play.
I could have spent all day here with my 2 to 4 year old when they were this small. There are 5 main slides and those 2 smaller "row boat slides" it was a pretty mellow vibe on the day we went.
In a Perfect World: I can see myself investing in an annual pass for myself just for this area with one child under 3 years old (who would be FREE)! I'd be here 2x a week! Even better if you have a friend with only one child!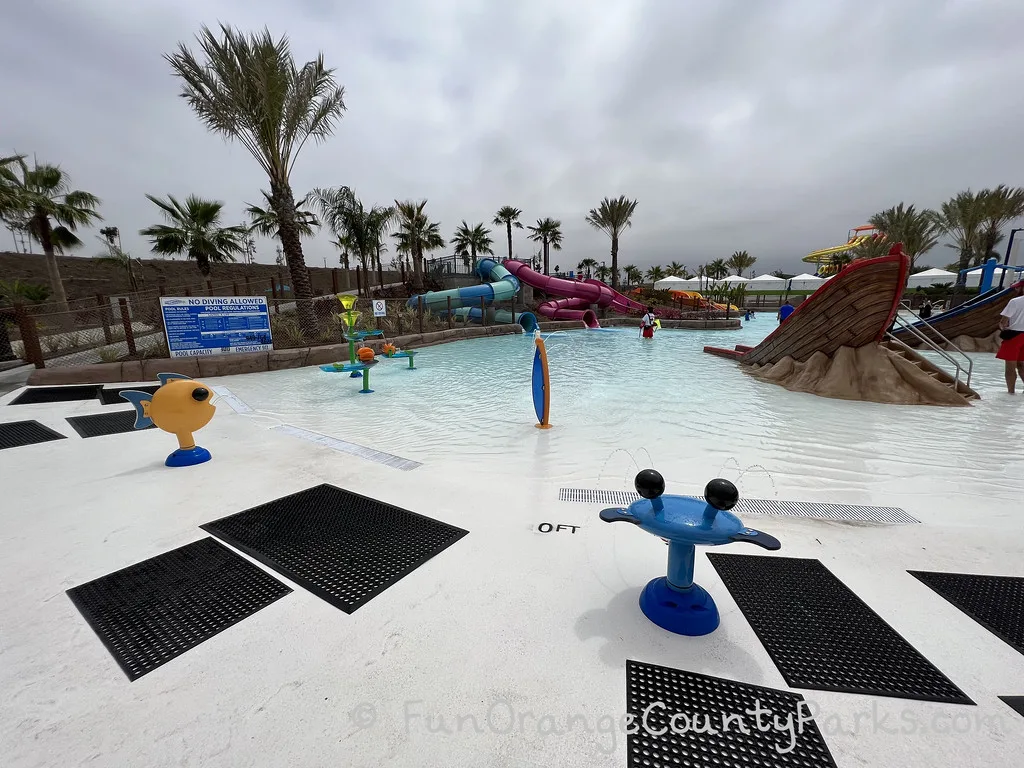 There is a steps-entry on the far side and a beach entry as you arrive at Kontiki Cove (see above photo). There are these small water play activities that kids were especially attracted to and they had non-slip mats to help.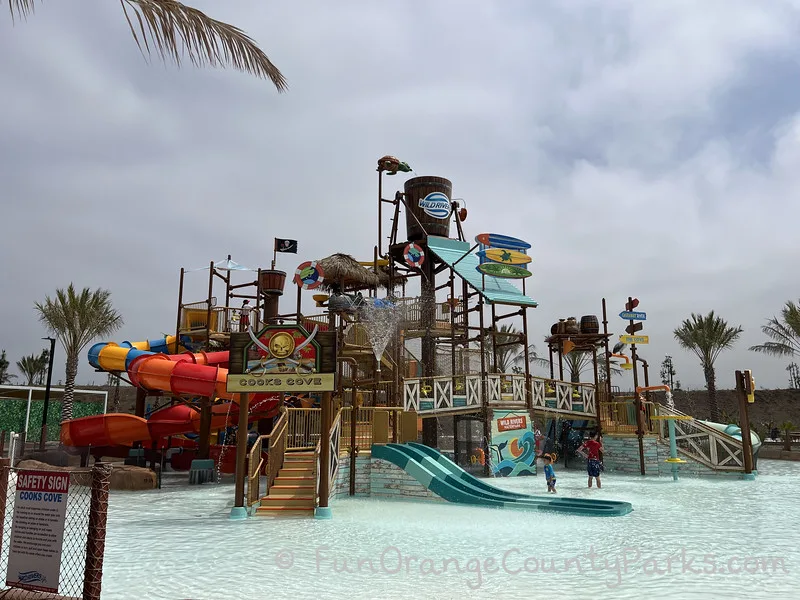 Cooks Cove (36″ and must be 40″ for slides)
Cooks Cove is only 9 inches deep and it's a lovely beach entry. At other parks, this is just a concrete slab that feels like you are on sidewalk. This one feels like you are on a tropical vacation in comparison!
The Wild Rivers website describes this area as: "one of the largest rain fortresses in the world with 77 activities that are safe and fun for young children, including an 800-gallon tipping water bucket and several slides into a shallow zero entry pool."
For timid or sensitive kids, this space could be a little overwhelming because water is spraying and kids are completely involved in playing and not paying attention to other kids or adults. The mood is a little more frantic/excited over here because there is the ever-present anticipation of when that massive water bucket is going to tip.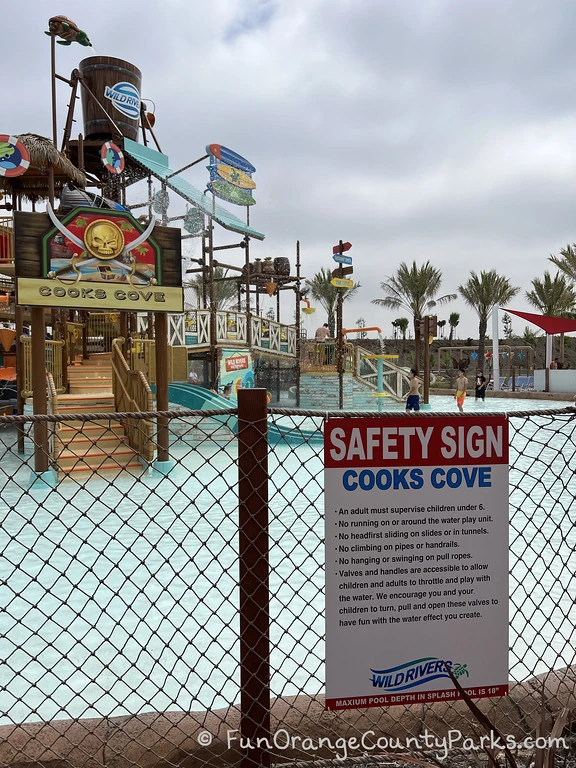 If you are an anxious parent, you also might not like not being able to see your kids from the seating area. It is impossible to physically follow them through the entire area because some of the slides have upper limits so you won't necessarily be able to follow them down. They will climb the structure and you'll lose view of them as they go down slides at the back of the play area. I witnessed a few moms challenged (but doing it!) supervising 2 active young ones at once in Cooks Cove. You can't follow one kid up while the other one is going down!
Active kids who you feel secure could handle navigating this area and enjoying the activities can potentially spend A LONG time here. There is so much to do and they can't really leave the area unless they go past you since it's pretty much a dead end into this cove.
Plenty of shade in the seating areas for each of the coves! Although, I always suggest getting there when it first opens to grab your spot.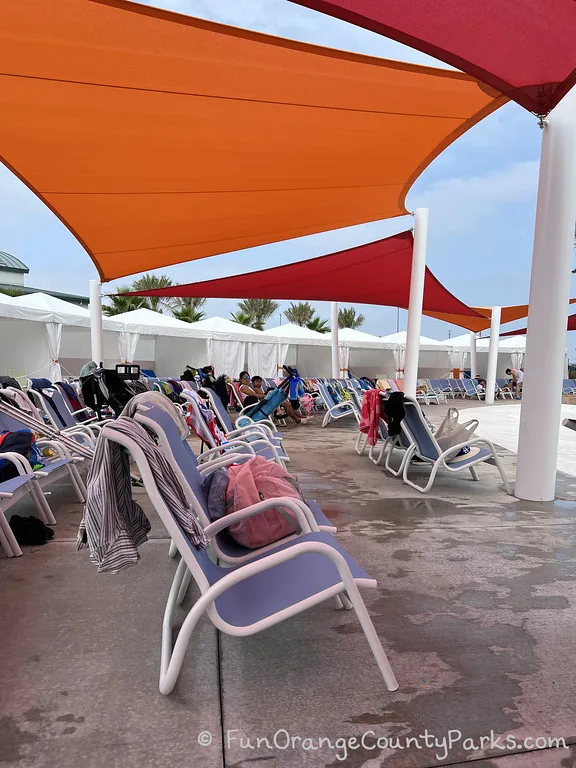 In contrast, if your child fits the height requirements for Kontiki Cove, you could stand in the 2 feet deep water in the middle of the pool and see them pretty much EVERYWHERE they go and you won't have 10 year olds spraying you with cold water from water cannons (I'm laughing here! I love it when the kids are playing and I encourage them to try to get me, but you may not be ready for it on the day you go!)
Castaway River
There is a beach style entry right in between Kontiki Cove and Cooks Cove. And there is an entry/exit down near the Tomcat Racers.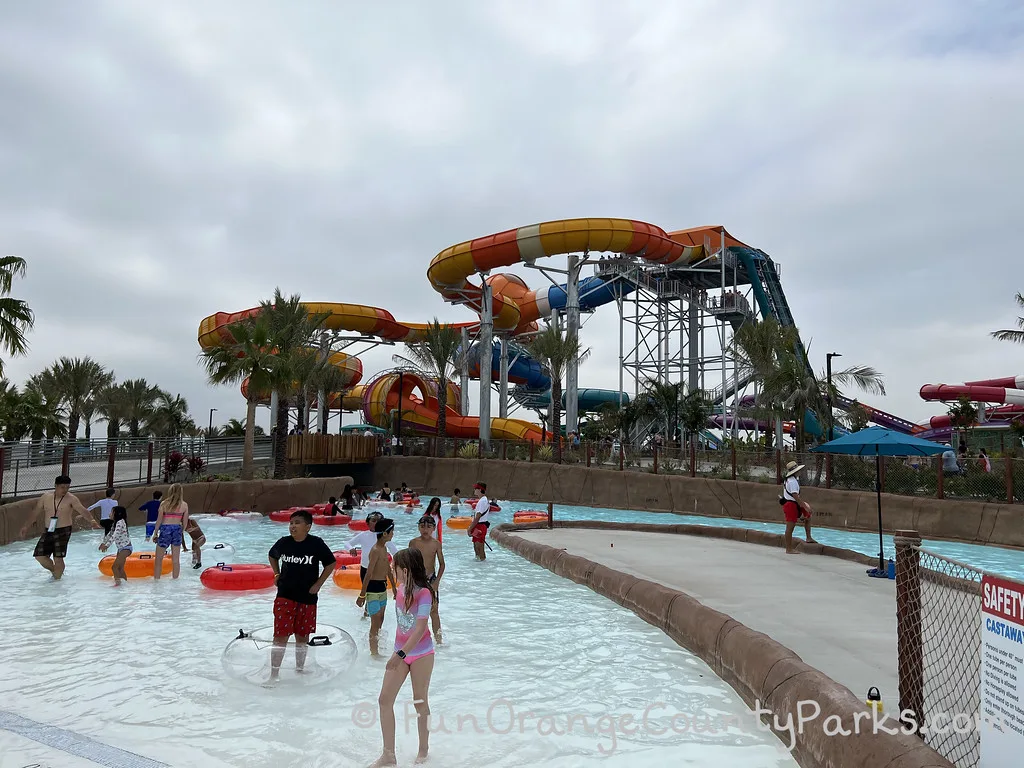 This is like a typical lazy river, but it was surprising to me that it was only 2 feet and 6 inches deep. But it makes sense! It's really meant for families with young children rather than adults. Most parents tended to walk along while their kids rode in the inner tubes.
There are a couple of spots with water dumps and fountains that give it some surprises!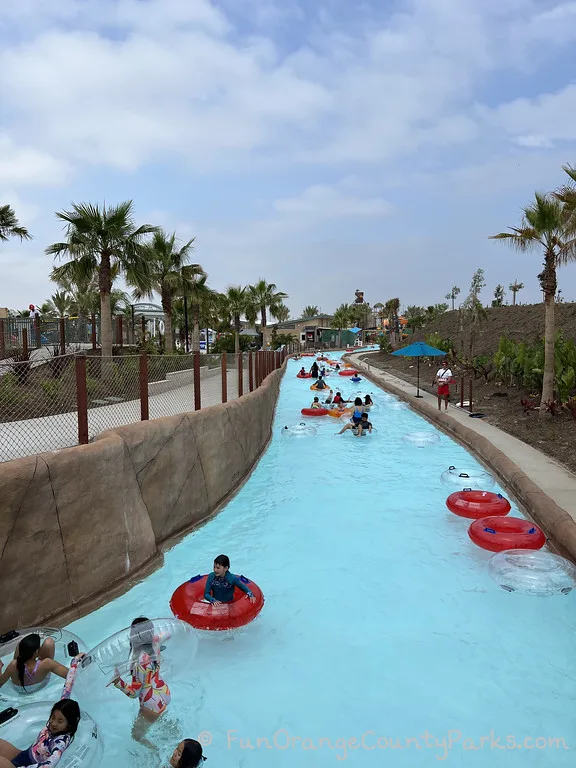 I rode alone, but because of the water depth I couldn't quite get super comfortable. If you ride on top of the tube you get cold. I think I tried every possible position! Putting it over my head and letting it sit under my armpits was the most comfortable. Then I just sat back and crossed my legs out in front of me. If I had a little one, I'd probably just walk alongside.
Overall Experience
How does it feel to bring 2 kids there solo? Dangerous? 4yo and 6yo both can swim, but still.
I think it really suits a 4yo and 6yo. Cook's Cove is only 9 inches deep and that age seemed to be having tons of fun playing here. You can either be in with them or watch from your chair. I do think any time there is water it's inherently dangerous. You know your kids. Do they like to split up? Are they too active to handle alone? Will they stay in one water area, if you ask? I feel like you could feel pretty secure if they are satisfied staying in the younger kid area.
If they meet height requirements, you could walk around with them to take the bigger slides and wait for when they come down. For the "more thrilling rides," the stairs are steep and a lot of them are many, many stories off the ground. A lot of rafts fit families so you could go along with them. I have a list of rides coming up in the next section.
Always look at the END of the slides as well as the start because some have like a 4 foot drop into an 8 foot pool — and some are on rafts in a shallow area. Some require them to brings mats or rafts up to the top to ride.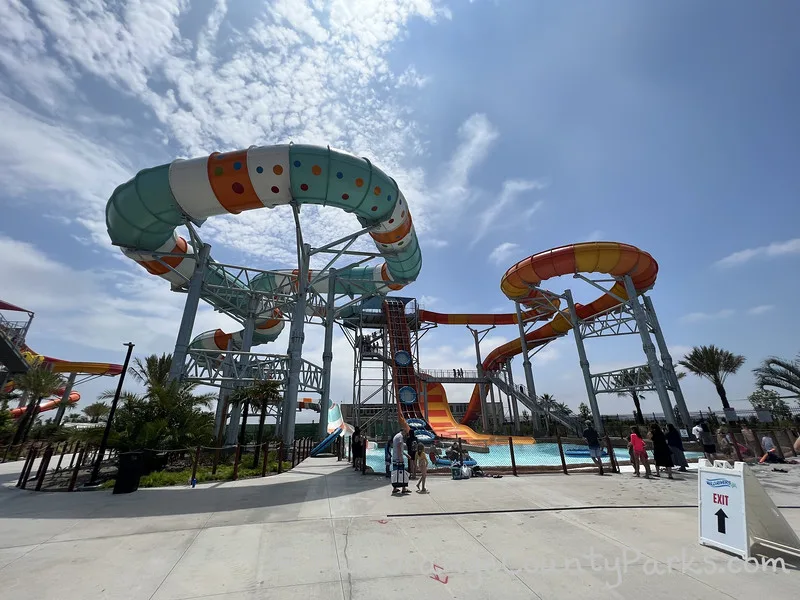 How hot does the sidewalk get? Can you wear shoes on the slides? Are there lots of bugs?
I'm aware that their are some inconsistent Yelp reviews out there — maybe from last summer? I would disregard any online reviews for this one and try it yourself for Summer 2023. The experience will be different from 2022 and also different for every family.
The ground did get hot. A lot of adults were wearing soft water shoes to protect their feet. Look up "aqua socks water shoes" on Amazon and you will see some options. I wore flip flops (slippers) and just took them off at the entrance to some of the bigger slides. In the kid area, where they stand is underwater so I don't think you need to worry too much about it for them if they stick to that area. The walk up to the slides in Kontiki Cove is short.
There are a number of slides that read "Footwear, hats or sunglasses not permitted" for particular slides (only Bombay Blasters, Mano & Tala, and maybe a few others). But I never saw anyone have to remove their aqua socks.
There weren't a lot of bugs for us. In fact, my daughter has had 7 bee stings in her short life so I was a little worried about her getting another one here. I packed the Benadryl! But we only saw a few bees while we were there. No other bugs the whole time except for the outdoor dining tables. A few aggressive flies, but nothing worrisome. The park was really clean and I think the lack of outside food and trash actually helps with this.
Honestly, I didn't see anything that would make this a deal breaker for me! Just manage your expectations:
It will be extra busy on hot summer days!
You will probably have to wait in long lines on certain days (surprisingly we were at the Grand Opening and didn't have to deal with many lines)!
One trend I'm seeing lately on my social media account is parents complaining about "bullies" in ALL settings (not just here) who push or monopolize rides or play areas. It sucks, but you may just need to actively supervise your little kids in crowded areas. And I have to think we need to be a little careful here. Are they truly "bullies" or are they are just KIDS who happen to be excited about a new play experience? Distracted kids? Kids whose parents haven't taught them how to be around younger kids? Older kids will always dominate over the younger ones. They may just be oblivious to the rules or not know the etiquette? Kind reminders might be all they need to know what the rules should be? And maybe even gently letting them know how it makes YOUR child feel when they are behaving badly? Just wanted to add some perspective on your expectations of older kids.
If you don't get there when it first opens, then you might miss out on getting a seat in the shade or even getting a locker.
If you go to lunch at noon, the lines might be long!
I think you get it. This is a WATER PARK. It will be SUMMER. Everyone PAID to get in and wants to get their money's worth. Not just you. There will be a lot of people here and the more we can show kindness to each other, the better the experience can be for ALL.
Appropriate for 3yo and 5yo who aren't strong swimmers? Best times to go to avoid crowds?
I think the 3yo and 5yo would have lots of fun in the Cook's Cove and Kontiki Cove areas along with the Castaway River, especially if you are nearby. They were pretty tame and they don't really require swimming. I'm not sure when to go to avoid crowds since I only went that once. But I'd guess it helps to get there when it opens. Also weekdays over weekends? Cooler days better than HOT days?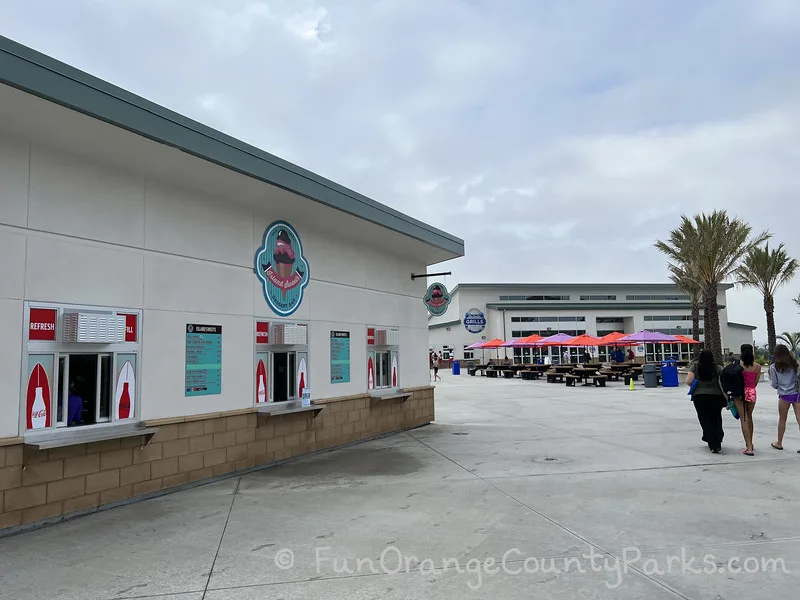 Food
Allergy friendly food options
I heard that you couldn't bring in own food to the park. Can you find out about it? Thanks!
Food options! Can we bring our own food? Food options for toddlers?
First of all, it's easy to feel like the dining and restaurants MUST be towards the entrance. No. They are at the BACK of the park near the Shaka Bay wave pool. There are 3 official dining options:
Island Sweets – snacks and desserts
Pacific Grille – main meal options + grab-and-go items
Mustang Bar – adult drinks
There are also Dippin' Dot carts, a coffee option, and beer stands throughout the park. The Dippin' Dots were $6 and came in a portable packet (not a bowl).
There are also water bottle refill stations!
Island Sweets has snacks and desserts (of course, prices and offerings subject to change – this is just one snapshot in time).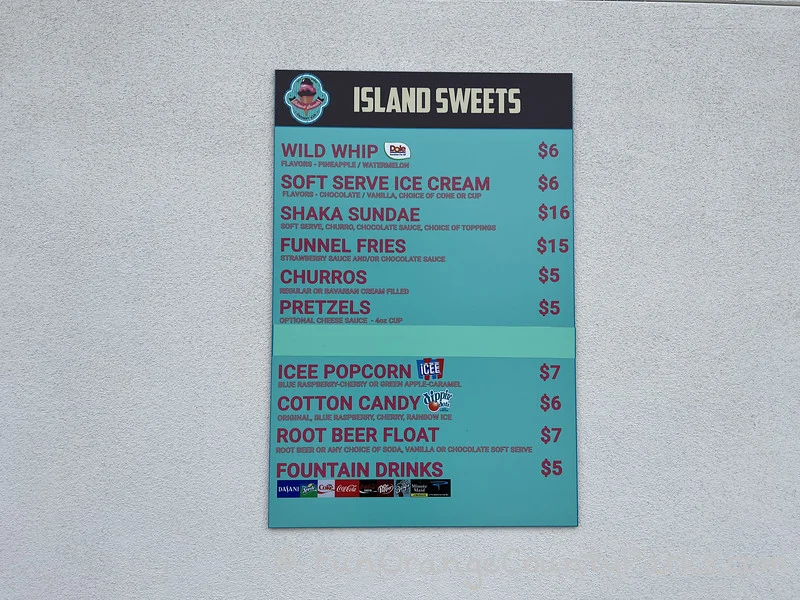 I spent $35 of my own $ (not hosted) on a cheeseburger ($15), chicken tenders & fries ($13), and a rather large container of pineapple ($7). The chicken tenders were sizable and easy to share! The pineapple was really good.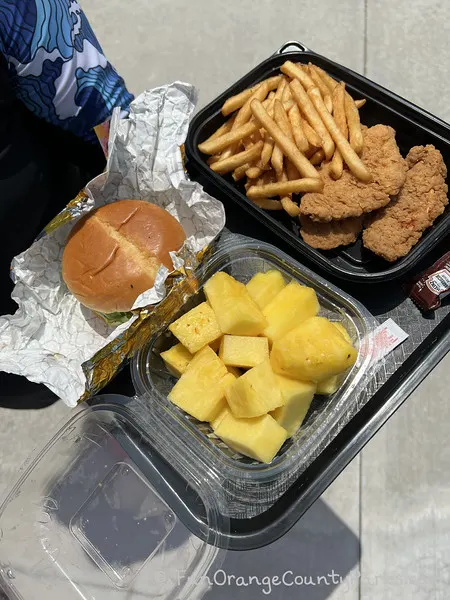 Items on the From the Grille menu here:
Whole Pepperoni Pizza
Whole Cheese Pizza
Philly Cheesesteak Sandwich
Angus Cheeseburger or Hamburger
Chicken Tenders with Fries
Individual Pizza Slice
Beef Hot Dog
And there was a cooler where you could grab items like:
Dill pickles
Uncrustables
Parfait with granola
Watermelon or pineapple
Salads
Sub sandwich
Danimals yogurt
JELLO cups
Applesauce
Apple slices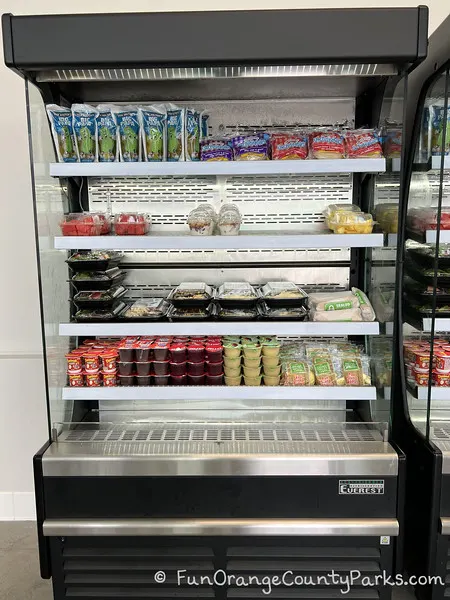 So there are some fruit options and the pizzas + burgers were available with gluten free options. However, it would be tough if you have some special dietary needs or food allergies. I have some questions in with the park about this. I'll let you know when I hear back.
For now, this is from the FAQ page on the Wild Rivers website:
"Outside food, beverages, and alcohol may not be brought into Wild Rivers. A variety of food, snacks, and beverages are offered for sale in the park at Pacific Grille, concession carts, and our Bungalow 5 retail store.
Unopened, sealed or empty water bottles, baby food, and food for guests with special dietary restrictions in limited quantities are permitted. Bags will be inspected upon arrival and items that are not permitted will have to be kept in your vehicle during your visit. We appreciate your understanding and cooperation with our policy."
That seems to allow for "special dietary restrictions."
Even though you aren't allowed to bring outside food into the park. You CAN bring food in a cooler (LEAVE IN CAR) and eat in the small picnic area outside the gates. Re-entry out of the park and back in is allowed. The parking lot is not so huge that you can't get back to your car. It would be relatively easy to do this.
This is what the outside-the-park seating / picnic area looks like: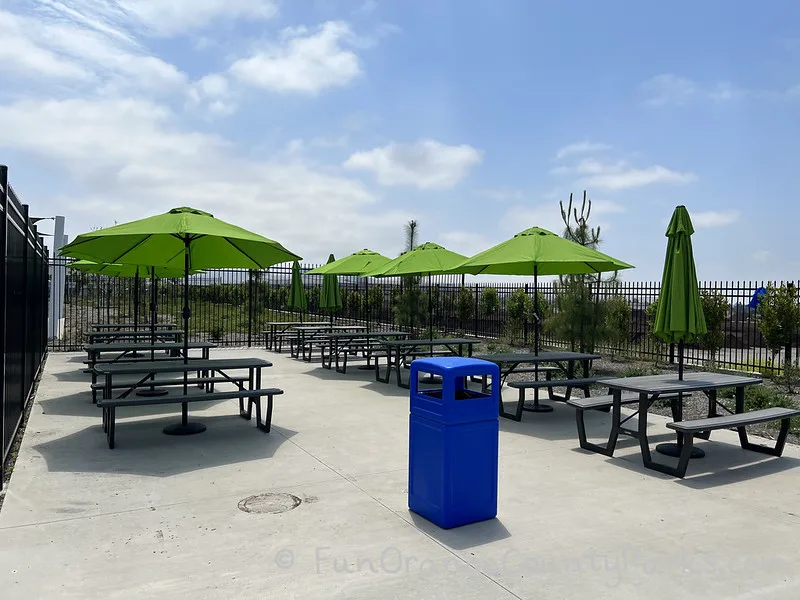 Water Temp
Do they heat the water when it's cold out? My 5th grader goes on Thursday (high 68).
What's the water temperature?
How cold is the water?
Is the water heated?
Is the water still cold?
We went on a cold day and the water was chilly. I have no idea if they heat it. And it doesn't really make sense for them to do so because the flow and surface area to cover. I asked the lifeguards about your water temperature question and they didn't have an answer. They said it gets warmer as the day goes on and when the sun is out it feels really good. Both true! I wore swim leggings that kept me pretty warm. Lands End or Big Five have some good options. Honestly, besides a few kids I saw with chattering teeth most of them seemed to be enjoying it! It was the parents who were more worried than the kids. Bring lots of dry towels and let them get out to warm up.
Special Considerations
Nursing room? I didn't see an official nursing room. However, I have put a question in with the park. It would seem like the changing rooms could make a good nursing room, but there wasn't anywhere to sit.
Any kind of disability access pass for kiddos on the Autism Spectrum? I did not see one on the website or at the admissions window while I was there. I have forwarded that question to the park and hope to have an answer for you soon!
Wild Rivers Rides / Attractions
How many rides are open? Last year I heard was only three. Quick answer: 17 rides are open this year.
How many of the attractions require solo riders vs. can ride with adult + child together? Quick answer: only 3 are solo rider rides.
And here's the LONG answer!
All the rides were open this year! There were so many slides!
For little ones:
Adults can't ride this WITH the child because of the height requirements, but you can be nearby for all the rides.
Cook's Cove (77 activities)
Kontiki Cove (5 slides, plus 2 smaller ones)
Castaway River
Then all the other attractions:
Shaka Bay Wave Pool – you can be with kids, under 48″ must wear lifejacket
Tortuga – 3 to 6 riders per raft (minimum height 42″)
Typhoon – 3 to 6 riders per raft (minimum height 42″)
Aquaconda – 3 to 6 riders per raft (minimum height 48″)
Bora Bora Boomerango – 3 to 6 riders per raft (minimum height 42″)
Tomcat Racers – 6 riders at a time, but 1 per lane (minimum height 42″)
Tahitian Toucan – solo rider (minimum height 48″) — open slide, strong swimmers only, 8 ft deep pool
Bombay Blasters – solo rider (minimum height 48″) — tube slide, strong swimmers only, 8 ft deep pool
Tala & Mano – solo rider (minimum height 40″) — Tala = open and enclosed sections, Mano = completely closed
Fiji Falls – 1 or 2 riders on double tube (minimum height 48″)
Pelican Plunge – 1 or 2 riders on double tube (minimum height 48″)
Pipeline – 1 or 2 riders on double tube (minimum height 48″) – completely enclosed
Samoan Serpent – 1 or 2 riders on double tube (minimum height 48″)
Tiki's Revenge Bowl – 1 or 2 riders on double tube (minimum height 48″)
I gave this advice up above, too. But if it's your first visit and you are sending your kid on rides they've never been on . . . you should always look at the END of the slides as well as the start because some have like a 4 foot drop into an 8 foot pool — and some are on rafts in a shallow area. Some require them to brings mats or rafts up to the top to ride and others have a lift that brings the rafts up.
Shade and Cabanas
Options for shaded seating?? I just cannot do more than 2+ hours in the sun anymore but the kids love it.
Best cabana location!
Also curious about cabana rentals.
What's the best cabana for little kids (2 yr old)
Shade
There is a lot of SHADE! More than I expected. I already showed you the shade covers over Kontiki Cove and Cooks Cove.
There is also a HUGE bank of umbrella covered seats surrounding the Shaka Bay wave pool.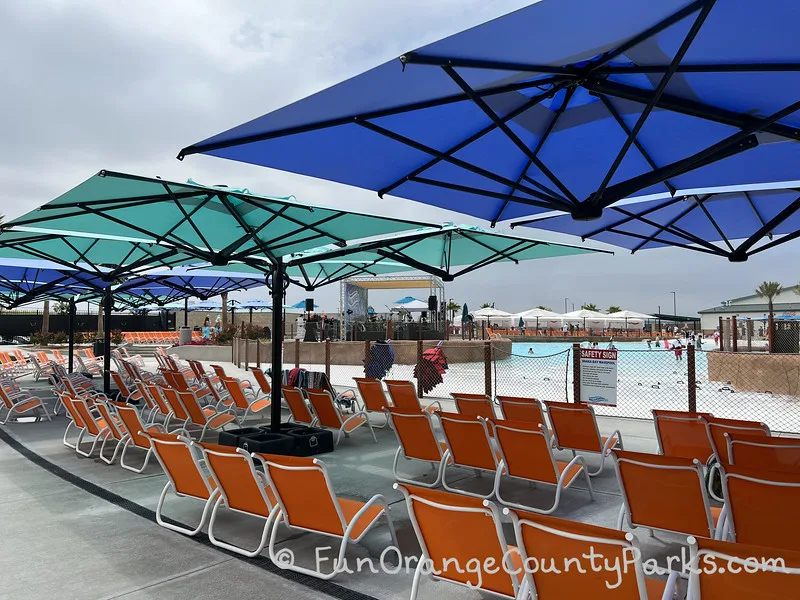 And the tables outside the restaurant area also have umbrellas. These tables did fill up quite a bit around lunch time, but I also saw people eating their lunches in the chairs near their spots.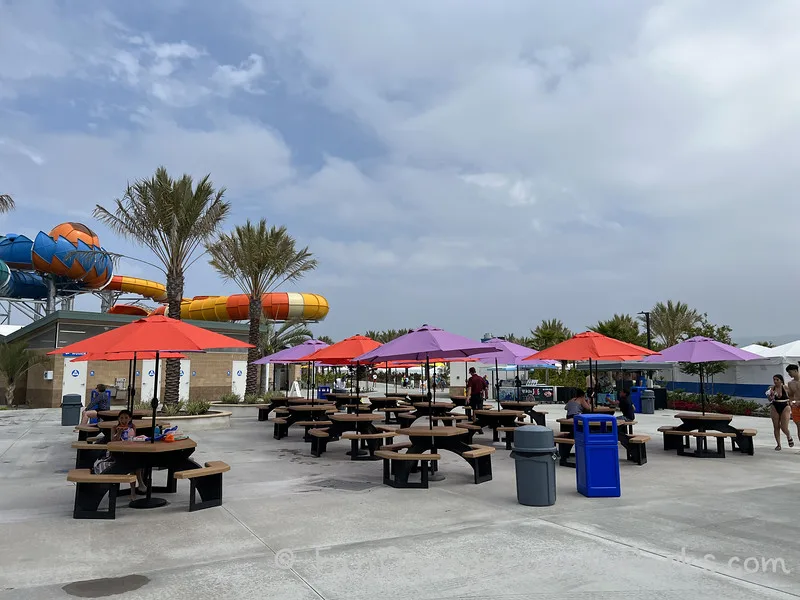 Wild Rivers Cabanas
Now those cabanas are quite expensive on top of admission! It depends on the day, but it looks to me like they are $350-$450/day. However, there are 10% and 20% discounts if you are a season pass holder (depending on your Gold or Diamond level). There is plenty of shade and comfortable seating outside the cabanas so I don't think you should feel like you are missing out if you don't get one.
Totally my opinion, but the best ones for families with young kids are probably the Cooks Cove Orange Zone or the Kontiki Cove Yellow Zone. The River Green Zone cabanas look like they are facing Castaway River in the cabana location map, but when I was there at the park the openings were facing away from the river to an inside walkway.
What comes with the cabana? According to Wild Rivers: "Each cabana comes with two chaise lounges, two chairs, a table, and a safe with cell phone charging to secure your personal belongings. Our cabanas comfortably seat 4-6 people." That is exactly what I saw when I was there and food service would come and take orders and deliver food to the cabanas, too.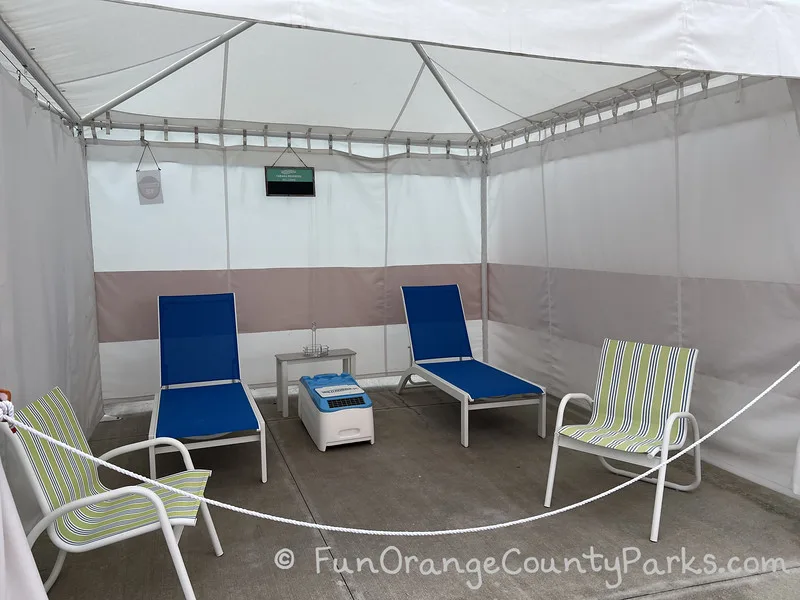 Costs
Is it worth the price and how much more am I going to spend once there???
A really good question! You will want to buy your admission tickets online BEFORE YOU GO because they are less expensive and it makes it easier when you get there.
Here is the cost breakdown:
Parking (cheaper to pay online before you go): $20
Admission (cheaper to pay online before you go): $65 for height over 48″
Junior Admission (also cheaper to pay online before you go): $40 for under 48″
Lockers: $18 for a small locker and $23 for a large locker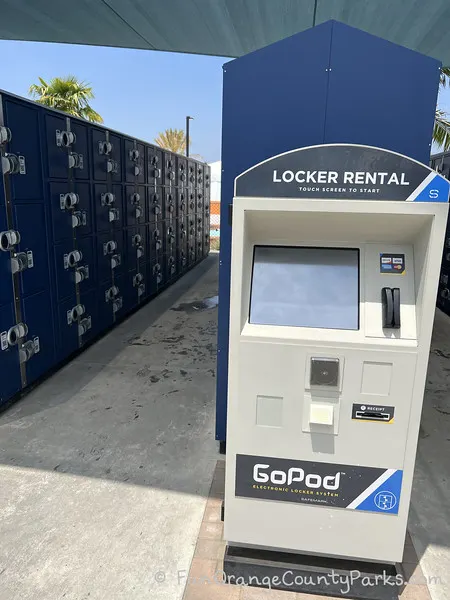 Children 2 and under are admitted FREE. Seniors 62 years of age and older are admitted FREE.
Let's play this out with some scenarios . . .
SCENARIO 1: So let's say we have 2 adults ($130) who pay parking ($20) with a 2 year old (FREE) and a 4 year old under 48″ ($40) and the family stores their stuff in a small locker ($18). It would cost you $208 + food.
SCENARIO 2: Let's say the same family brings the grandparents and foregoes the locker since they can trade out who will watch their stuff. Then it's $190 for all 6 of them + food.
SCENARIO 3: You drop off your 14 year old and 16 year old for the day – so you don't pay parking. It would cost just the $130 for the day.
As always, double-check my math because prices change as the season goes on.
Then the only other thing you pay extra for is food! Hope I gave you a little idea of what that costs, too.
Ways to Save at Wild Rivers
Obviously, calculating how often you come and if you invest in Season Passes can save you the more times you visit over the summer. Season Passes come in 3 different levels this year (Silver $149, Gold $199, Diamond $249) all with different benefits.
In looking at the calendars, the park is open 10-5pm, 10-6pm, and even 10-8pm. If you pick a longer day and stay the whole time, you get more time for your $.
I said this up in the food section, but you can still bring outside food in a cooler (LEAVE IN CAR) and eat in the small picnic area outside the gates. Re-entry out of the park and back in is allowed. The parking lot is not so huge that you can't get back to your car. It would be relatively easy to do this.
Sign up for their newsletter and follow their social media so you can be the first to know about special offers. For instance, this past grand opening weekend they lowered the admission to $50. For Memorial Day weekend, they have discounts for Military families.
Also — remember you are probably saving already because it is CLOSER than other water parks so you don't have to pay for gas or take up your day driving to/from the park. You might use your Season Pass more often because this one is close?
Wild Rivers Jr. Lifeguard Camps
I would love to know more about the Jr. Lifeguard Camps.
They have a pretty comprehensive web page that explains the Camp Wild Rivers Junior Lifeguard Camps. On the day we went, there was an information table so I asked if they had any extra information (so I could pass it on to you) and they referred me back to the website with a QR code!
Checklist
Thank you for ALL your questions and I hope this helps you have a successful trip to the park with a minimal amount of surprises!
Go to WildRivers.com for ALL official information. All prices and info on this page is subject to change and I may not catch it. So double-check the important stuff with them!
Small lockers were $18 and large lockers $23. There are 3 ways to pay:

I paid with Apple Pay by using the QR code on the locker to activate the app. It was relatively easy.
You can also use the Locker Kiosk there to pay by inserting your credit card.
Cash is accepted if you go to the Bungalow's retail store by the entrance.

You will find this water park on my annual list of Splash Pads and Water Play in Orange County.
If you'd like to visit the Great Park while you are hear, head to my blog post about OC Great Park Playgrounds.