Dana Wharf Whale Watching invited my family on a whale watching trip at the end of February 2016. Every time we go whale watching with Dana Wharf is a different experience. The boat is always sturdy and the captain and crew are always accommodating — but we never see the same thing twice. March is time for the Dana Point Festival of Whales and a special opportunity to catch the gray whales migrating past our coast.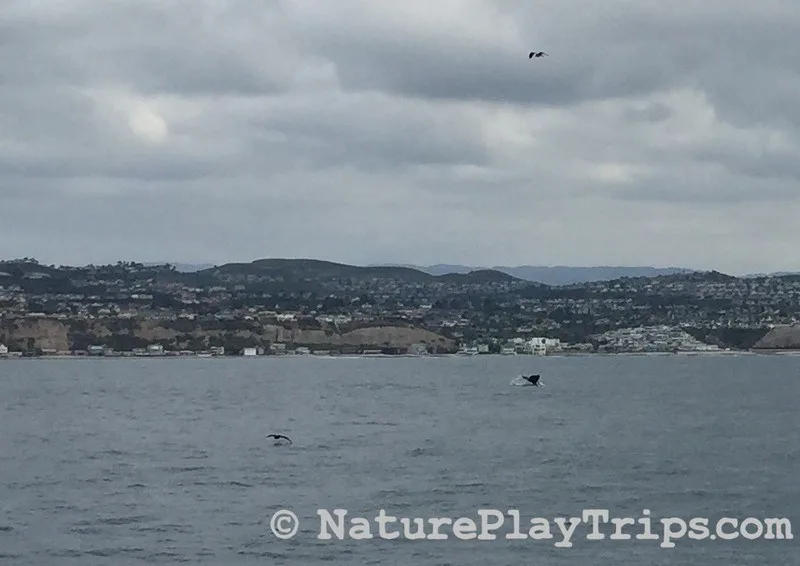 Why Every Southern California Kid Should Go Whale Watching:
Being out on the Pacific is an opportunity to connect with our local ocean. It shapes our weather. It supports our underwater and coastal wildlife. It makes the quality of life soar for those who can make it to the coast regularly.
Kids will really understand where water goes from the storm drain marked with "Drains to Ocean" and connect that to how it might affect the marine life that they see.
They will remember it forever.
It's magical to just climb aboard the boat and take a 2 hour ride, let alone get the opportunity to see dolphins and whales. I can almost guarantee they'll see California sea lions and sea birds like pelicans and seagulls.
Whale watching promises to be an unexpected experience! You'll never know what you'll see until you get out on the water.
Whales and kids are somehow meant to see each other. I can't describe the feeling, but kids buzz about those whales and the whales seem to come closer when they are on board.
I've actually heard these words from kids on a whale watching trip: "This is better than Disneyland!" Everybody should have that feeling!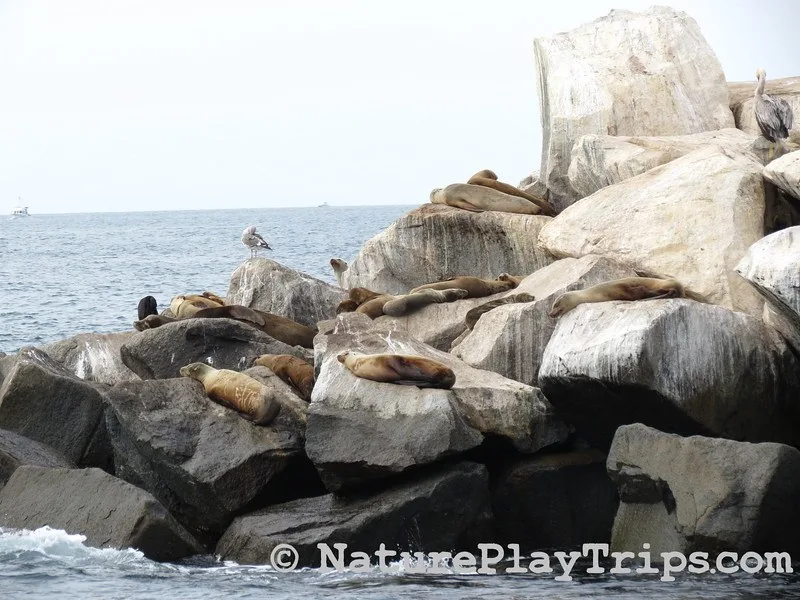 Tips for Voyaging with Dana Wharf:
Make reservations online ahead of time. Booking for earlier in the day usually means calmer seas, but later in the day they might know where to find the whales better.
Wear layers and follow my tips to prevent seasickness.
When you arrive at Dana Point Harbor, it's okay to park in the lot (all the signs for long-term parking refer to those who are traveling to Catalina).
At Dana Wharf, the check-in for Whale Watching is inside. The outside window is only for Catalina.
There's no best spot on the boat, except maybe away from the diesel smell if it makes you feel queasy. We were on the port side under the captain's window and it turned out to be a great spot, but everyone calmly moved to different viewpoints during the trip and I don't think anyone missed out.
There's a snack bar inside and tables where I saw little ones playing with whale toys.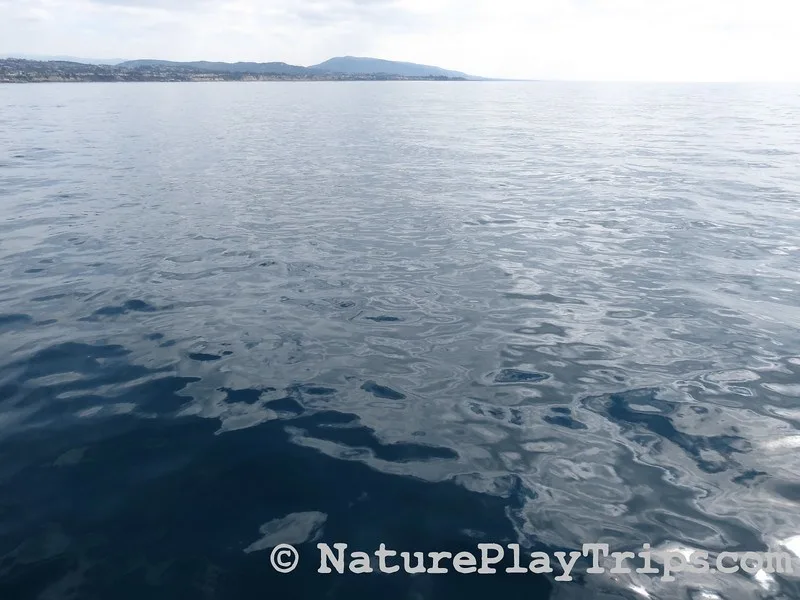 Ways to Save:
Always confirm deals on the Dana Wharf website.
They always give out a "50% off your next trip" coupon which makes your per-trip-cost go down if you go two times.
Tuesdays are half price all year for fishing and whale watching.
Follow their Facebook page and watch for specials. For instance, they sometimes have an early sailing during the Festival of Whales in March that's discounted.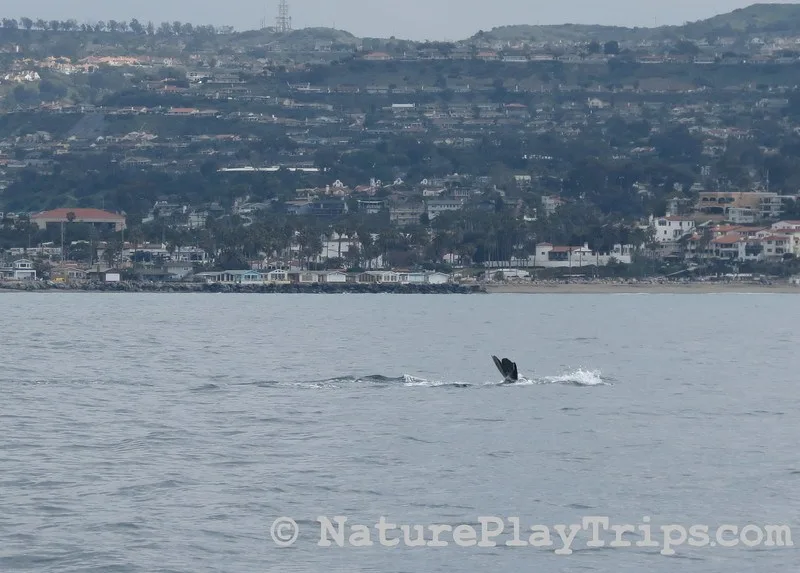 What Whale Behaviors Might You See?
Surfacing to breathe – you'll see the "back" or dorsal side of the whale and see spouting from the blowhole. (People ALWAYS confuse this with breaching.)
Fluke – Seeing the whales tail fin called a "fluke" as it dives.
Breach – When the whale shoots up out of the water and flops back down with a big splash.
Lunge feeding – I saw this with humpbacks this summer – quite impressive when a balleen whale speeds up or surfaces with its mouth open to swallow water and push it out through the balleen capturing the fish or krill inside.
Dana Wharf has an incredible resource page with illustrations and videos of what you might see.
My amateur video taken on our trip:
If you want to see incredible resolution and professional videos from drones or aerial footage –
click over to Dana Wharf's YouTube Channel
.
Disclosure: Our longtime supporters and friends at Dana Wharf provided my family with a complimentary trip in order to cover our experience for sharing with you. Read my full disclosure policy.