Veterans Park in Yorba Linda is a new-to-me park that has quickly become part of our regular park rotation. Large, older trees provide ample shade on the smaller of the two structures here until a little before noon. Once the shade has moved off the structures, there is still a good amount to be found under the trees right next to the play structures. Being so far from the street seems to make it a very underused park – unless there are baseball or softball games being played. We've only run into a few other people while playing here. The park backs up to a school, so while it feels very secluded there is still typically some activity nearby.
Location: Veterans Park is located off Valley View Avenue just north of Yorba Linda Blvd. Exit the 57 Freeway at Yorba Linda Blvd. Turn left at Valley View. Most mapping websites still show it as Valley View Sports Park, which was the name until it was rededicated in 2008. The playground is a short walk from the parking lot on a path that passes between some baseball diamonds. (Address: 4756 Valley View, Yorba Linda) MAP TO VETERANS PARK IN YORBA LINDA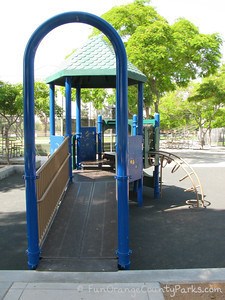 Highlights:
Plentiful shade!
Picnic benches under the trees for shaded, relaxing snacks or lunches.
The smaller of the two structures has a ramp leading to the top – my son loves to make his toy cars race up and down it. There are only a few steps to the slide, making it accessible for even the most uncoordinated toddlers.
2 baby swings and 4 bench swings.
No competing with large amounts of children to play here like many nearby parks – it almost feels like a secret park (the secret is out now!).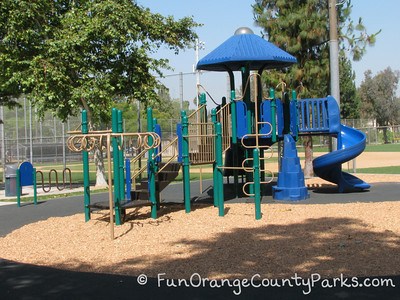 Be Aware:
Restrooms and parking lot are a short walk from the play structures – could be tricky if you're potty training or need to grab something from the car.
It can feel fairly secluded here.
The larger structure has a ladder going up to the center and a few openings on the sides – something to watch for if you have smaller kids.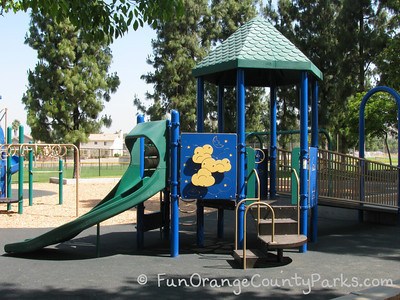 Checklist: