The Tomol Interpretive Play Area and Carpinteria State Beach give us two more reasons to love this little beachy town between Ventura and Santa Barbara. We've been visiting here for years, but it's fun to get touristy and try to see it from a new perspective. The new playground opened in June 2011.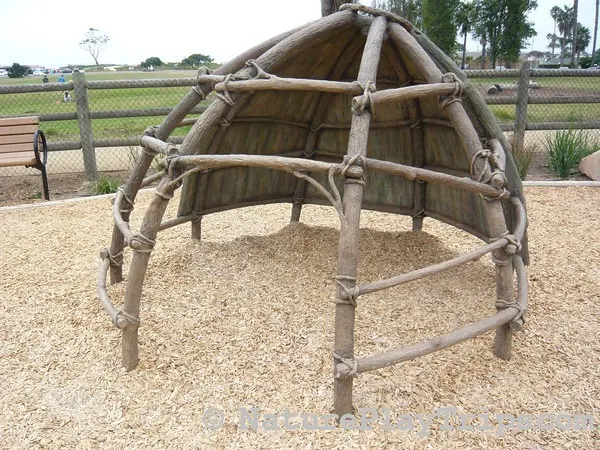 Directions: From Highway 101 heading north, exit at Casitas Pass and turn left (towards the ocean). Turn right onto Carpinteria Avenue and make a left onto the main strip at Linden Avenue. Parking in the city lot is on your right before the train tracks — or continue on and make a left into Carpinteria State Beach parking lot. If you are heading south on the 101, I believe you can just exit at Linden Avenue. MAP TO TOMOL INTERPRETIVE PLAY AREA AND CARPINTERIA STATE BEACH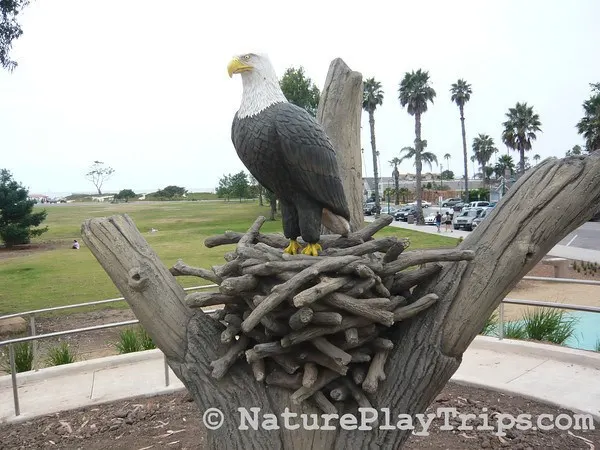 Tomol Interpretive Play Area
The Carpinteria Morning Rotary Club deserves big kudos for taking a leading role in creating (over an 8 year period) and maintaining this great local playground.
It had one of the most unusual slides I've ever been on — with rollers like a conveyor belt. I don't have any photos posted, because kids were on it NON-STOP! Adults weren't big fans. I thought it was fun.
Lots of learning opportunities: What's the difference between a harbor seal and a sea lion? How did the Chumash build their housing? How does an eagle build its nest? What animals live in a tidepool? What is a tomol? Can you find all the rock paintings? What do you think they mean?
The 3-fer slide looks deceivingly short, but it's bumpy/slippery/steep!
I saw a little one year old playing almost exclusively by touching and hugging the seal, sea lion, and dolphin
You can't beat this central location within walking distance to the beach and state park restrooms
Park at the State Park or in the city lot across the street near the train station
This would make a perfect, walkable destination for train travel!
Tons of great restaurants and funky little shops within walking distance
"The Spot" looked like the place for burgers, although I didn't get to try it.
Carpinteria State Beach Hike
Before we hit the playground, we started our visit with a hike at Carpinteria State Beach
From the day-use parking lot walk to the beach and turn left at the creek to get to the bridge. Then, just wander down the trails heading south to see some beautiful coastline, more campground, and end up at Tar Pit Park (which has old asphalt and a small seepage of tar if you look close)
We turned around here and headed to a reward visit to the playground.
See if you can spot wild roses and nasturtiums. We found 2 favorite trees from the walk, too. One looks like a dragon or a horse, the other is tall and spindly: a lonely tree looking out over the ocean.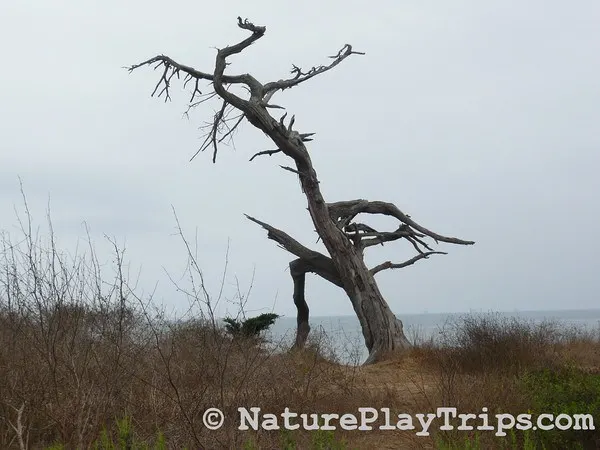 Checklist: