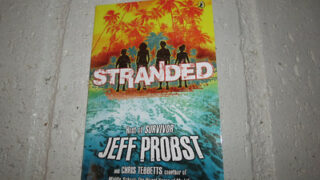 Billed as a "Survivor for kids," I breezed through my free review copy of Stranded – the book for kids by Jeff Probst – on our family vacation flight to Alaska.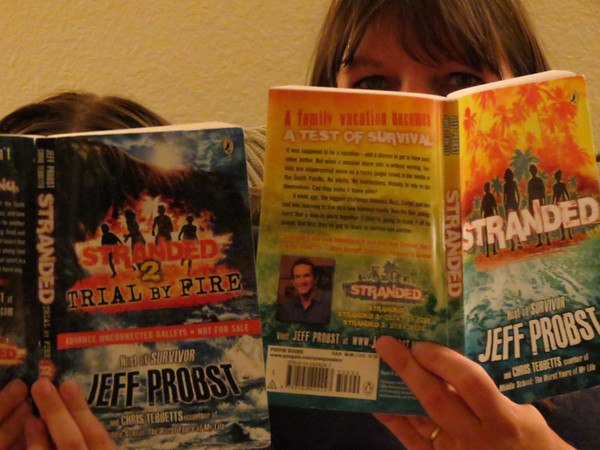 The characters are four kids from a blended family – Vanessa (13) & Buzz (11) from Dad — plus Carter (11) and Jane (9) from Mom. Giving away any details of the story will ruin it for you, since it is an adventure and suspense novel, but I will run down the highlights and tell you why I liked it:
It sets up a believable premise.

As a "boat kid," I'm often annoyed by that-wouldn't-really-happen moments when sailing facts are completely unrealistic. Everything in this book seemed pretty true to my experience, so I didn't get hung up on inaccuracies.
The kids connect to nature without distraction and it builds self-esteem and resilience while breeding innovation. Overcoming challenges by working as a team is definitely a theme.
The 3-book series has cliffhanger endings so make sure you get book #2 along with book #1. The first book "Stranded" came out in February 2013 and made the New York Times Bestseller list. The 2nd book "Stranded 2: Trial by Fire" was just released in June 2013. The last book, "Stranded 3: Survivors" comes out in November 2013.
They are likable characters put in adventurous situations.
I'll let Jeff tell you what it's all about:
Jeff's Cause:
Jeff Probst is the founder of The Serpentine Project, a nonprofit organization designed to help young adults transition out of the foster care system, and has worked with the larger nonprofit organization
Alliance for Children's Rights
, which has provided one hundred thousand kids in Los Angeles with free legal assistance and advocacy. Each season, Survivor memorabilia is auctioned off, and, to date, the auctions have raised hundreds of thousands of dollars for the organization.
8 Year Old Book Review:
So after I read the book on the plane, I gave my 8 year old daughter the opportunity to read it. She ate it up! When it was time to leave the hotel room, we had to get her attention multiple times before she would put it down — and this was to go somewhere fun on vacation!
She devoured the first book and beat me to the 2nd book. She couldn't wait for me to preview it. I've now been instructed to head to the store for book #3 (but it doesn't come out until November!).
This never happens.
Here are her thoughts:
"I had to read it because of the suspense."

"Jane is my favorite because she's the youngest and knows more than the others."
"I pretty much like everything about both books. The first one is more about the shipwreck and the second one is about trying to make fire – and trying to get attention from the plane. If I had to choose which book I liked most, it would be the 2nd one because it was more suspenseful."
"I can't wait to read the 3rd one. It will be hard to wait. I really want to read it."
Disclosure: I received free review copies of the books in order to review them. And – if you purchase the books from the widget on this post I will get a small amount of compensation from Amazon.com. Thanks for your support!