Pearson Park used to be called City Park prior to its name change in 1960 to honor Anaheim's mayor from 1945-1959.
The amphitheater, ball park, and restroom buildings hint at the park's rich historical past.
In May 2022, it was further updated with the addition of the Kobe and Gianna Bryant "Dream Court" in tribute to the father/daughter.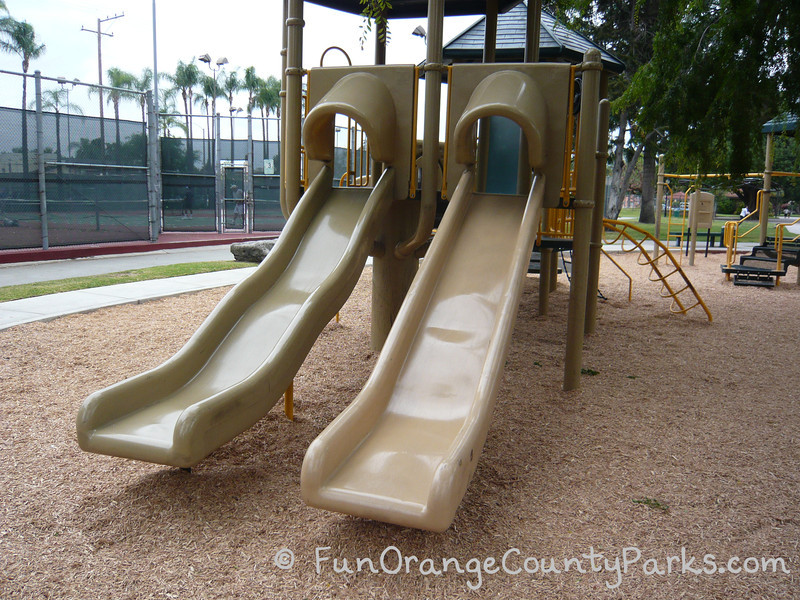 Directions to Pearson Park in Anaheim: Exit the 5 Freeway at Lincoln Avenue. Head east. Turn left at Harbor Blvd. If you pass Cypress and turn right on Sycamore instead, then you'll have an easier time parking (all the parking is on the right side of the street). You can park along Sycamore (by the ponds), Lemon (by the amphitheater), or Cypress (by the tennis courts and pool). The playground is in the center of the park. (Street Address: 400 North Harbor Blvd., Anaheim). MAP to Pearson Park in Anaheim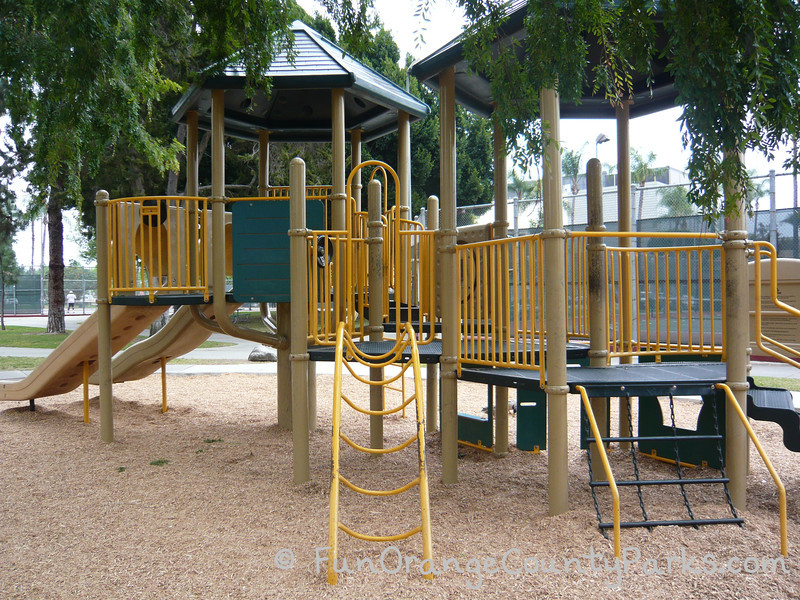 Recommended by: Shannon who picked up on my generous use of the word "awesome." (You cracked me up, Shannon!) See Shannon's comments in italics.
Highlights:
The park is AWESOME because the playground is in the center behind the amphitheater between the soccer/football field and the tennis courts. There's also a baseball field and sand volleyball court nearby. You'll need to bring your own volleyball net.

Another AWESOMEness Fact – there is a big duck pond (like 3 I think with bridges). It sits along Sycamore Street with some pretty flowers in the center of the ponds. The ducks are not shy, so don't be surprised if they walk right up to you. And remember, it's best not to feed waterfowl. They can get botulism from eating bread and other human food. Just look and take photographs!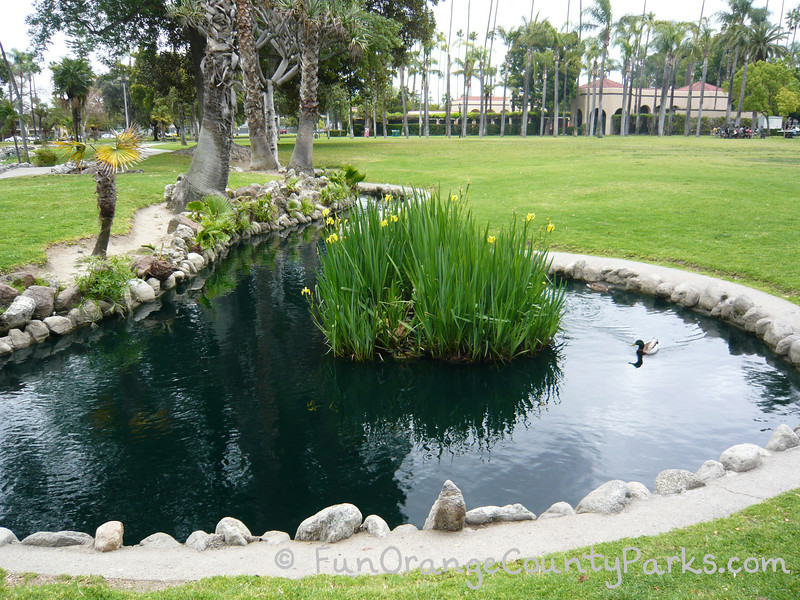 Awesomeness Fact #3 – there is a swimming pool. It took some digging, but here's detailed info on Anaheim's aquatic facilities.
Awesomeness Fact #4 – there are TONS of climbing activities (heart attack opportunities for mommies and daddies). My kids absolutely loved the big green climbing apparatus. I didn't see any problems for older kids, but there were definitely long and windy ladders which are worrisome for those little ones.
2 bench swings and 2 baby swings. Small house for pretend play – my kids always play pretend restaurant in these. 2 separate play structures. A couple ride-on toys.
We were there on a Sunday and the park was full of activities: birthday parties setting up, a little league game, impromptu volleyball game, tennis players on the courts, a church service on the lawn, and people from all walks of life roaming around the park. Even with all that going on, there was still plenty of parking.
I loved the historic feel of this park! There's a statue of famous actress Helena Modjeska at the corner of Sycamore and Lemon. There's also the 150 year anniversary bricks surrounding the rose garden and time capsule outside the amphitheater.
Be sure to stroll around the impressive cactus garden at the corner of Harbor and Sycamore.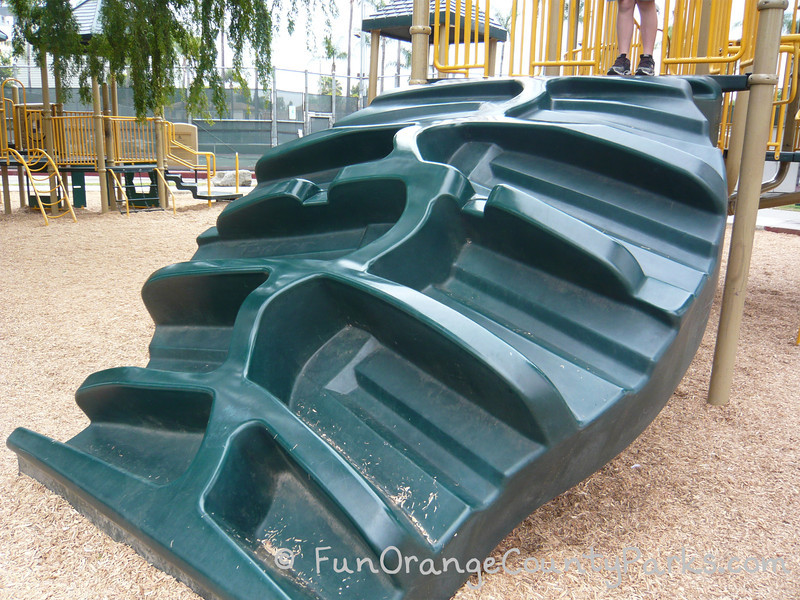 Be Aware:
Wear closed-toe shoes as the play area has wood chips
Since I'm not familiar with this neighborhood, I'd be a little hesitant to visit this park on my own. My mommy radar was on high alert. I saw a few single men hanging out on benches and one sitting in his car. There was a woman experiencing homelessness hanging out near the playground. Really not anything scary, but I think there is safety in numbers. It would be perfect for a bigger playgroup.
Checklist:
Free parking in designated spots on the street.
Restrooms on both sides of the park (one very near the playground).
Drinking fountains by the bathrooms.
Benches surrounding the park and picnic tables on the grass area.
Amphitheater, tennis courts, duck ponds, community pool, baseball field.
I saw two covered picnic areas for birthday parties. One at the corner of Harbor and Cypress. The other at the corner of Harbor and Sycamore.
A very vibrant downtown area with City Hall, Police Station, luxury lofts, restaurants and retail is not far away at along Harbor and Lincoln.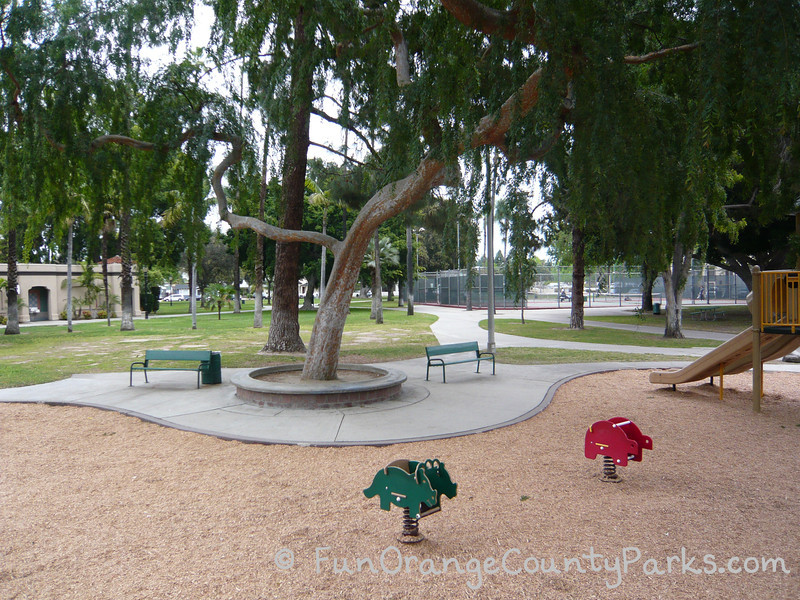 Originally published in April 2010.