Meadowood Park in Irvine was a Plan B park for me. We've been stalking Citrus Ranch Park to get photos for you. So we headed out there the Friday before it opened – just to find it blocked off and guarded by security. So off we headed down Portola Parkway to find a different place to play. There are tons of great parks in Tustin and Irvine nearby: Cedar Grove, Pioneer Road Park, Tustin Sports Park, and Settler's Park. But I wanted to find something new for my 4yo.
Location: It's just down the road from Citrus Ranch Park in Tustin. Take Portola Parkway south toward Irvine (past Culver Drive). Turn right onto Yale Court opposite the high school on your left. You'll see a giant gazebo straight ahead. The road dead ends right after you turn into the parking lot on your right. (There's also parking off Meadowood and Yale Avenue nearer the baseball diamonds). MAP to Meadowood Park in Irvine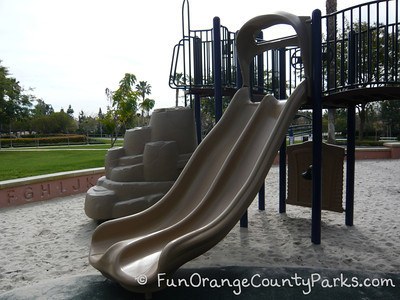 Highlights:
We LOVED the spinning umbrella. I've never seen this piece of equipment before. It's like those old merry-go-rounds, except the kids hang from it. It's the equivalent of you spinning your child around in a circle. I have a tall 4yo and it was perfect for her. Lots of giggles. Maybe not so great for younger kids.
The big kid structure (5-12 year olds) had a climbing wall and a rock structure for climbing.
The little kid structure was perfect for toddlers.
Other kids seemed to like running across the lawn and playing under the gazebo near the community pool. I saw a few toddlers playing there almost the whole time.
ABC's are etched into the knee-high playground wall. Other interactive learning boards are on the actual structure.
Benches for viewing the kids had a shade cover. The playground equipment also has shade covers, but its more for looks than any actual shade.
2 bench swings
Be Aware:
No baby swings
The top of the very tall climbing wall has gaps on both sides at the top, just like Marguerite O'Neill and Aurora parks in Mission Viejo.
Students from the school came by to play volleyball at the end of our playtime. I imagine the school and the nearby Montessori visit the park often.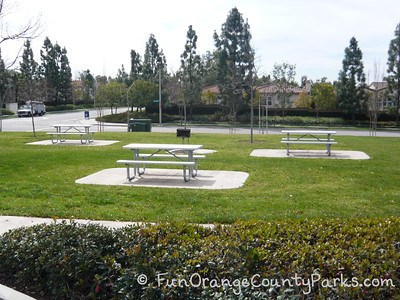 Checklist:
Dedicated parking lot (on the school side)
Sand and recycled rubber play surface
Restrooms and drinking fountain between the parking lot and the playground
2 baseball diamonds
1 sand volleyball court (sunken)
1 full basketball court
Lots of benches for viewing the kids
Groupings of metal picnic tables and a few grills near the swings