Malibu Legacy Park is one of my favorite new parks in Southern California. My parents live in Ventura County, so I make the drive between Orange County and Ventura often. I love to take the coast route along Pacific Coast Highway (PCH). For years, that meant viewing a big vacant lot smack in the center of the village area in Malibu. Now I get such a thrill seeing this park because I know it's acting to improve water quality in the nearby lagoon and Santa Monica Bay while restoring a native riparian habitat to the area.
Location: Across from Malibu Lagoon State Beach. Turn off PCH at Webb Way and make a right onto Civic Center Drive. The children's area is on your right. OR you can park over in the retail area and make the play area your destination on the walk. (Address: 23500 Civic Center Drive, Malibu) MAP TO MALIBU LEGACY PARK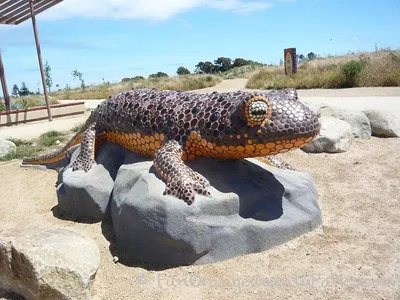 Highlights:
The children's play area is whimsical with its mosaic statues that the kids can climb on
What kid doesn't like playing on rocks or running on paths?
There's lots of birds to see and interesting viewpoints around the park.
You can learn about vernal pools and other geographic characteristics, plus California plants and wildlife from the interpretive signs.
I loved seeing the ocean breeze blow the grasses around and see the big blue sky against the Santa Monica mountains.
It's walking distance to the shops, restaurants, and restrooms in the Village.
It's right on the Metro 534 bus line.
For me, this is what every playground/park should be: serving an environmental purpose, highlighting native plants and animals, providing an open space for wandering and thought, and offering a more natural playground area for kids.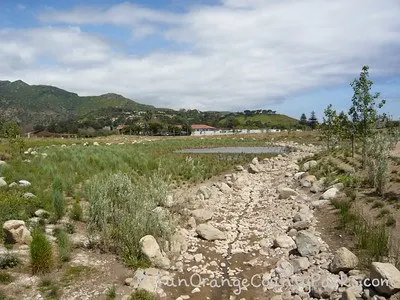 Be Aware:
I'm sure the paths could be muddy during winter and wet weather.
Some parts of the trail are near Pacific Coast Highway (PCH) and can be loud from traffic — but the interior portions are quieter.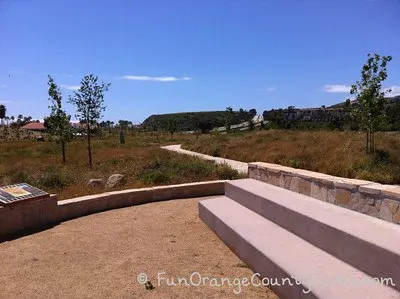 Checklist:
Parking right near the children's playground on Civic Center Drive
If you have an annual State Parks pass you can visit the Lagoon and then walk over to the park
NO restrooms in the park, but the retail area is nearby
Not a lot of shade yet, but the trees should eventually fill in
Wear good walking shoes and stay on the trail
It might be a little bumpy, but it is stroller friendly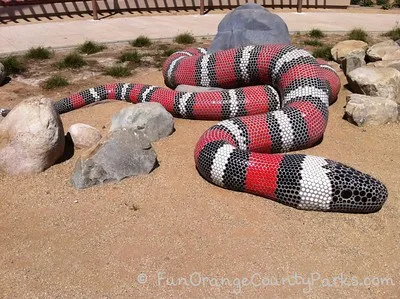 More information on the park: