I love to cook! I know it's because my Mom loves to cook. I remember "Pickle in the Middle" being one of my favorite childhood reads. My first cooking memory is sitting on the sink peeling carrots. I think I was 4. I also remember accidentally peeling my thumb and needing a Band-Aid! Have I ever made that mistake again? No! I'm a very careful peeler now.
This hot weather got me thinking about making COLD food for dinner! The perfect opportunity to get the kids in the kitchen with the stove top off!
Idea #1: Smoothies and TJ's French Toast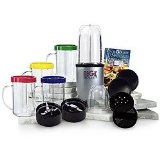 We have one of those gizmos like a Magic Bullet
that whips up shakes and smoothies easier than a blender. I don't really work from a recipe. I just let the kids put in 1/2 a banana, a handful of frozen berries, a couple big spoonfuls of vanilla Greek yogurt, and add vanilla soy milk or orange juice for the liquid. These express blenders are great because you can serve them in the cup you made them. To make it dinner — top it off with a piece of French Toast. If you've never tried the Trader Joe's French Toast, I'm letting you know it's really good. You just wrap it in a paper towel and pop it in the microwave for 50 seconds.
Idea #2: Make Lemonade or Sun Tea
Lemonade is a no-brainer on a hot day and even more fun when you have your own lemon tree (like we do!) Plus, it's super simple treat. There are recipes for lemonade all over the internet. This one from AllRecipes.com is pretty simple.
Sun Tea. Remember watching that Sun Tea brew all day? My mom had an official Sun Tea monster jar and I loved watching it heat up and then getting to ice it down to drink. Let the kids peel and place the tea bags. I'm very partial to Celestial Seasonings Madagascar Vanilla Red Tea
. I can usually find it at Henry's or Vons. It's caffeine-free and has more antioxidants than green tea. Red tea, or rooibos, is a staple in South Africa.
Idea #3: Go Back to the Old Days With Pickle in the Middle
So Pickle in the Middle's title recipe was making a sort of kabob out of hot dog, cheese and pickle. I think you could go crazy with different combinations and the kids will have fun spearing the items on a small toothpick. How about cherry tomatoes, rolled up salami, and an olive? Or cubed turkey meat, gouda cheese, and a mini dill pickle? Or cubed ham, swiss cheese, and sweet gherkin?
You could serve it with a green salad or make up a macaroni salad with various kid-friendly ingredients. I think we're gonna do this tonight!
Amazon has all sorts of cookbooks for kids
so check it out!
[There are 3rd party affiliate links in this post. Read full disclosure policy.]