Grant Howald Park in Newport Beach is tucked away in a Corona del Mar neighborhood off Pacific Coast Highway near MacArthur Blvd. It got a major re-do in Spring 2021.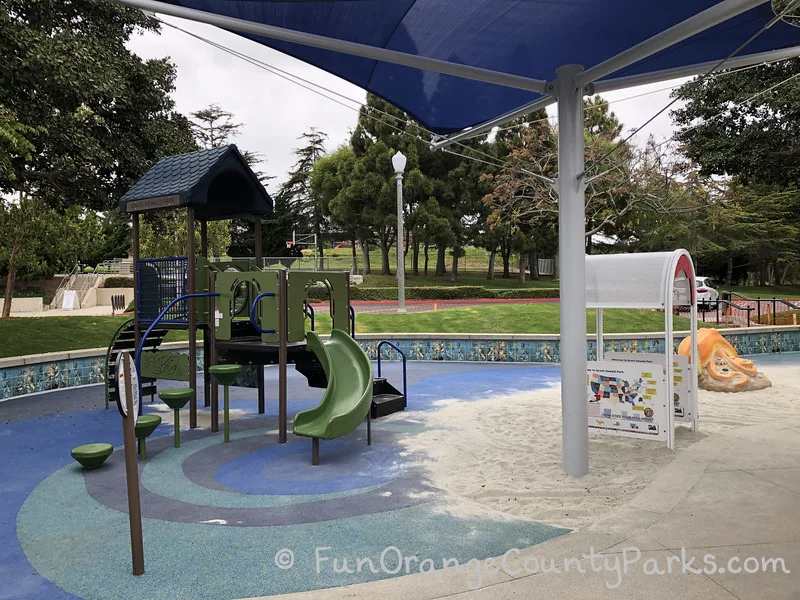 How to Get to Grant Howald Park: From Pacific Coast Highway in Newport Beach, take either Goldenrod, Heliotrope, or Iris to the park and its parking areas. (Address: 3000 Fifth Avenue, Newport Beach) MAP TO GRANT HOWALD PARK IN NEWPORT BEACH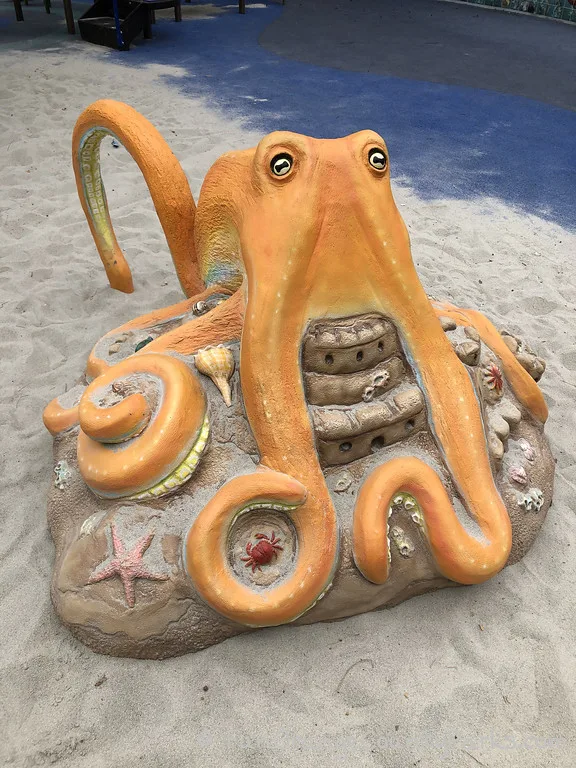 Highlights:
The playgrounds are right next to a community center and along a bike trail. The upper playground is for 2-5 year olds. The lower playground is for 5-12 year olds.
The upper playground is mostly recycled rubber play surface but the octopus has its own sandy "beach."
I love the trees and the shade and the fact that it's near the beach so it's often much cooler than playgrounds even a little bit inland from here. There are small shade sails on the playground equipment.
There are baby swings and a pretend post office on this level, along with a small play structure decorated with ocean scenes.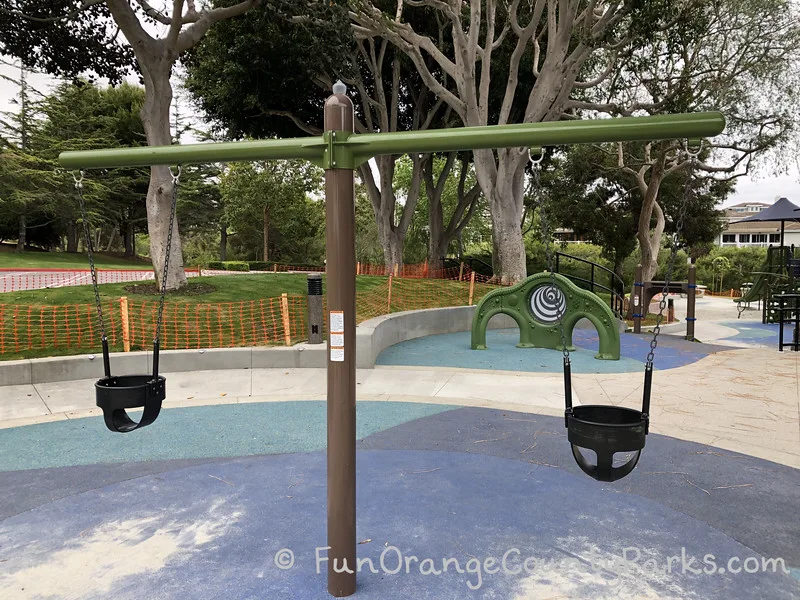 I predict the big hit of this new playground set-up will be the roller slide down to the lower level (It's FUN! I tried it multiple times!).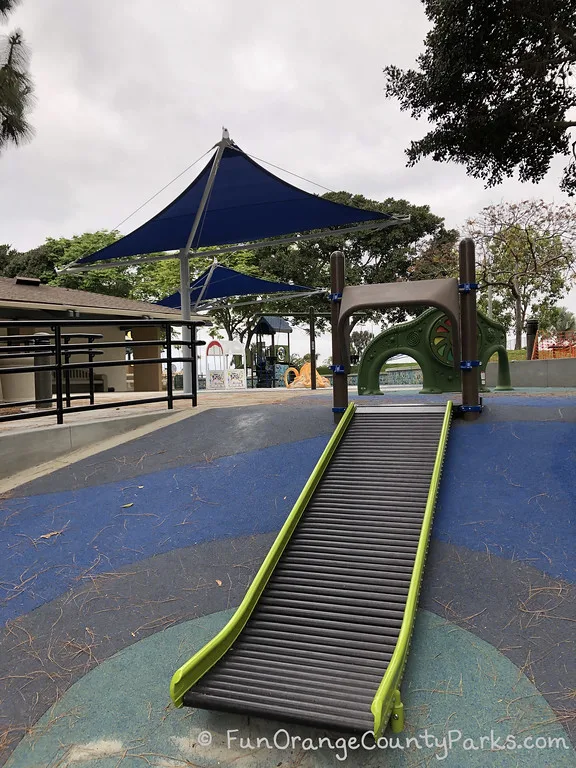 The other popular piece of equipment that welcomes kids to the big structure is the rock climber! Try to find all the fossils in the rock!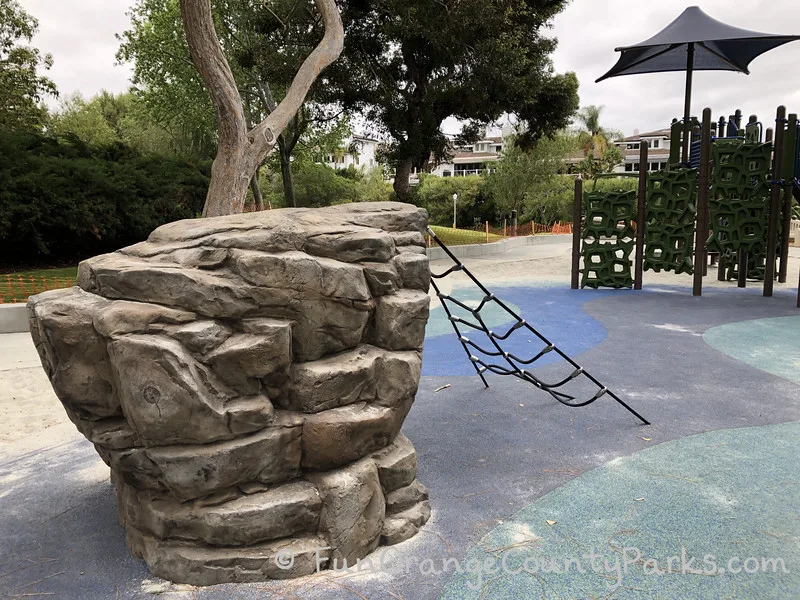 The rest of the lower playground is for bigger kids with a sandy play surface.
There is a lot to the lower playground. First of all, it's a huge structure that's very tall and it takes some skills to get up to the slides.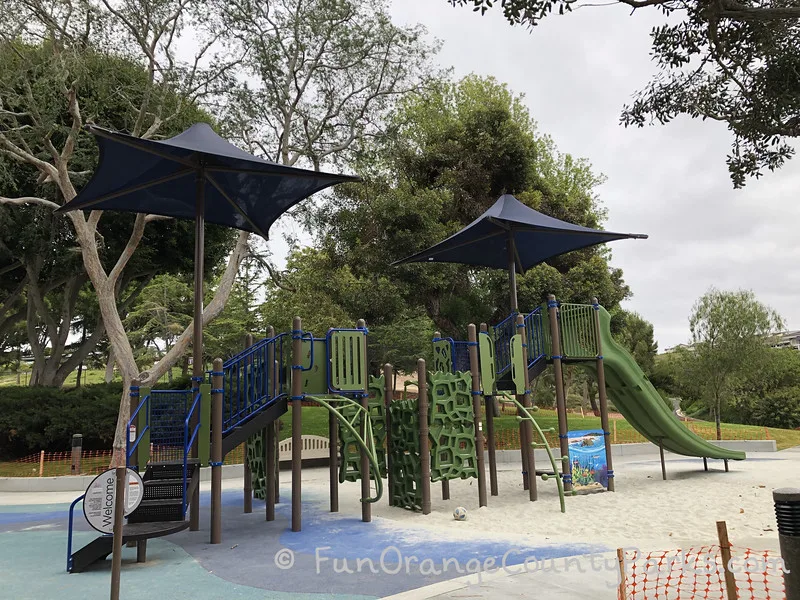 That's what the full equipment looks like. See how there are stairs on the left side? And a curved ladder. Those are both fine.
But then follow along to see that to get from that platform to the area with the slide, there needs to be some horizontal climbing (which is awesome for older kids!).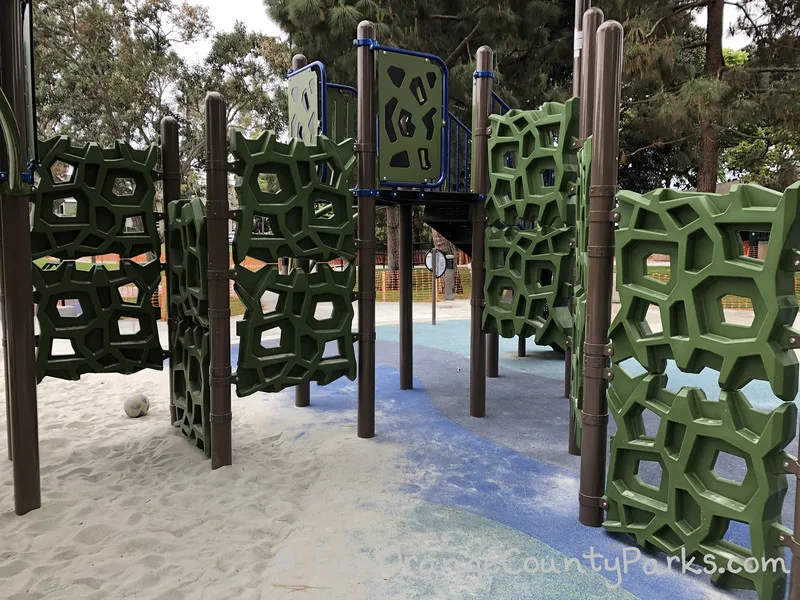 Or you need to go up this ladder (also awesome for older kids!).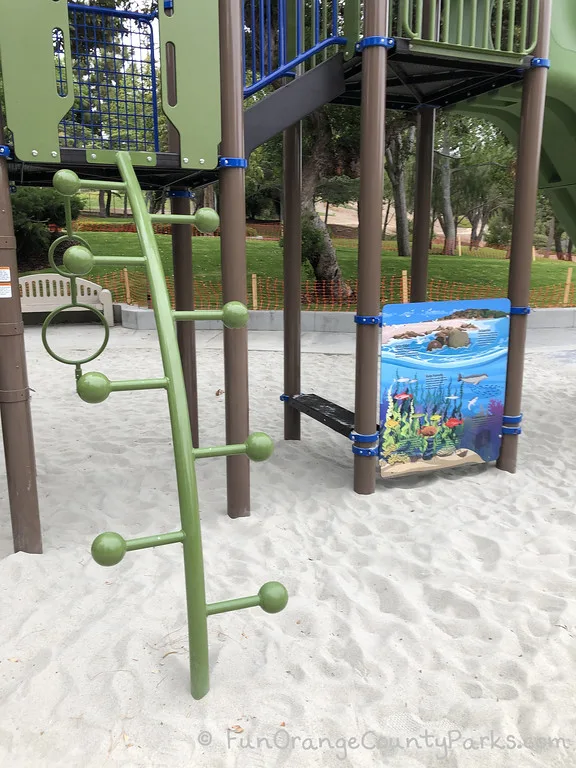 You can see there are also ocean panels on this playground in keeping with the theme. And, it's silly, but I found the kelp green and blue Pacific colors of the playground really calming and nature-y.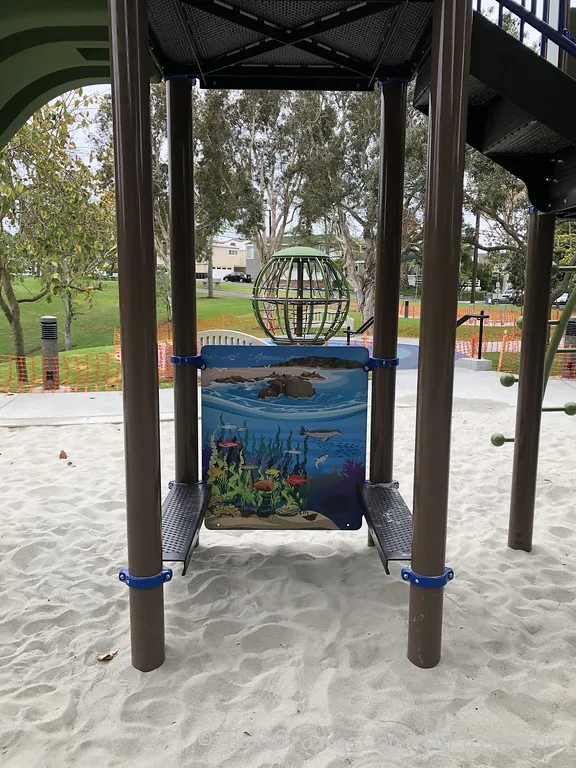 The spinning globe is a little bit off the playground.
There's a grill and picnic tables near the lower playground.
This area is perfect park for walking because of all the trails and even sidewalks down the street for window shopping in Corona del Mar.
The City of Newport Beach has walking trail maps if you want to see the area on foot.
Even if the equipment doesn't intrigue your child, the surrounding nature park is engaging for little explorers. We liked tromping all over the place just to see what we could see. Plus it's fun because it's nice and hilly.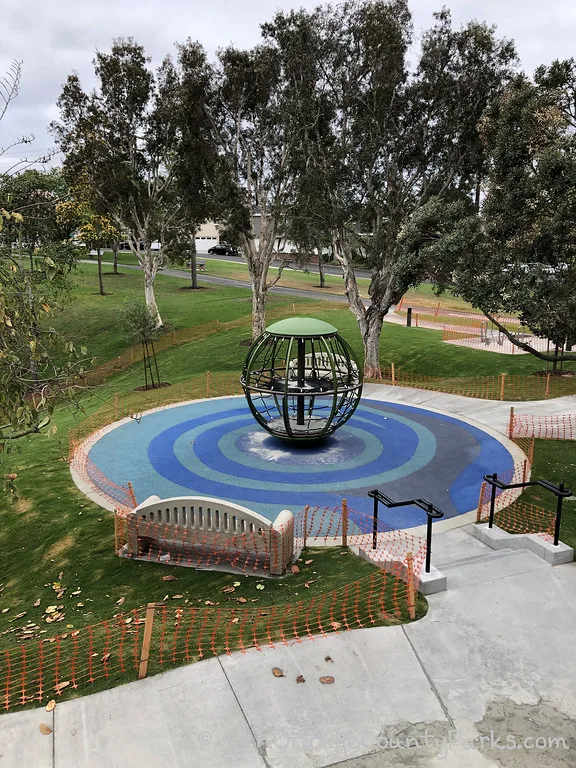 Be Aware:
The lower playground is partially hidden from view of the upper playground. So if you are tending your little up above you might not have a clear view of down below unless you take a few steps to the other side of the building. It is perfect for baby swings and having your eye on the older kids.
There are steep drops on the taller equipment not suitable for younger kids. In fact, to get to the slides on the big equipment, you have to climb either horizontally across panels or up a ladder that has rungs too far apart for little kids. No stairs to get to the big slides and too hard to lift littles up there.
No big kid bench swings anymore.
It's adjacent to a community center which makes it nice because of the facilities, but could make it busy and impact parking at times.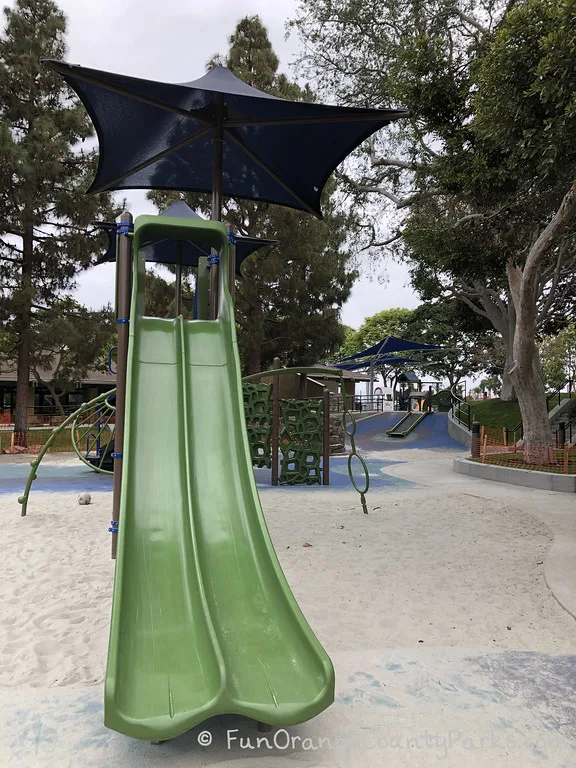 Checklist:
Dedicated parking lots
Play surface: Recycled rubber and sand on upper playground and sand on lower playground
Restrooms at community center are only open during the center hours. Otherwise, there is a sign directing to use the restrooms by the tennis courts.
Basketball court, tennis courts, soccer field and baseball diamonds
5th Avenue bike trail runs along the park here.
Drinking fountain
2 concrete picnic tables near upper playground. Grill and picnic table near lower playground.
There aren't many parks with vending machines, but since this is attached to a community center it would be fun for a special treat.
Nearest public library branch: Corona del Mar Public Library
Nearby parks: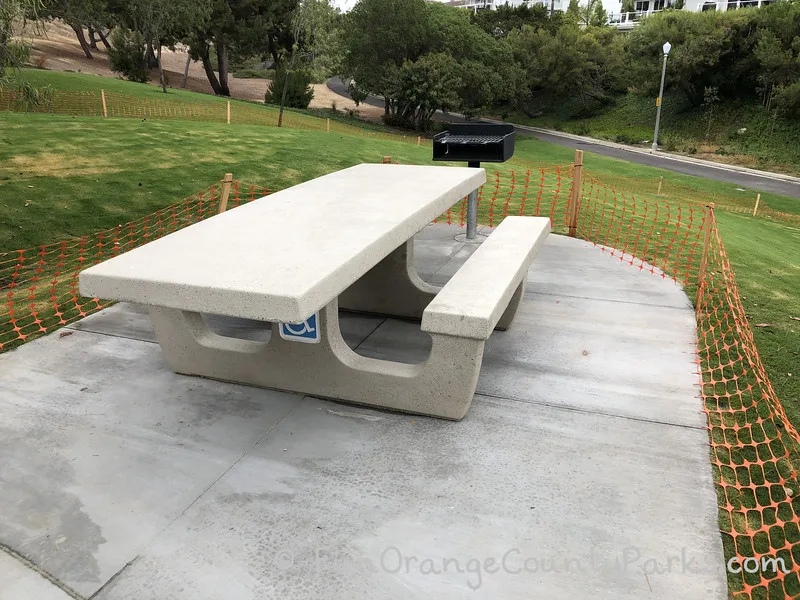 Originally published in December 2011.