Can you guess what we did? We played! Big time.
The first weekend of Spring Break was spent on a quick road trip exploring the foothills around Tucson. I didn't really schedule anything specific for the weekdays, but they sure filled up fast.
MONDAY: My friend with 3 kids drove up from San Diego and we took them to Colonel Bill Barber Memorial Park from 10-Noon. The kids played on the playground, but preferred running around time on the field there. We brought a football and the boys played a bit. The girls were content to roll down hills and collect nature treasures. We headed to the nearby Stonefire Grill for a yummy lunch outdoors on the patio. Then we continued playing at Sweet Shade Park until 3:30pm when our friends hit the road for home.
TUESDAY: My son's 9 year old friend came over to our house to play from 9am to 3pm. They boys came up with all sorts of creative games inside and outside, plus they were nice enough to include my 5 year old daughter. My favorite part was when they brought inside toys outside for some play in the sunshine.
WEDNESDAY: I watched a friend's 9 year old daughter and 5 year old son at my house from 10am-5pm. I mentally committed myself to an all-day session of outdoor crafting. I was ready for the big set-up and what was sure to be a big clean-up. I put a tablecloth on our outside table and piled river rocks on top. I set out: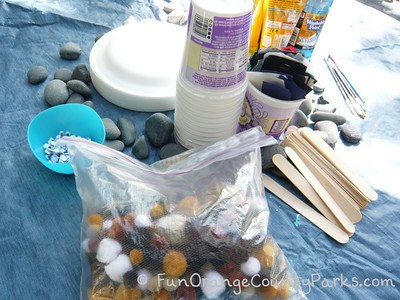 -Googly-eyes
-Squares of colored tissue paper
-Paint
-Paintbrushes
-Wooden clothes pins
-Popsicle sticks
-Earth tone puff balls
-Glue
-Scissors
-Construction paper
-Empty yogurt cups
-Masking tape
-Brown paper bags
-White yarn
-Leftover styrofoam plates
-Our WHOLE collection of recycled items (egg cartons, different sized cardboard boxes, newspaper, etc.)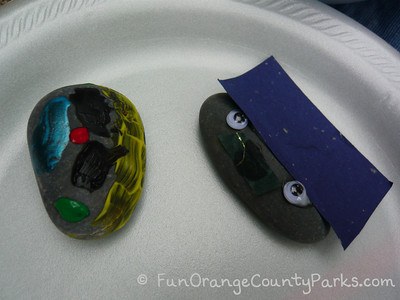 I figured they would paint the rocks, but I couldn't wait to see what amazing things they'd invent and create. I just sat back and watched, fetching items as they were needed. I was also in charge of helping to wash hands and supply fresh water for the paintbrushes. Basically, I was just there to facilitate their play. Keep in mind, I did not come up with any of these ideas! The kids created this ALL this on their own with the items supplied. We spent the whole day outside in the yard. Here's what they ended up doing:
-Mixing paint into an amazing array of colors to expand on the limited palate I provided.
-Painting rocks
-Painting pine cones
-Making puppets out of the paper bags
-Making recycled-goods-chicks and pine-cone-sheep (with cottonballs)
-Hand art by stamping painted hands onto paper
-Learning how to roll yarn balls
-Making "telephones" out of the yogurt cups with a string connecting them
-Making "perfume" with a combo of water, soap, flower petals and plant leaves from the yard
-Cutting out headlines and photos from the newspaper to decorate a paper bag
-We also planted an avocado seed and sprouting red potato to see if they will grow
So much fun to see their minds at work and have it come out with such creativity on paper.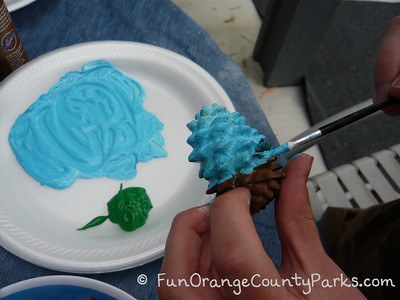 THURSDAY: We joined my LA blogging friend, Debi, from GoExploreNature.com at the Malibu Lagoon State Park for a picnic and bird walk. We enjoyed her personal tour and bonded over the blue sky and crazy bird action. There were birds everywhere. Apparently, the snowy plover and terns were nesting and they were all over the lagoon and beach.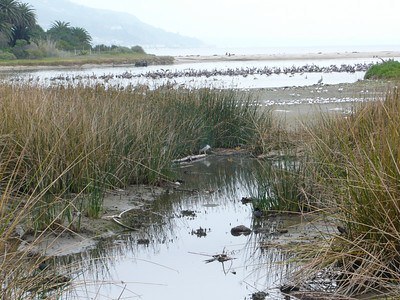 We also saw: hummingbirds, brown pelicans, cormorants, great egrets, and squirrels. The ocean was beautiful that day and it was fun to be in the sand. We also explored Malibu's new central park: Legacy Park. It's right off PCH across from the State Beach parking lot and it's pretty well camouflaged from the street. It's a great place to explore with different sections like: Vernal Pools and Riparian Habitats. We loved the Children's Area with a giant king snake, toad, and newt. There's also a little playground on the walk back to the Lagoon parking lot inside the shopping area in Malibu.
FRIDAY: Grandma to the rescue on Friday! She took the kids to the beach for two hours of play while I caught up on computer work. Hurray for outdoorsy grandmas! We played with cousins and cooked dinner outside. While we chatted over the barbecue, we saw a double rainbow. Wow!
What a week! I can't imagine a better break from our normal schedule. We are spending even more time outside every weekend. I hope all of you are enjoying this beautiful weather and all the wonders all around you. You don't have to look much further than your local parks and your child's imagination.