The Laguna Niguel Public Library was remodeled in 2012 and features a large children's section.
Family-friendly?
Kids Section? Separate kids section with 2 small reading tables for toddler size – with accompanying comfy parent chair. Small chairs have fun farm animal cut-outs. There are a few more tables at homework height for older kids.
Audio Books? Lots of audio books.
Easy Labels? Shelves are clearly labeled and it's easy to find books by subject or reading level.
Friends of the Library bookstore? Yes!
Plenty of parking? Yes – there is parking behind the library.
"Shushing" factor? Kids section is distinctly separate from adults.
Toddlers? Have you seen these Target Toddler Totes? They are a complete storytelling kit with different themes. Kind of like a librarian in a box (see photo below).
Restroom location? As you walk into the library, they are to the left of the entrance.
Which library card do I use? This is an OCPL.org (Orange County Public Library) branch. You can check books out from here with your OCPL card and return them to any OCPL branch library.
Amazon Affiliate Link: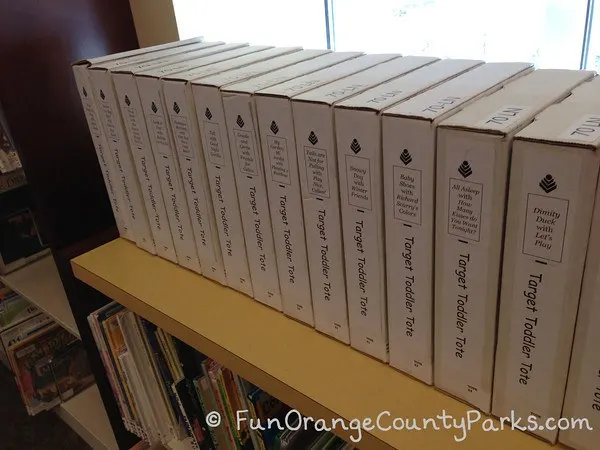 Parks Nearby?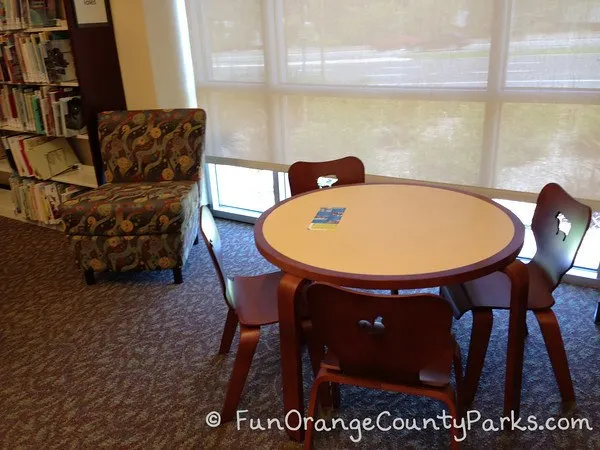 Directions to Laguna Niguel Public Library: It's near the corner of Crown Valley Parkway and Alicia Parkway by the new City Hall and offices. (Address: 30341 Crown Valley Parkway, Laguna Niguel). MAP TO LAGUNA NIGUEL LIBRARY
Contact this library: