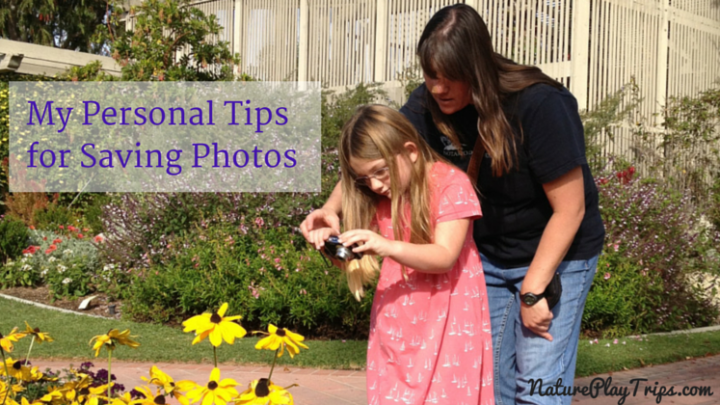 My tips for saving family photos are all about how to use Shutterfly.com. I know many parents WANT to back up their photos and save their memories, but don't know HOW. Well, I've been using Shutterfly for FREE photo storage for over a decade and I've learned a few things I'd love to share with you.
This post is NOT about how to do a straight back-up of your photos using an external hard drive — which is probably your best bet for saving ALL your photos.
Use Shutterfly as back-up for peace of mind
When you first start, you'll just be uploading into photo albums. Maybe try to do this monthly?
Albums: I name my albums by "YEAR MONTH Description." So if I uploaded one today, it might look like: "2015 JAN Family New Year" or "2015 JAN Mom's Birthday"
Folders: Once you have enough albums you can make a 2015 folder and drop your albums in that folder to organize by year. So I have 2004, 2005, 2006 folders.
Special BIG Events: There are a few exceptions to my folder rule. I keep big family trips where I took hundreds of photos inside their own album outside the folders, because I won't remember what year we went. But they are only once a year events so they don't crowd my album list too much.
The bonus is that these online albums of family photos can serve as a back-up of the photos on your phone or computer. Even if your house is destroyed in some sort of natural disaster (which I hope it never is!!), your photos will be safe.

Saving your family photos inside photo books
I'm not a scrapbooker, but I can easily make Shutterfly photo books. I've made them for all sorts of occasions over the years. The best part is that I can dig back in my album archives and pull up old photos. Confession: I just finally completed my 9 year old's baby book and gave it to her for Christmas. But I'd already uploaded all the photos over the years, so it really was only a matter of taking the time to make the book.
Vacation albums (hardcover): This is our main use of photo books. We love to record our travel diaries which we type in Word and paste in text pages at the end of the book.
Gifts: I've made small paperback thank you albums for teachers and friends.
Holiday record: My mom puts together little paperback books of our holiday season every year. It's fun to look back over the years.
Baby books (hardcover): Each kids now has one and I even have copies of my nephews baby books (since it's easy to order more than one copy).
School yearbook: I've even been in charge of photos and made the yearbook for our little preschool class one year. I just shared the link and the parents ordered it if they wanted it through their own Shutterfly account.
Grandparent brag books: Small "best of" photos for grandma or grandpa to show their friends are the best.
Family yearbook: When I had guilt over not getting the baby book done, I'd make a family yearbook with the best photos of our year as kind of a photo journal.

Although all the photos I originally uploaded are still there, please make note that Shutterfly updates their photo book software so your photo books might not be available "forever." Not a problem for me because I pay to get my books printed once and assume that's the last time I'll need them. The last time they made a software switch, I received multiple emails and warnings that the book would become obsolete and to order one ASAP if I ever wanted it printed. [Understandable to keep digital up-to-date and in-sync with their printing process.]
Good for if the unthinkable happens
If there were ever an emergency and I had to evacuate my house, I have all my printed photo books on the same bookshelf in the living room. I'd grab my family, my pets, my family photo books, my computer, phone and purse and head out the door in a matter of minutes.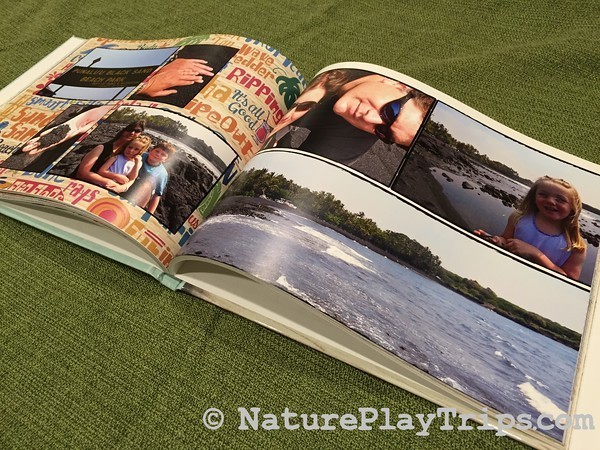 Bonus tips:
Coupons: There are always coupons. So if you create a photo book and find you are paying full price — don't order it. Wait and watch your inbox for an emailed special coupon from Shutterfly and apply the code to place your order.
Local pick-up vs. mail: I also love Shutterfly for school projects and mailing single photos to friends. You can order your prints and set them to be picked up in one hour at your nearest Target. (Note: I was 100% satisfied with this until a recent order where the color was off. So just make sure you check the photos while standing at the photo counter to make sure they got the color right.)