I bet you already know about Boomers Buccaneer Cove in Irvine. You've probably watched the construction since the beginning of Summer 2013. I have to say up front that Boomers is usually my husband's area of expertise. He takes the kids there – without me – once every couple of years. I keep the place in my "Vegas for Kids" file along with venues like Chuck E. Cheese. I much prefer mellow nature settings with no crowds for family entertainment.
So having never covered Boomers since I started this blog in 2008, I thought now was the time. Plus, they generously covered my pass for the purpose of the review.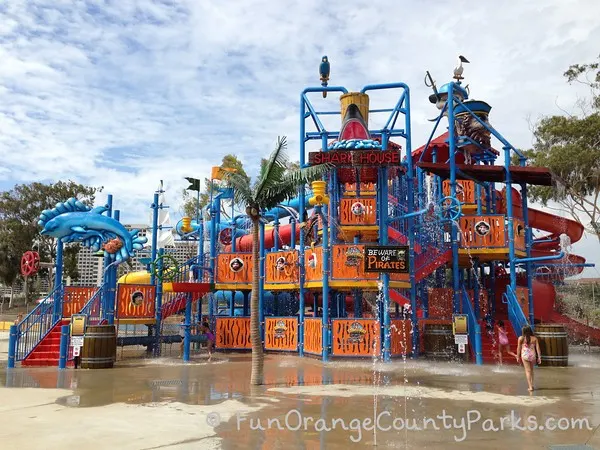 Highlights:
We went on a HOT weekday afternoon. It wasn't too busy and the water felt GOOD! I tried all the slides!
The colorful equipment will make you happy upon arrival. It would be a perfect setting for a summer celebration.
There are a variety of fountains, showers, spray cannons and water spinners on the concrete in front of the large slide structure. Little kids and parents will have fun with these.
100 gallon splash bucket sits at the top of the structure, but it wasn't in operation during my visit.
There are slide attendants at every slide tutoring the kids on how to hold their hands behind their head, cross their feet, and lay down all the way for the ride.
Yellow Tunnel Slide: This one is at the top. It's the highest, but also slow.
Blue Tunnel Slide: Most popular with all the kids I talked to while waiting on the platform — because it's "Pitch!!" Meaning pitch black. It really is, too. You start sliding and very soon it's completely dark. You'll go around curves and down some drops until you get to the light at the end of the tunnel.
Red Tunnel Slide: Much like the yellow slide, but not as high so it's a shorter ride.
Red Chute Slide: I liked this one because I felt less claustrophobic, but I'm old! It seemed to go a little faster than the tunnel slides.
Double Red Traditonal Slide: At the lowest level, this is a quick ride resembling a traditional playground slide.
All of the 4 main slides let out in the same area.
Buccaneer Cove has separate restrooms and a separate gated area from the rest of the park. Admission wrist bands grant you access. There's only one entrance/exit.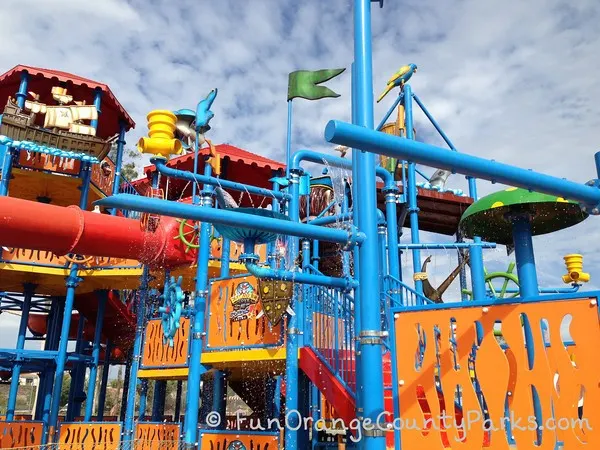 Be Aware:
No lockers. I had to leave my backpack on one of the lounge chairs and kept an eye on it.
No pools. The spray fountains are on concrete. The slides let out into a long "landing area" section of the individual slide.
No shade unless you have a cabana or squeeze into the shady area behind the structure where the double red slides let out. Cabanas for shade cost extra.
No rubber bands in your hair or watches on your wrist. You'll be required to follow their dress code — so wear a real bathing suit. If you are planning to ride the go-karts before or after your visit, make sure you bring close-toed shoes instead of flip-flops.
Stairs to get to the slides.
Short lines, but long waits. I was excited because there were only 5 or 6 kids in line in front of us at most slides. I'm thinking "Hey, this is awesome. No wait. I remember Wild Rivers would have lines all the way down the stairs. Same with Legoland Water Park." But even though the lines were short, the wait seemed long. I couldn't wear my watch, but I'm guessing it was about 2 minutes between riders? So that was an 8-10 minute wait each slide. Weird. I'm sure it was for safety and so they could clear the slides, but it seemed long.
My 7 year old nephew was done in an hour – basically after we tried each slide. He wanted to do miniature golf and the arcade and then asked to return to the slide area. It would be hard to limit the day to just the water park when the kids can see the miniature golf, go-karts, and bumper boats from the slides. If you do limit, I'd set that expectation before you go.
This is a seasonal attraction open during the summer and select weekends. Open daily Memorial Day through Labor Day and will be open some weekends in September.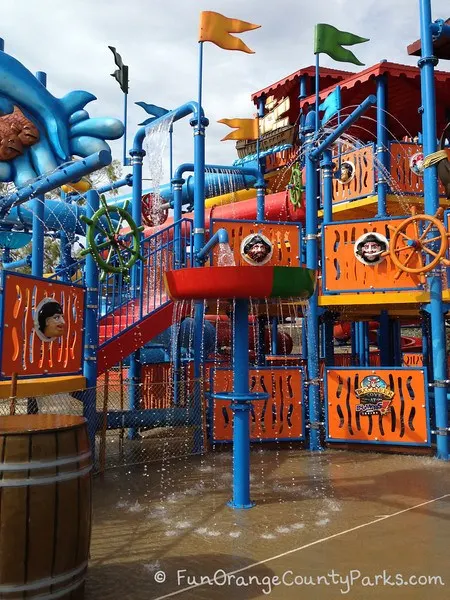 Checklist:
Pass is good for all day – generally from 11am-7pm – so stay all day for sure.
Parking is free in the lot off Michelson and Harvard near Irvine Lanes.
If you've never been to Boomers, you'll walk into the entrance and go through the arcade area and to your right to the outside area of the park. If you didn't buy your passes online, you can purchase them to the window on your right. The cool thing about this is that you can walk in and check it out to see if it's worth your investment before you pay a cent — although I'd recommend doing this preview WITHOUT the kids.
Bottom Line:
If you have some money for a splurge, this is close to home and something new in the neighborhood. All the kids I talked to on the slide gave it a thumbs up!
For me, these kinds of outings are a luxury. When I invest my entertainment dollars from my annual budget, I want them to go far. Like, REALLY far. [NOTE: Price comparison below is from 2013. Will update with 2017 prices when they come out.]
On the super-cheap — I know a mom who took her 2 kids. It cost her $4 for her admission (no riding the slides), her youngest was free, and her older child was $16.99 (if you buy online). Bottom Line: Only $21 bucks for a whole day of playing in the water.
For me and my 2 kids, it would cost approximately $110 for a one day complete Boomers experience or $150 for a 3-month season pass (through Labor Day and the weekends in September, Boomers is honoring the season pass for Buccaneer Bay, too). Bottom Line: $50/month for a 3-month season.
Season passes to Legoland – which would last all year – for me and the kids would cost: $149 children's Merlin Pass which includes parking and entrance to the regular park, water park, and Sea Life Aquarium, plus one $129 standard adult pass, and one $99 standard child pass for a grand total of $377. I would have to pay an extra $10 per person to get into the water park with the standard passes. Let's say we go to the water park once a month during the summer @$20 extra each time. That would still be $437. Bottom Line: $36.42/month for year-round passes.
For the record, my entertainment dollars this year went to our $80 OCParks.com annual pass and our $195 State Parks annual pass for a total of $275. We get water play at the best beaches, sunset walks, tidepooling, hiking and access to tons of amazing playgrounds. We use it ALL the time – probably 3-4 times a week. Bottom Line: $29.58/month for year-round access.
You decide!
Disclosure: I received free admission for me and one child for the purposes of reviewing Buccaneer Cove. As always, I share my own opinions here. Read full disclosure policy.