Winter Fest OC wasn't on my radar until I found out one of my readers bought season passes this year offered to write about how she saves money at Winter Fest OC and still has fun when she goes with her family. Unfortunately, this event only started on December 20th and ends on January 6th — so you'll have to squeeze it into your schedule very soon.
Here are her money saving tips and tricks that she wanted me to share with you . . .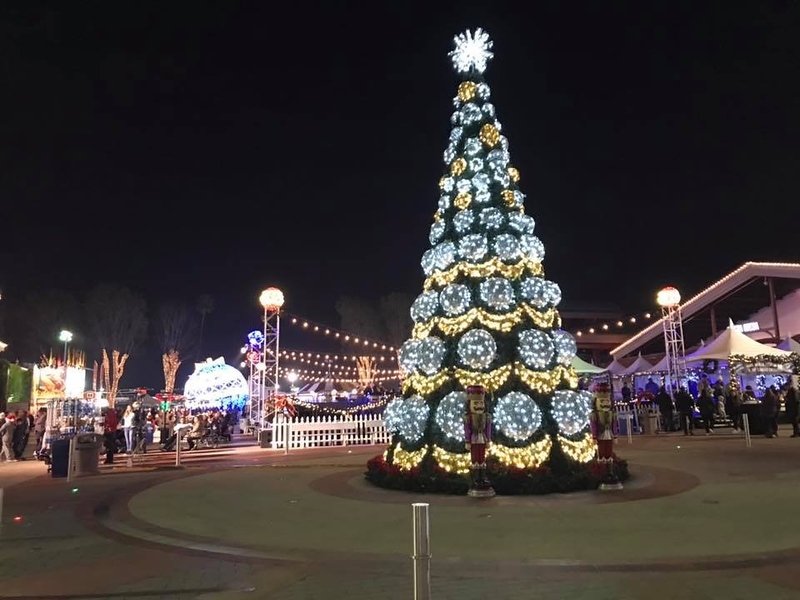 Is Winter Fest OC @ the OC Fair Grounds worth it?
Season Pass Option – if you buy early in the season
In my opinion, yes…but then for every family it's different! I bought the season pass for each of us early in the season at $25 per person via Groupon. My kids and I went three times. My husband only went with us once, but it was still a better deal to buy the season pass on Groupon as it saved us the hassle of dealing with standing in line at the event.
They still have the season pass deal going—but now the passes are $35 per person. Now that Winterfest is almost over for the 2018-2019 season this most likely is not the option you would choose, but for the future I feel this is a good deal.
Buy Online vs. Buying On Site
If you don't buy a season pass, buy your ticket online as Winter Fest OC tickets on the website are often discounted or offered in value packs.
Otherwise, for an adult ticket sold on site it's at least $25 at the door.

Quick Orientation for How to Navigate Winter Fest OC
The event is on the OC Fairgrounds but it doesn't take up all of the space. Basically think the OC Fair, but not as big! Carnival rides, an ice rink, snow play, and a few entertainment areas.
Once you enter Winter Fest, they have the ice rink straight ahead and The Hangar Holiday Stage (which is where the free entertainment is, characters, and train display is located).
The ice rink is the center of the event and to the left is the Candy Cane Carnival area with all the rides (we did not visit this).
To the right of the ice rink is So Cal Dickens Village and the sledding and a restroom (helpful tip with kids).
If you go past the Christmas Tree to the right this is where the snow play, lights, petting zoo, and food is located.
The three times that we went I didn't find the crowds to be overwhelming. Yes the line for sledding was long but there were plenty of other things to do.
Parking was easy and since we already had our passes it was easy to get in — not sure what the line is like to buy tickets at the door.

What are the FREE activities at Winter Fest OC?
This is an event where you can easily spend LOTS of money or you can be like me and enjoy all they have to offer for FREE (once you pay to enter Winter Fest OC). Hint: Pay special attention to the map legend which has snowflakes marking "Included with General Admission Ticket."
Snow play – only downside no snowball fights but my kids enjoyed running around in the snow and making snowmen
Cartoon Character Meet and Greet

my niece and son got to meet PJ Masks and they loved it
the line moved quickly
we were able to take several photos of them with the characters
new characters are now at Winter Fest (check the schedule to see who is appearing now — hint, it's Peppa Pig for Jan 4th-6th)

Live Bands and Stage Shows – we saw "The MistleTones" and "The Magic of Jimmy H" on The Hangar Stage – both were enjoyable shows
Inflatable play structures

GIANT inflatable slide
Bounce house for kids two and under
Snowman bounce house
Obstacle course

Tunnel of lights and light displays

On our last visit my son and I rode the train to see the lights. It's three dollars a person, and not the longest train ride (about seven minutes) but a fun way to see the lights.

So Cal Dickens Village

We enjoyed talking to the people who were displaying different types of art, and if you would like to you can buy items in here such as honey, swords, and jewelry but we opted out of this.
This was a nice place to get out of the cold and away from noise!

Nightly Christmas Tree lighting @ 5:30 P.M.

This includes "snow," and a simple parade and fireworks.
The parade and tree lighting was rather simple but still fun to watch.

Sledding

The three times we went the line was long (even the fast pass) so we didn't do this all that much, but it was fun.
Children need to be over 42 inches tall to go on the big sled hill and under 46 inches tall to go on the toddler sled hill in the snow play area.

Model train track

If you have a train enthusiastic (like I do) then hanging out in The Hangar and watching the different Christmas trains go by is a MUST!
They even have the Polar Express as one of the trains.

What you need to know about Winter Fest OC:
8 dollars to park in the parking lot (Cash only)

You can park in Lot 1 or Lot 2 and enter where Centennial Farms is located

Train to view lights shuts down 5:15-6 p.m. due to the crowd around the Christmas Tree
Ticket booth to purchase tickets for train is located near the merry-go-round (it looks like only tickets for ice skating are for sale—but all tickets are for sale)
Purchasing a fast pass for sledding doesn't seem to be worth it in my opinion as both lines are the same length—in fact at one point the fast pass line seemed longer
Children shorter than 42 inches tall are not able to go on the LARGE sledding hill.
My children are 5 and 9 and enjoyed the FREE activities. If your child was much younger than 5, they are limited to what they can do.
Two and under are free
Food is available for purchase at the event but pricey (think fair food). We ate prior to the event once, and afterwards twice and opted out of buying any food while we were there.
At times it can be confusing to know what is FREE and what isn't.

For example, my kids enjoyed a giant inflatable slide which was included in our admission. Directly next to it was a fun house (this required four tickets).
Or, another example, surrounding the FREE snow play area were several food carts, games, and a face painting booth. For the most part it made sense to an adult what was FREE, but to a child it could be confusing.

Visit the OFFICIAL Winter Fest OC website to buy tickets and see a detailed map

What are the pay-to-play activities at Winter Fest OC?
While at Winter Fest OC we did not:
go on rides
play games
or ice skate
I am sure these activities are fun, but in my opinion it would have easily added up very quickly. It's $15 dollars per person to ice skate, and the wrist band for rides is $20 (presale) and $25 (onsite) per person. We took advantage of all the activities that were included in our ticket and we were able to find entertainment for 2-3 hours each time.
Kristin is a 5th grade teacher in Orange County. She enjoys being outdoors and playing with her family. In her spare time she can be found digital scrapbooking, looking on Pinterest for new ideas for her classroom or activities for her kids, researching places to go with her family, or reading a book. She looks forward to creating new memories with her family in the year 2019. Photos and post courtesy of Kristin.