"Since the late 1970s, kids lost 12 hours of free time per week and experienced a 25% decrease in play and a 50% decrease in unstructured outdoor activities (Juster, 2004)." Source: KaBOOM.org: Why Play Matters
"Over the past few decades, researchers in the fields of education and child psychology have amassed significant evidence for the necessity of play in children's lives. There is no denying that play is fun, and certainly fun is its biggest draw for children. However, as children play, they also develop critical cognitive, emotional, social, and physical skills. Play even contributes to proper brain development (Shonkoff & Phillips, 2000)." Source: The Power of Play – A Research Summary on Play and Learning, Dr. Rachel E. White for Minnesota Children's Museum
Do you sometimes feel like play is a frivolous thing you allow your children to do after all the "work" — of school, organized sports, and extracurricular activities — is done? You are not alone! But that feeling is completely opposite of what you should be feeling.
Play is important! You should be fighting for free play. I want you to feel completely justified in regularly opting out of scheduling activities to squeeze in downtime for essential creative, unstructured, pretend play.
I'm going to start by giving you suggestions on specific actions you can take – and follow up with links to organizations, books, research, and videos that will make it easier for you to understand that play is essential to the development and success of your child.
What is unstructured play?
One of the most popular posts on my blog is Practice 2 Simple Parenting Strategies and Never "Entertain" Your Young Kids Again. It's all based on unstructured play.
It's basically a psychology term for "free play." Parents can think about it as the kind of pretend play where adults are not interfering or setting any agendas. Other than general safety (are they hurting themselves or others?), there aren't any rules or order that things need to happen. There are no time limits. It's just time for kids to play pretend. For my family, unstructured play was just:
time at the park or playground,
time with props to build forts or create a work of art without any adult guidance,
spreading out a vinyl tablecloth on the ground and laying out the Play-doh,
building forts out of towels, sheets, and pillows,
taking stuffed animals outside to play,
laying out a picnic blanket and crawling around.
The ingredients are time, space to play, and freedom of imagination where adults are not interfering with a child's play. It doesn't mean you're not involved, but this play is just child-led.
Why is unstructured play important?
Again, I could link to all the research – and some of the articles under the "Read" section below in answer to this question. But just know that free play is ESSENTIAL for healthy brain development including all sorts of learning processes that will make kids successful in school and research is also starting to come out that it's essential for emotional health later on in life. Kids who get unstructured play as children turn into teens and adults who have more coping mechanisms and less anxiety.
Act!
Prioritize free play time – whether it's in nature or the backyard. Make sure the kids get some free play time every day – before the screens, before other scheduled activities. It really is THAT important!
Tackle some of the questions and actions in the resource section of Last Child in the Woods by Richard Louv (suggest it for your next book club or read with a friend). Richard Louv followed up with a really useful book called The Essential Guide to a Nature-Rich Life — Vitamin N: 500 Ways to Enrich the Health & Happiness of Your Family & Community. It has lots of practical ideas on how to allow for free play.
Start an outdoor play group – figure out the model that might work for you
Pledge to periodically ask yourself "Is there something better they could be doing?" instead of screen time – sometimes the answer is "no" because this is what we need right now, but many times you'll find the answer is YES.
Pick a new park to visit each week or 3 new parks to visit each week!
Subscribe to my Weekly Email for playful reminders and Hummingbird Parenting strategies (ways to make small changes to make play time a priority for your family)
If you are in Orange County, search the LetsGoOutside.org activities and sign up for one that's appropriate for your family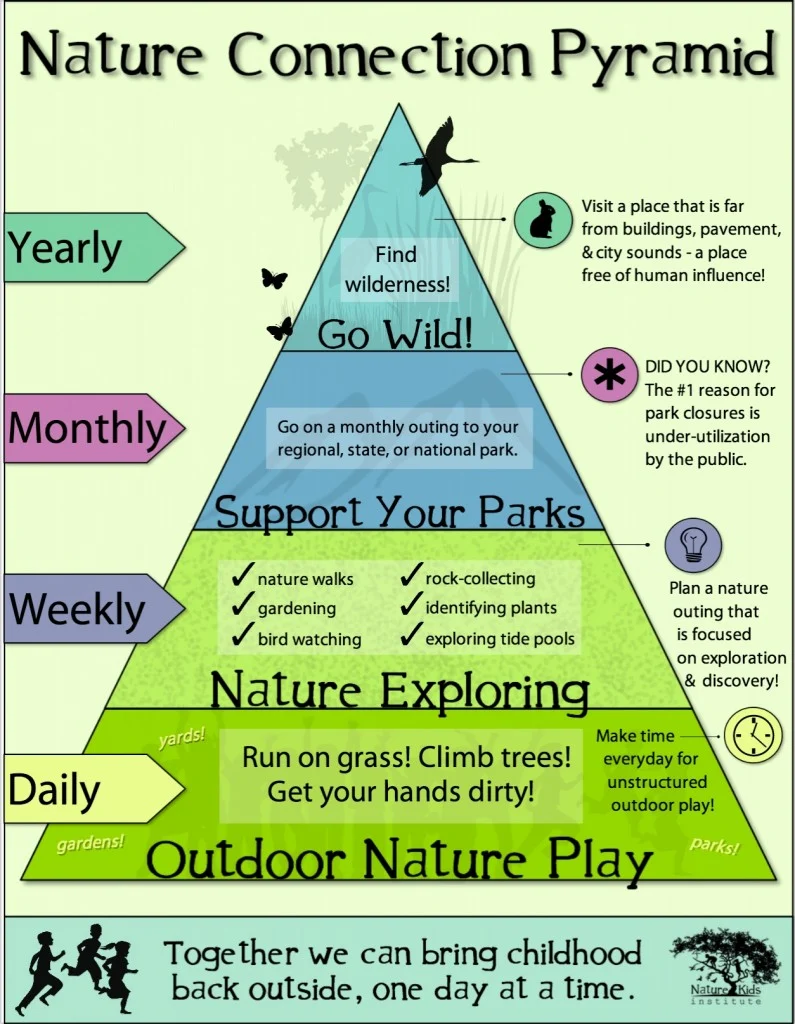 WHY PLAY?
Read
Books About Childhood Play
Articles About The Importance of Free Play
Research Library
The Children and Nature Network is home to an extensive and searchable research library in case you are looking for specific articles.
Visit
Prescription for Play (Kaboom.org)
I Believe in Play (Kaboom.org)
How Schools Kill Creativity by Ken Robinson (Ted.com) – Addresses the question "How do we know what media kids will need to know in 15+ years?"
This was originally created for an OC parent presenting at a school event. If you would like to include this page as a resource for your parent organization, email play@funorangecountyparks.com for a free PDF handout copy or reference on your website as:
Why Play? Powerful Resources to Justify Your Play
https://funorangecountyparks.com/why-play
by
Michele Whiteaker, Community Play Advocate and Certified Interpretive Guide
FunOrangeCountyParks.com