Yes. We let our kids go inside an active grizzly bear habitat. Let me set the scene . . .
My friend, "Mel" pointed us in the direction of the Grizzly & Wolf Discovery Center in West Yellowstone as a way to start our trip into the park. She's a Yellowstone vacation coach for families who are planning trips to the National Park. Her service is amazing. Our family Yellowstone travels would not have been as enjoyable without her helpful pointers. In fact, I loved it so much I suggested we write a book together — and it's available now (Yellowstone and Grand Teton National Park: First-Time Trip Guide for Families).
Okay, back to the bears. So Mel told us to go and we did. The inside has a ton of interesting interpretive displays.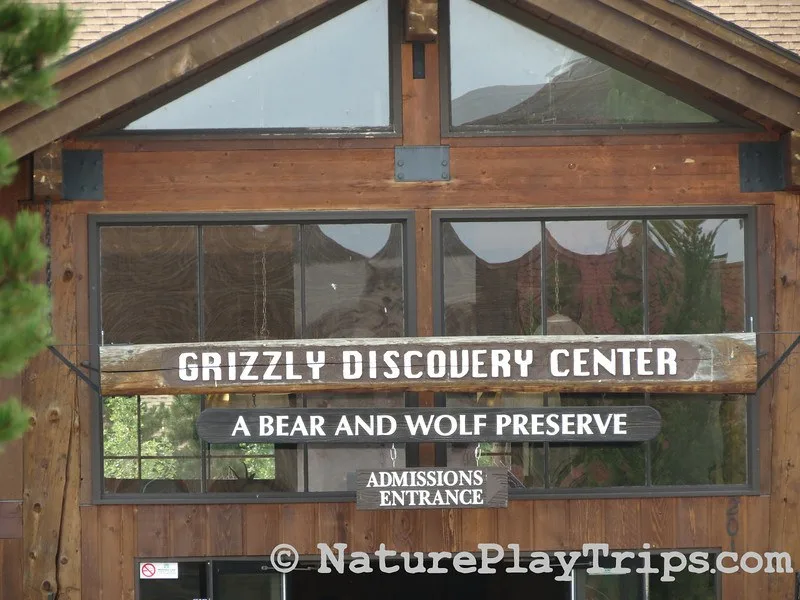 And at one point, the guy at the desk says: "Oh, and if you want to sign up for Keeper Kids your kids can feed the grizzlies." And I'm like: "Yeah!"
And then: "Wait, WHAT?????"
Because this is what I'm seeing outside: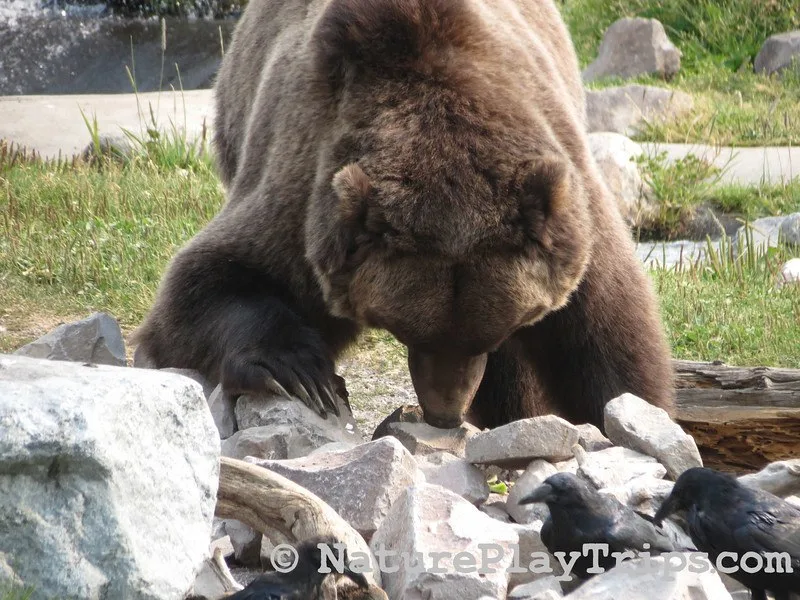 Um, the claws alone!
But for $2 each, my kids and nephews between the ages of 5 to 12 years old could go inside the bear habitat. Just $2 and a signature on a liability form that includes the words "bear fecal matter" and "permanent trauma/disability and death." Basically, the standard thing we sign when they play in a bounce house, right? Except maybe the fecal matter part?
So here they are getting a super-informative and interactive talk where the kids get to learn about bear eating habits.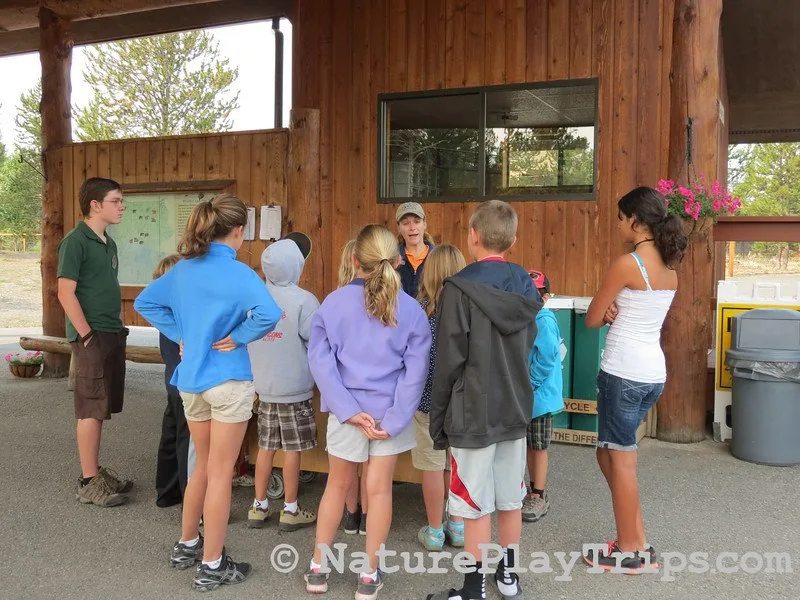 I'm doing pretty good at this point. Not a lot of risk here. I don't think my kids will ever forget the talk they got from the naturalist who did an amazing job. And then, the bears are moved out of the habitat and the kids move in.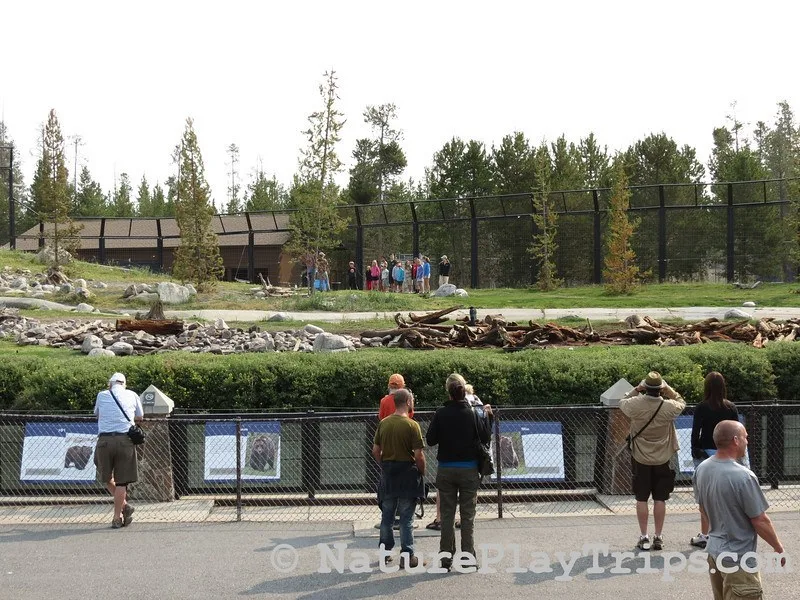 And then they hide food around the habitat so the ravens don't scavenge before the bears can get to it.
The keepers were really great about the whole experience. Giving the kids just enough guidance and making the parents feel like there was enough supervision that the kids would be safe (see the bear spray hanging from the holster?).
Then the kids come out and the bears get let back in.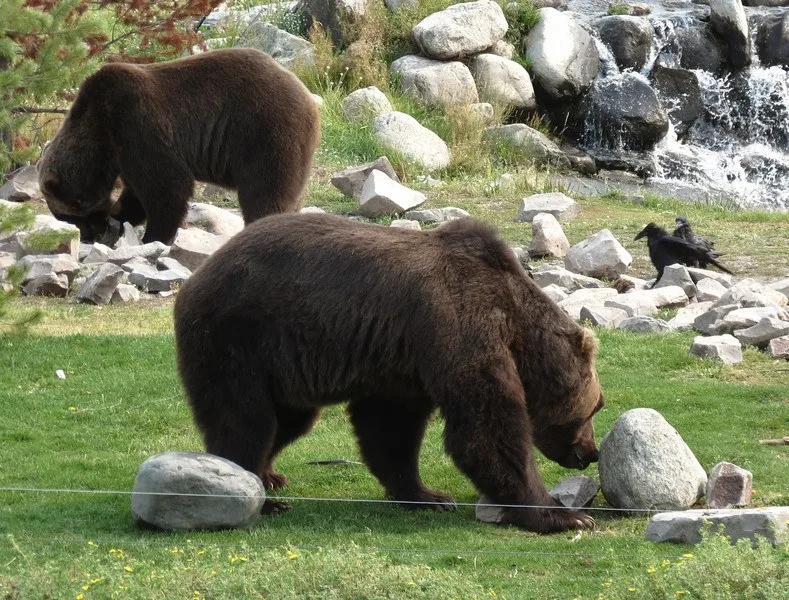 Gotta look hard and under the rocks. Those kids are pretty sneaky with the hiding places!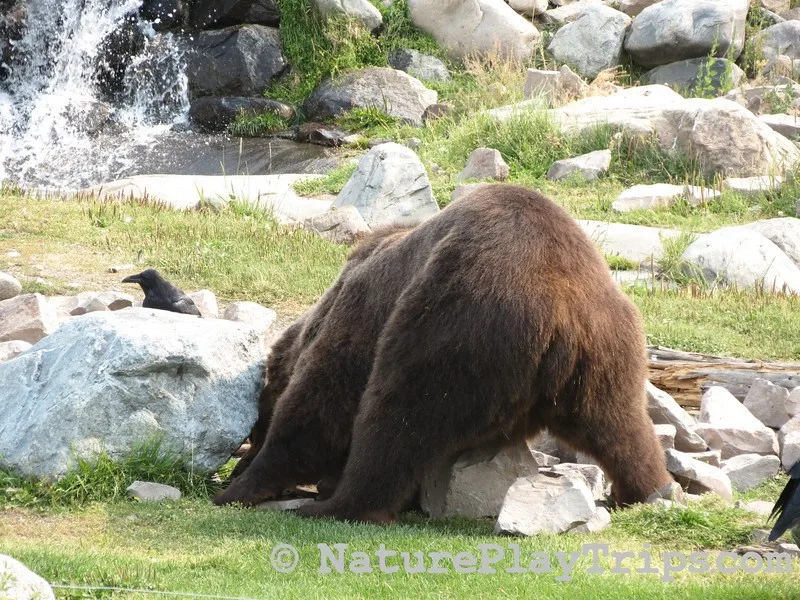 The bears got to eat and we were on our way into the park with an amazing first memory.
If you want to learn more about our trip or wonder how to plan your own first trip to Yellowstone or Grand Teton National Park, please check out our NaturePlayTrips.com Guidebook Shop for Yellowstone and Grand Teton National Park: First-Time Trip Guide for Families.