Serendipity first led us to Santiago Park in Santa Ana across Main Street from the Discovery Cube OC. My daughter spotted it when we turned into the parking lot. I had been to the Cube countless times, yet never noticed the playground nearby.
I originally posted the park in June 2009 after we first experienced it by walking across the street after a visit to the science center. Over the years, it became a spot local parents warned me about feeling like an unsafe place to play.
But the story is changing.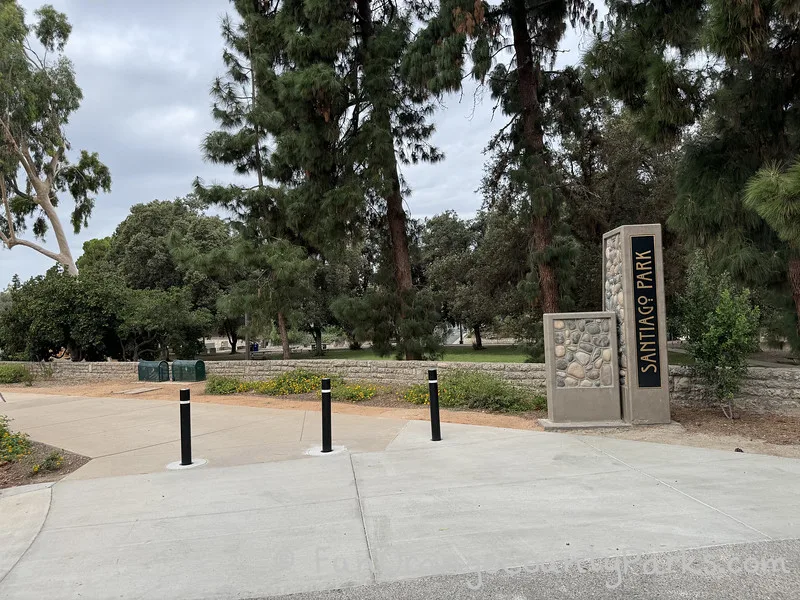 The City of Santa Ana has a parks master plan now and Santiago Park has been the focus of a lot of cleanup and efforts to make it a neighborhood hub for play and outdoor enjoyment. The Santiago Gashouse Project is part of that plan which was a $3.5 million renovation funded by grants and the project included:
Outdoor natural Amphitheater
Gashouse Renovation including kitchenette
Picnic facilities/tables
ADA accessible concrete walkways
Decompose Granite Jogging trail
Security Lighting
Irrigation and Landscaping
Park Restroom Renovation
Playground equipment
The Santa Ana Zoo is also nearby it all with their Santiago Creek ECO Center / Wildlife & Watershed Center.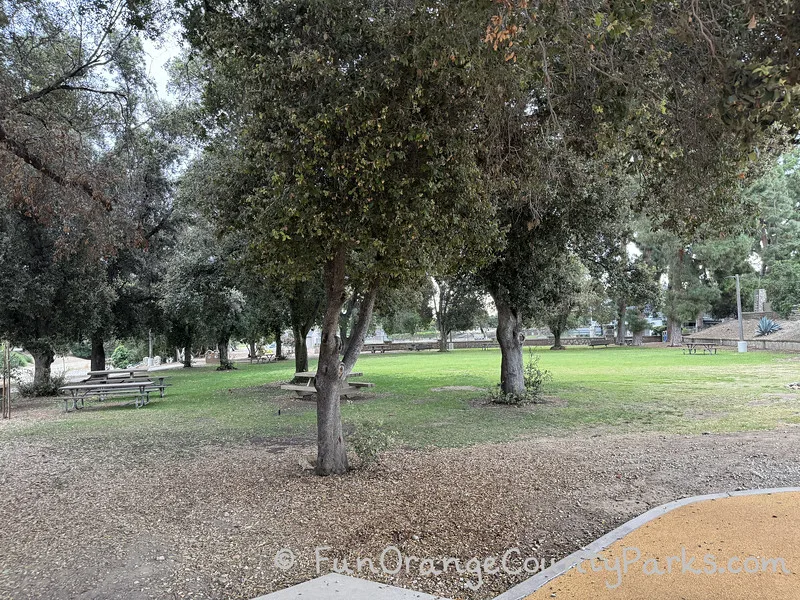 I re-visited the playgrounds because of the project ribbon-cutting in October 2023 paired with this note from a reader: "Check out Santa Ana's Santiago Park revamp. It's amazing! Much safer . . . cleaner . . . etc. I stopped going a few years ago because the homeless issue was out of control. But the city has really fixed that issue in the past year or so."
I know that field trip teachers will appreciate this open space when they come for lunch with their student groups. And I have already heard from families in the neighborhood who appreciate it and visit often.
Getting Oriented to Santiago Park
The park is actually long and runs along Santiago Creek from Main Street to the 22 Freeway. If you've ever been to the Discovery Cube OC on Main Street in Santa Ana, then you've seen the Santiago Creek bike path and creekbed through the chain link fence that separates the parking area from the Red Roof Inn across the way. The park starts across Main Street from the science center.
If you can imagine walking from the Cube (not really recommended because it's a BUSY street) then you would walk along the trail for a little bit and come upon a big playground on your right next to a restroom building in front of you and a bike/pedestrian bridge on your left. I call this playground: the EXISTING playground. The playground has been here for a long time, but this current set-up has been here since around 2017 if I'm correct.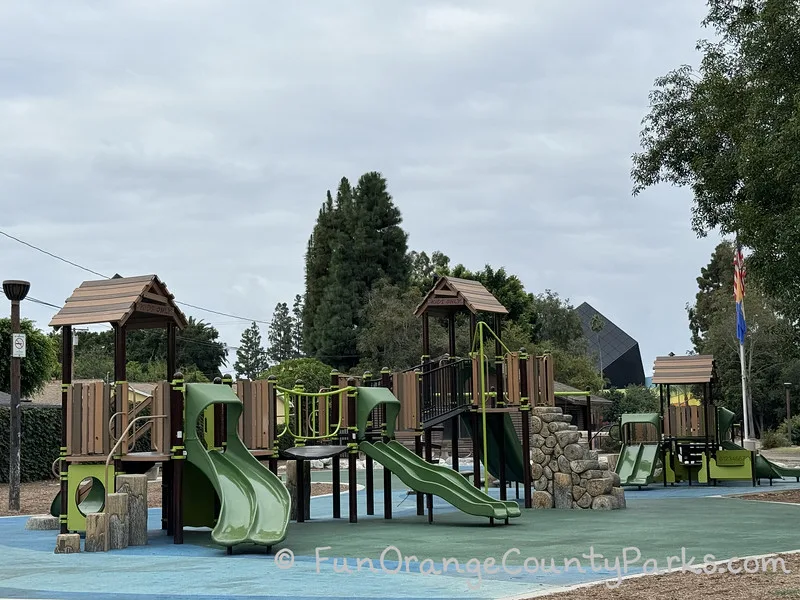 If you kept walking, you'd pass a large picnic area near the restroom building and you'd get to a fork in the path.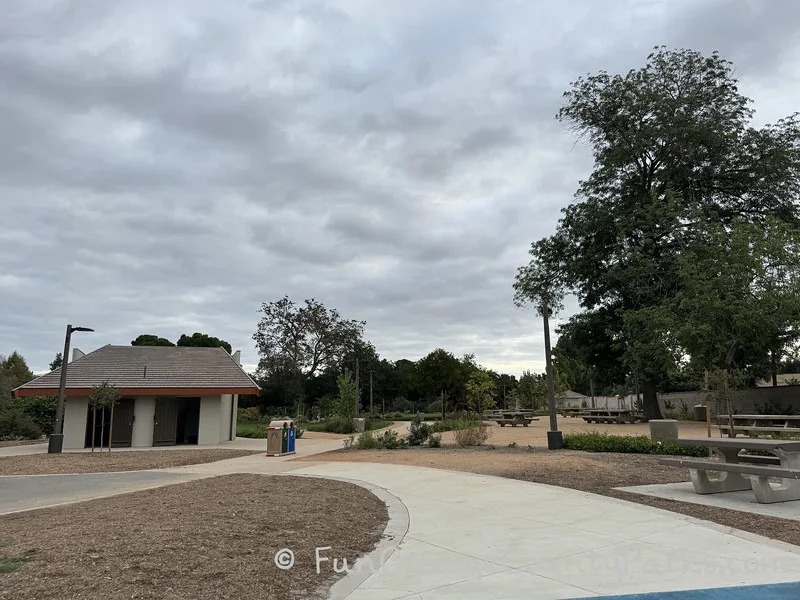 The right side is a decompose granite path and the left is paved. BOTH directions lead you around half a loop to the NEW playground. If you take what looks like a dirt path, you'll end up at the amphitheater and see an enclosed picnic area. If you take the paved path to the left, you'll pass by some beautiful oaks and boulders to rest on underneath – and eventually get to the playground.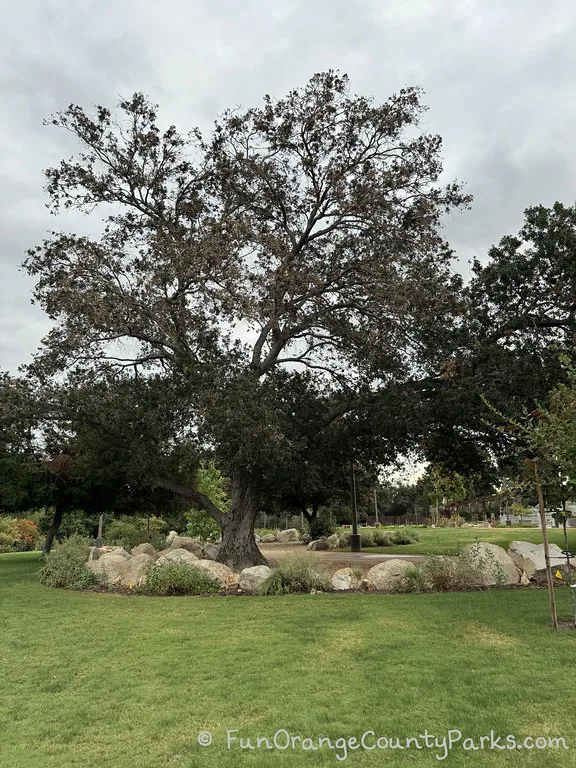 A more direct way to reach the park is by driving to the parking the lot off Memory Lane (one of the first streets you hit after passing the Discovery Cube OC on Main Street). After parking, you will walk up the steps right into the NEW playground and you will have to walk that loop back towards the Discovery Cube to get to the EXISTING playground.
Location of Santiago Park in Santa Ana: From Interstate 5, take the Main Street exit. Drive past the Discovery Cube OC and turn right on Memory Lane. Turn right on Lawson Way into the parking lot. The NEW playground is directly up the stairs — and there is another playground if you walk back toward Main Street. (There's also path on the Memory Lane side of the parking lot, leading through a tree grove and over a bridge directly to the 2nd playground). [Address: 2535 E. Memory Lane, Santa Ana] MAP to Santiago Park in Santa Ana
NEW Playground "Santiago Gashouse at Santiago Park Project" Highlights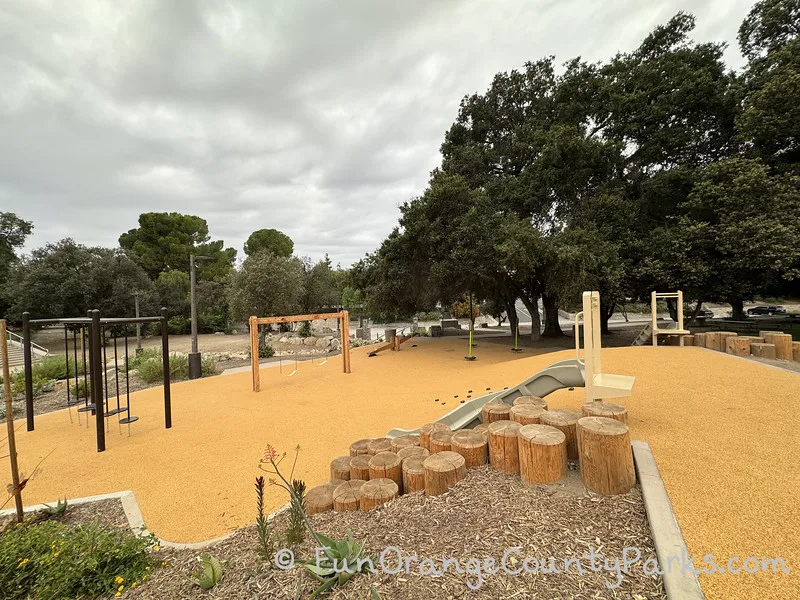 The new part of the park and playground is furthest from the Discover Cube. It's basically at the entrance on Valencia Street where it meets Virginia Avenue (as the very kind reader who recommended the new playground described to me).
The photo above shows my favorite parts:
hanging pedestals
2 bench swings
wooden teeter-totter
spinners shaped like cattails
2 slides with logs in the hillside + climbing grips on the play hill.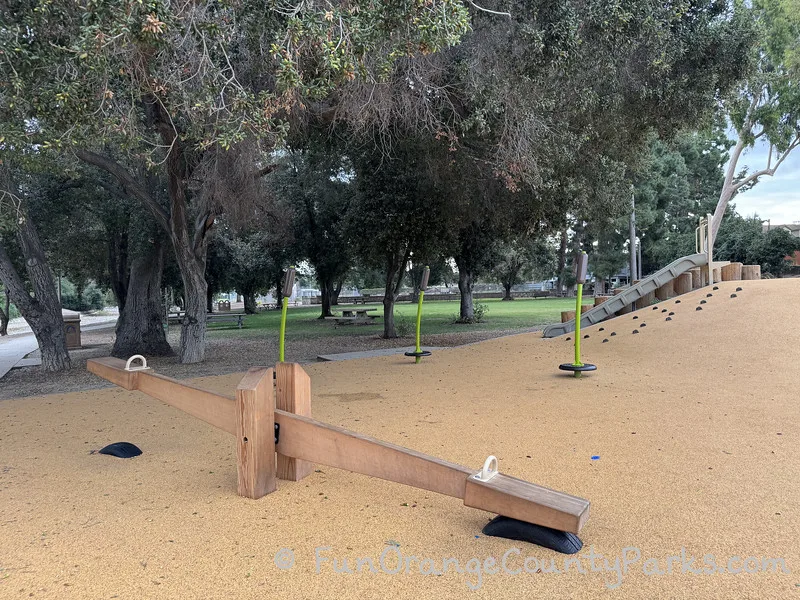 At the top of the hill above the slides is a spinner and other set of play equipment which is super fun. See if you can find the raccoon and the squirrel up there!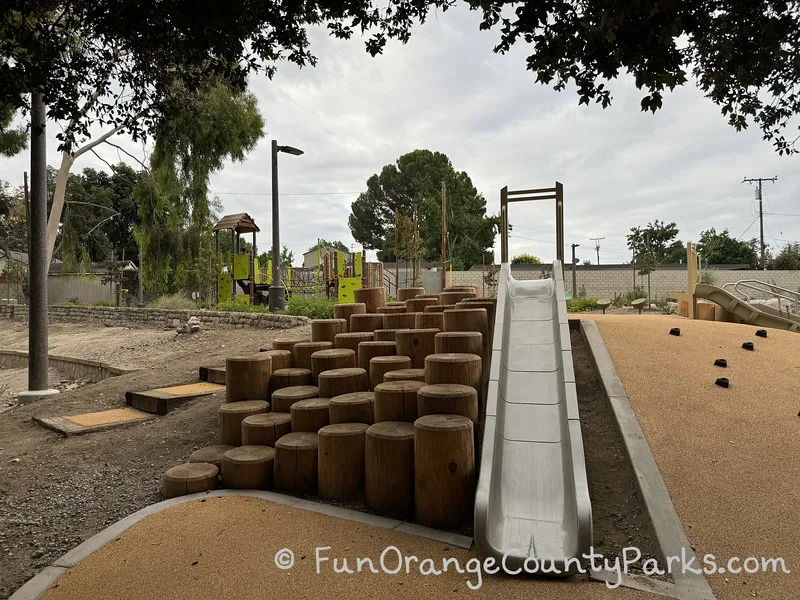 Here is the view from that section of playground looking back towards Discovery Cube.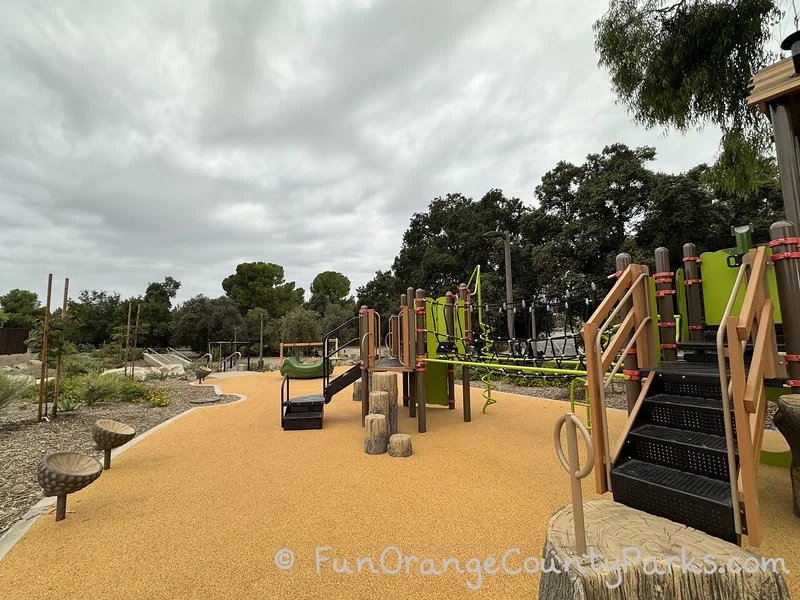 You'll find an outdoor-themed playground with acorns and logs to sit on or climb.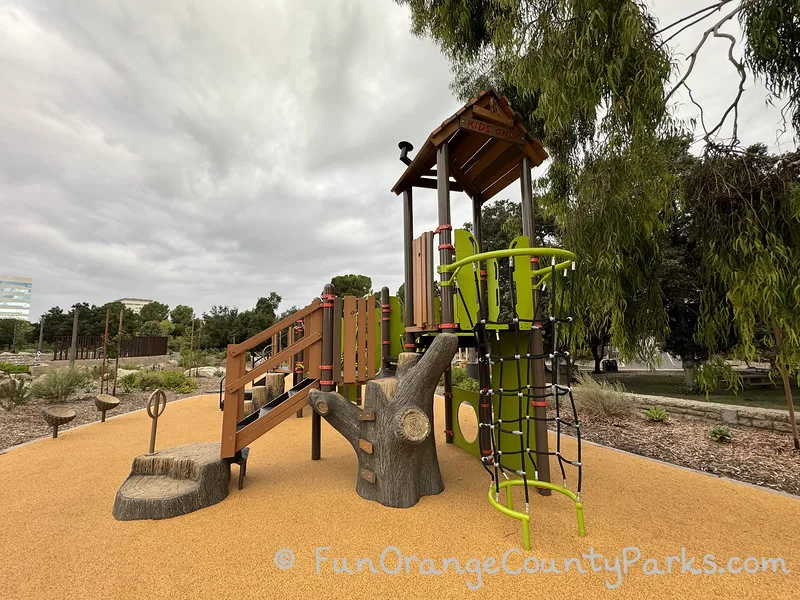 There are nearby stores and restaurants at the corner of Main Street & Memory Lane: Mother's Market & Kitchen, The Habit Burger Grill, Chipotle, Corner Bakery, and Coffee Bean & Tea Leaf.
Perfect outdoor picnic spot for field trips when visiting the Discovery Cube.
There's a nice trail for strolls or bike rides along the creek with family or group.
I don't want to leave off photos of the amphitheater. It's pretty impressive.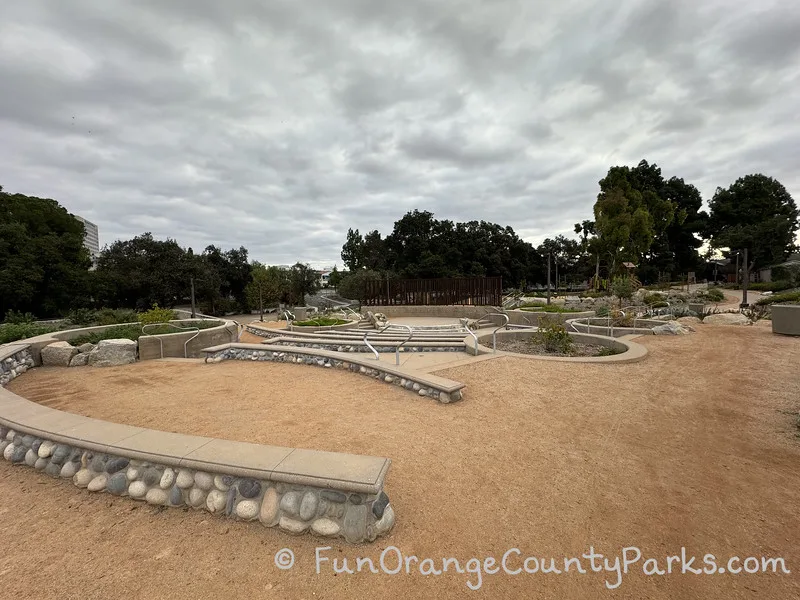 Existing Playground Area Closest to Discovery Cube
This entire post used to be about this entire playground, so I have a lot of photos for you in this gallery.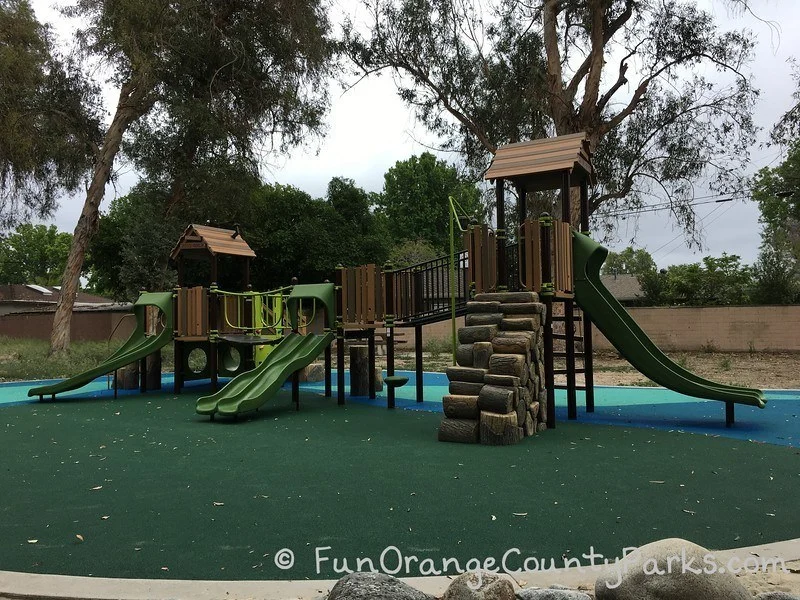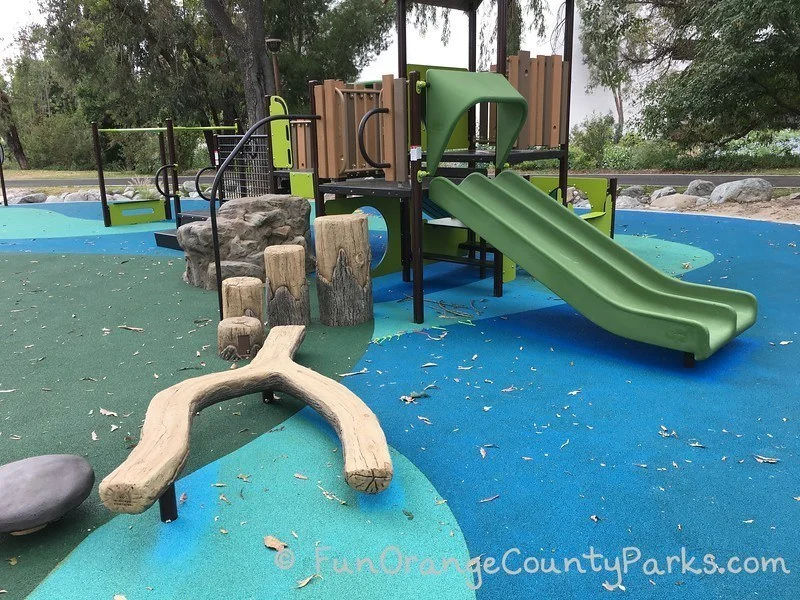 EXISTING Playground Closest to Discovery Cube Highlights:
Fairly new structures and recycled rubber play surface
See if you can spy little critters in the log pile!
Equipment for big kids and little kids
The big-kid structure has log climbers and slides
Smaller kid structure has balancing components and smaller slides
Picnic tables near the playground
Lawn bowling and nature center nearby
2 bench swings, 2 baby swings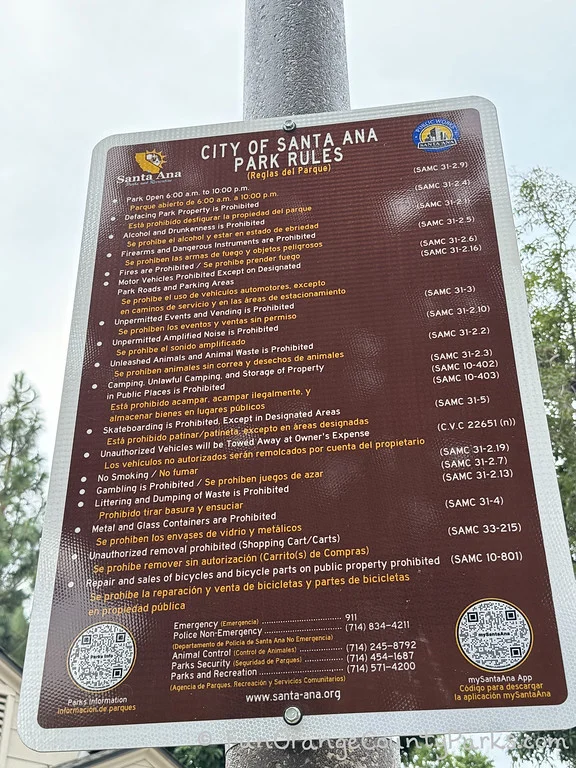 Be Aware:
Long list of Park Rules and also numbers to call if you need them.
New restrooms, but this area is still in transition and — as with any park — I would accompany your child.
It would feel pretty isolated if you were playing here alone. I would go in a group or with someone who lives in the area and is familiar with the park.
The main parking lot is in a sunken area below the playground along the creek. I can see how there might be issues parking when there are heavy rains, but you probably won't be making a trip to the playground then!
I have not been able to spend a ton of time in this latest version of the park so I don't know how much things have changed, but I do like to heed warnings from locals and these are just a couple that have come in over the years. These are not CURRENT, just some notes of caution from the past. I'd say: just be aware of your surroundings.

One person I talked to said it might not be too safe to walk on the trail under the street and there's "suspicious characters" at the park every once in a while. I felt very safe there in the middle of the day.
On one trip in 2017, it was a cloudy day on the weekend with no families. We saw 4 or 5 single men using the restroom in the span of 20 minutes.

Many people remember this park from their childhood for its giant metal slides tucked away in a back corner of the park near the nature center and 22 Freeway, but they were removed long ago. These photos are from when they were chained off for safety back in 2017.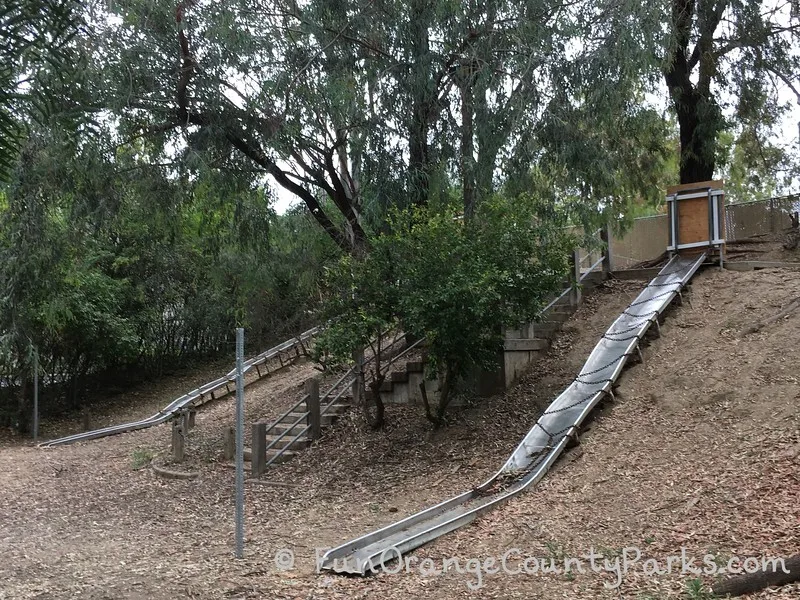 Checklist:
Main dedicated parking in lot off Memory Lane, walk in from the Cube, or walk in from the neighborhood off Valencia Street.
We walked to the park from the Discovery Cube. There's a path that goes below Main Street, but we were warned against going that route. However, Main Street is busy – so be careful crossing. Always use the crosswalk.
Recycled rubber play surface at both playgrounds
Restrooms closer to the "existing playground" than the "new playground"
Some shade from eucalyptus and oaks
Lawn bowling at the Santiago Park Lawn Bowling Clubhouse
Nearest public library branch: Santa Ana Public Library – Main Branch
This would be fun to pair with Discovery Cube or even The Santa Ana Zoo
Originally posted in June 2009.

Just wanted to add in a special thanks to ALL the people of Santa Ana who care about Santa Ana parks and have shared their knowledge and advocacy so I can share it here over the years.I appreciate you so much.