Serendipity led us to Santiago Park across Main Street from the Discovery Science Center. My daughter spotted it when we turned into the parking lot. I've been to the center countless times, yet never noticed the playground nearby. Not open everyday, check out the Santiago Park Nature Preserve and Santiago Creek Trail.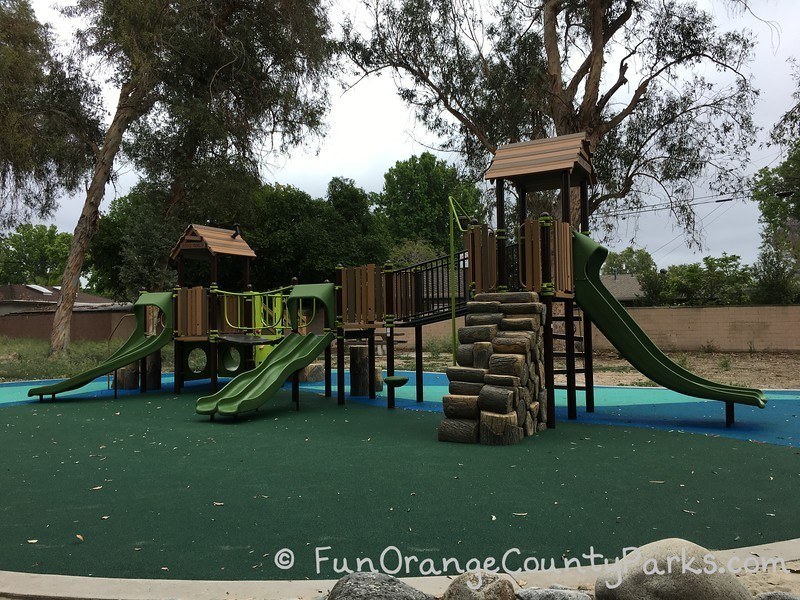 Location: From Interstate 5, take the Main Street exit. Drive past the Discovery Science Center and turn right on Memory Lane. Turn right on Lawson Way into the parking lot. The playground is a walk back toward Main Street. There's a path on the Memory Lane side of the parking lot, leading through a tree grove and over a bridge directly to the playground. [Address: 2535 E. Memory Lane, Santa Ana] MAP to Santiago Park in Santa Ana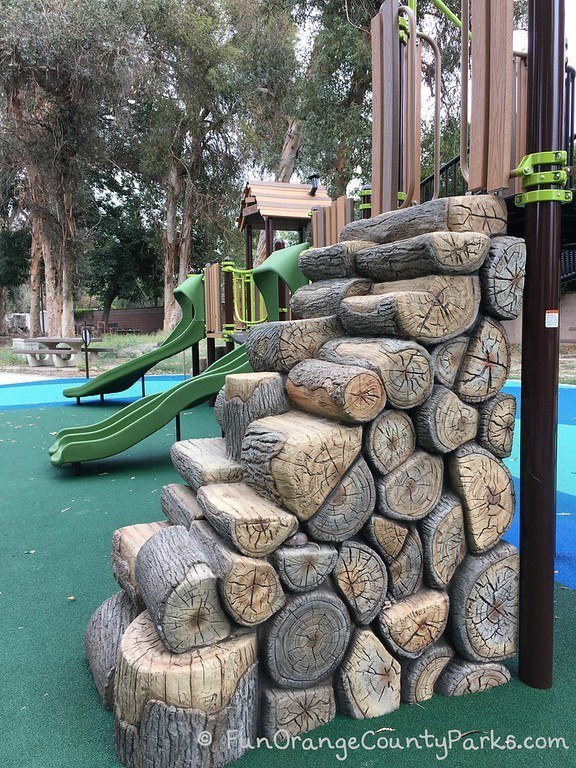 Highlights:
Fairly new structures and recycled rubber play surface
Nearby stores and restaurants at the corner of Main Street & Memory Lane: Mother's Market & Kitchen, The Habit Burger Grill, Chipotle, Corner Bakery, Coffee Bean & Tea Leaf
See if you can spy little critters in the log pile!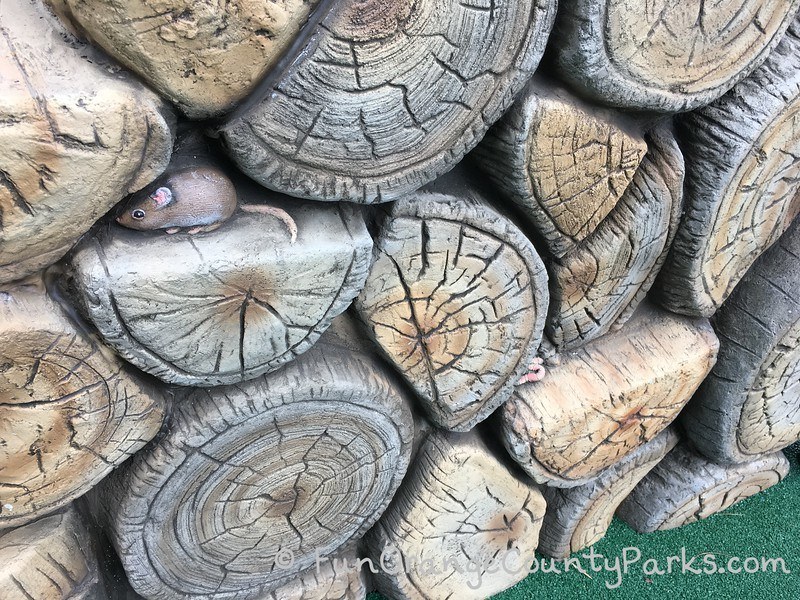 Equipment for big kids and little kids
The big-kid structure has log climbers and slides
Smaller kid structure has balancing components and smaller slides
Perfect outdoor picnic spot for field trips when visiting the Discovery Cube
There's a nice trail for strolls or bike rides along the creek with your group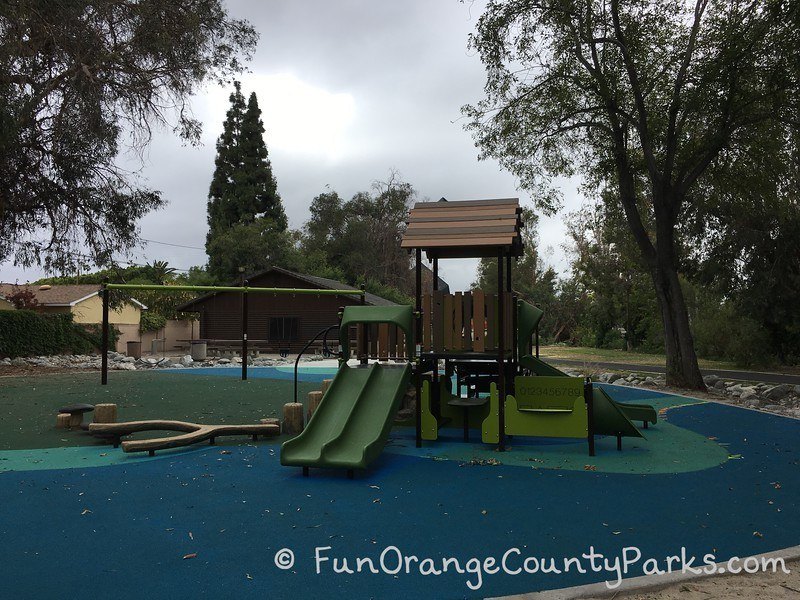 It's a bird sanctuary and part of a nature preserve
Picnic tables near the playground
Lawn bowling and nature center nearby
2 bench swings, 2 baby swings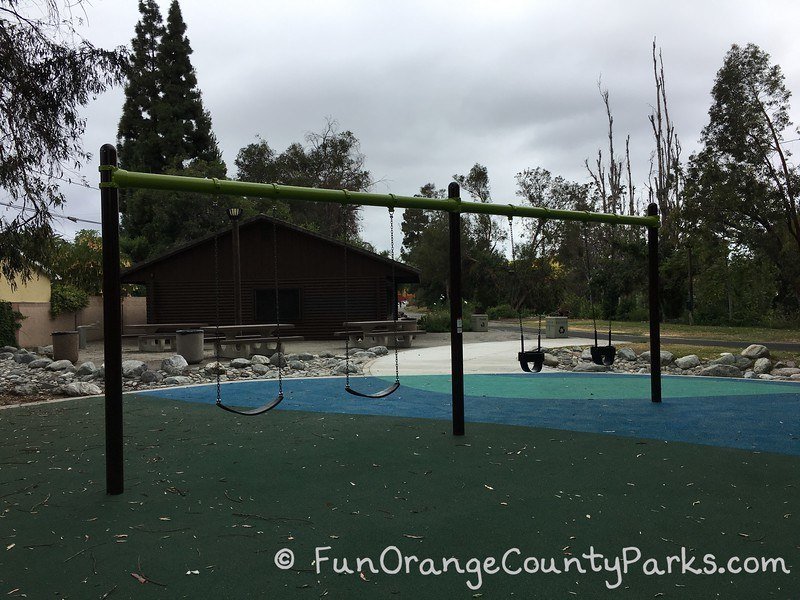 Be Aware:
No stalls in restrooms
One person I talked to said it might not be too safe to walk on the trail under the street and there's suspicious characters every once in a while. I felt very safe there in the middle of the day. (You'll notice one commenter warned to accompany your children to the restroom). On our latest trip, it was a cloudy day on the weekend with no families. We saw 4 or 5 single men using the restroom in the span of 20 minutes. Just be aware.
Many people know this park for its giant metal slides tucked away in a back corner of the park, but they are closed as of the time I'm posting this in May 2017.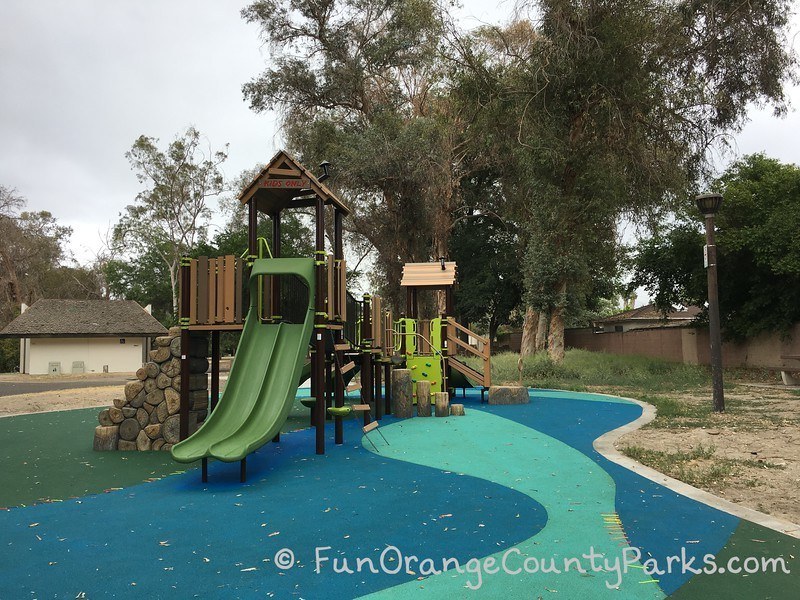 Checklist:
Parking in lot off Memory Lane or walk in from the Science Center
We walked to the park from the Science Center. There's a path that goes below Main Street, but we were warned against going that route. However, Main Street is busy – so be careful crossing.
Recycled rubber play surface
Restrooms very near playground, but no stalls on doors
Some shade from eucalyptus
The park has a cabin available for rental (Santiago Cabin reservations)
Lawn bowling at the Santiago Park Lawn Bowling Clubhouse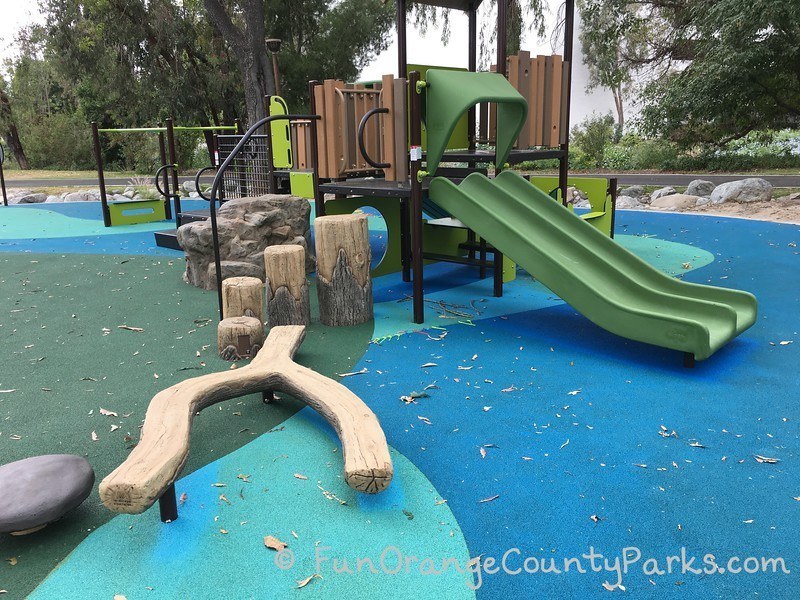 Originally posted in June 2009.