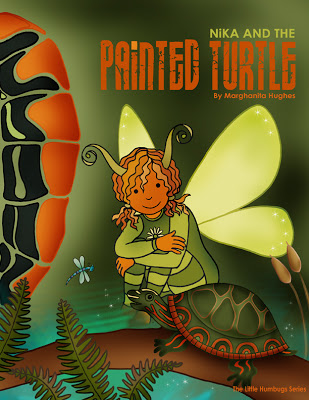 "When children and nature mix, something magical happens."
-Marghanita Hughes, Author & Illustrator
I get goosebumps every time I hear Marghanita say those words. Her voice gets wispy when she says "magical" and you know Marghanita can see her Little Humbug characters flitting around the woods playing and doing their good deeds. Jasmine is leader of the Butterfly Girls. She lives in Humbug Village with her friends: Lucy the Bird Keeper, Chloe the Gardener, Flint the Dragonfly Boy, and Nika the Gemstone Collector.
These characters are stewards of the Earth providing a model my children try to emulate. We're old friends of Jasmine. I bought a doll and the "We're the Little Humbugs" book for my daughter last Christmas. Jasmine is her constant companion and I've been chastised more than once for not following the Butterfly Girl's lead. I've been told the Butterfly Girls "don't like it when you leave the light on when you're not in the room." My daughter also picks up trash at the park without the benefit of my suggestions. She learned it from the Butterfly Girls!
Nika and The Painted Turtle is the latest Little Humbugs magical adventure. Marghanita is offering it as an e-Book available for download ($2.99). She gives instructions how to print and bind the 31-page book with ribbon. We took 3 nights reading it to the kids at bedtime. There are even activity pages at the back for coloring. Sshhh! I will be printing these out to color myself!
I regularly read Marghanita's blog so it's particularly fun for me to see her weave stories from her life into the pages of the book. There are surprises and disappointments in this book. My kids really identify with these young characters and were genuinely excited, concerned, and celebratory in different parts of the story. Its pages provide environmental enlightenment and a call to action. Problems have solutions. These are some of the insider connections to Marghanita's blog posts you wouldn't make unless you were reading the book with me:
Visit Marghanita's Wildwood Media YouTube Channel filled with her "Let's Go Outside" series of wonderful nature crafts and inspiration to get your kids outdoors.
Download Nika and The Painted Turtle for an inside adventure to the far reaches of outdoors (e-Book available for ($2.99).
*Artwork credit: Marghanita Hughes is creator, author and illustrator of The Little Humbugs.
**No compensation received for this post. Marghanita is a #playoutdoors friend whom I met on Twitter. I value her as a mentor for her passion and creativity.