The Coastkeeper Natural Play Garden is (what I believe to be) the first public nature playground in Orange County. I cannot tell you how excited I am to share this magical place with you and your kids. All I did as a child was play outdoors and rarely on manufactured playgrounds, unless I was at school. This play space inside the Coastkeeper Garden will allow your kids to experience some of the same freedom and wild fun that we had as kids.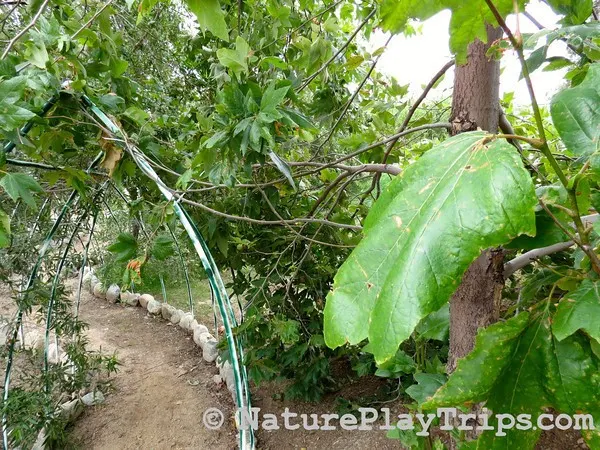 Why Nature Play? Natural play engages children with nature, teaches them to feel comfortable and curious about their environment, and provides an authentic connection to the natural world. Children experiencing and learning from a natural setting inspires future conservationists and instills a genuine sense of stewardship. Natural playgrounds are inspiring and innovative ways to return children to the simplicity of nature and active, outdoor play. Elements such as sand, stones, dirt, wood, and water provide natural obstacles and inspire creative building of structures.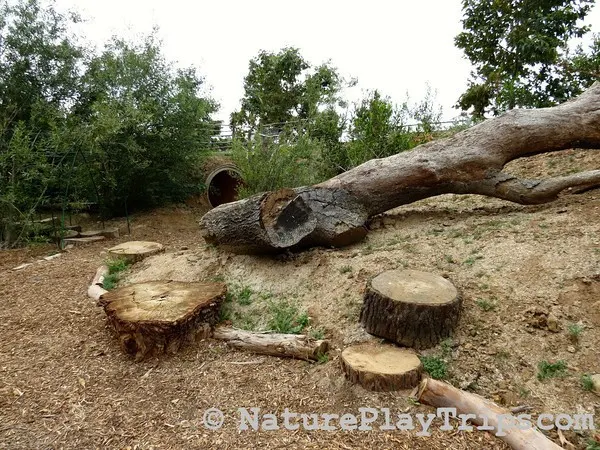 Location: At the corner of Jamboree Road and E. Santiago Canyon Road on the campus of Santiago Canyon College — near Irvine Regional Park. Coastkeeper suggests taking I-5 to the 55 and exiting at E. Chapman heading towards the foothills. I always get off I-5 at Jamboree and turn left on E. Santiago Canyon Road (right before Irvine Regional Park). Then I swing a U-turn at the light to return to the driveway near the corner back at Jamboree. [Address: The garden doesn't have an official address, but the college is at 8045 E. Chapman, Orange.] MAP TO COASTKEEPER NATURAL PLAY GARDEN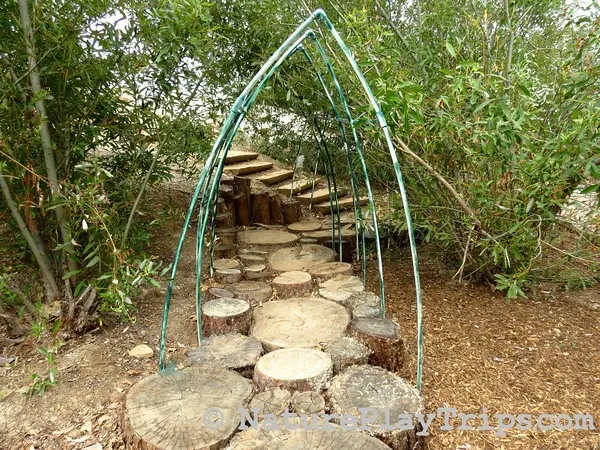 Highlights:
I wish ALL playgrounds were nature playgrounds – so you can imagine how in love I am with this place! It's a place for imaginations to run wild – so set your kids free to enjoy it.

Tree stump paths to navigate
A deer grass maze for hiding
Willow tree tunnels and paths
Stumps to sit on under the shade of a sycamore
Gravel stream bed for play
Rocky hill for climbing and navigating
BIG tunnel built into a hillside
Plenty of benches for parents to keep an eye on things without running the show – I liked the black metal bench above the tunnel for the widest view of the whole area.
The garden is staffed by a Coastkeeper Project Manager and volunteer docents
The Coastkeeper Demonstration Garden is a two and one-half acre demonstration garden located behind Santiago Canyon College in the City of Orange. This unique, sustainable garden teaches the public about California Friendly landscaping techniques, which conserve water and eliminate polluted urban runoff. The garden incorporates six California Friendly vignettes that represent popular, regional architectural styles that show how California Friendly landscaping is practical and beautiful. (I'll be putting up a separate post about the demonstration garden soon.)
Near Irvine Regional Park and the OC Zoo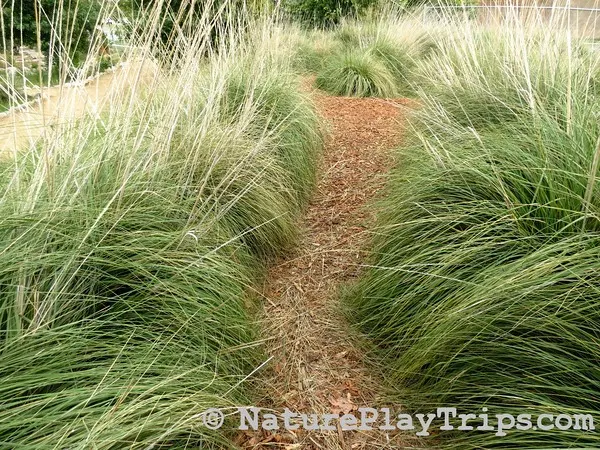 Be Aware:
Even though I call it a playground — it's nature. You won't find slides and swings and manufactured equipment. You'll find overgrown hills, rocky paths, tree branches and dirt paths.

This is a natural area, so there are natural dangers (I think I spent my entire childhood with scabs on both knees!)

Toddlers have a softer area to play with grasses and shade trees — but there is obviously bark and rocks and leaves they can put in their mouth. Just keep a closer eye on toddlers. I'd think preschoolers and school-age kids will have a blast – especially if caregivers back off and give them room to play.
Kids will be expected to stay on the trail in the main garden area, so as not to disturb the demonstration garden elements. The dirt trail is appropriate for strollers and wheelchairs in the main garden, but the access stops near the more wild nature play area where you will need to park your stroller.
Teach your kids to respect the hard work that went into this place! Hours and hours of volunteer time made it GROW into what you see today.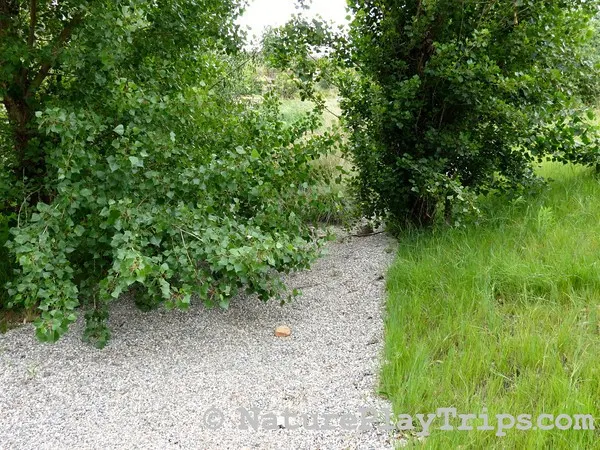 Checklist:
Dedicated parking in a dirt lot off E. Santiago Canyon Road (Aerial map of parking on the Coastkeeper website)
Hours are 8am-5pm Wednesday through Saturday (CLOSED Sunday and Monday). And according to the Coastkeeper website, "On rainy/windy/hot days the Garden is closed."
Special thanks to Project Manager Austin Brown and former Development Director Pamela Crouch who took the time to show me around!
Official Coastkeeper website: Founded in 1999, Orange County Coastkeeper identifies pollution issues affecting water quality in local creeks, rivers, bays and coastal regions. The organization's mission is to protect and preserve the region's marine habitats and watersheds through education, advocacy, restoration, research and enforcement. Orange County Coastkeeper is a proactive, collaborative, and dynamic 501 (c) 3 non-profit organization. For more information, visit www.coastkeeper.org or call 714-850-1965.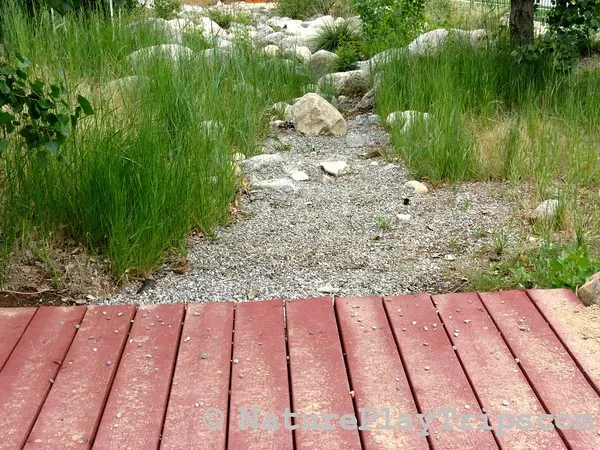 Seeking Docents and Volunteers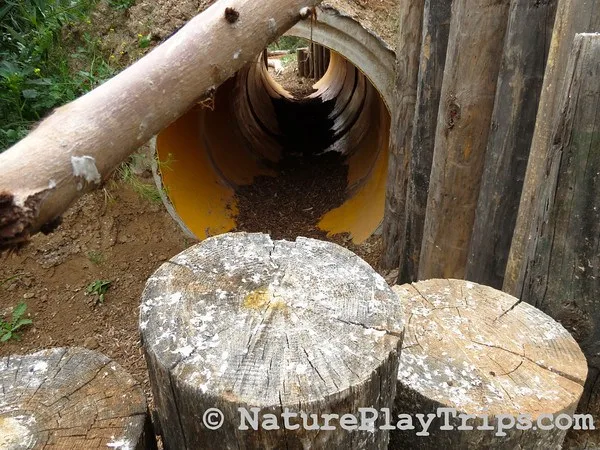 Originally posted in May 2013.