Circus Trix OC goes way beyond your typical trampoline park in to the realm of extreme air sports. But, really, you can make it as extreme as you want it. You can walk on walls and do tricks. Or you can go the mellow route by attempting to balance on the slackline over a foam pit or swing to your heart's delight on silk swings hanging from the ceiling. It just so happens that part of the management team at Circus Trix OC are friends of mine, so they let me explore this indoor world of play so I could share it with you.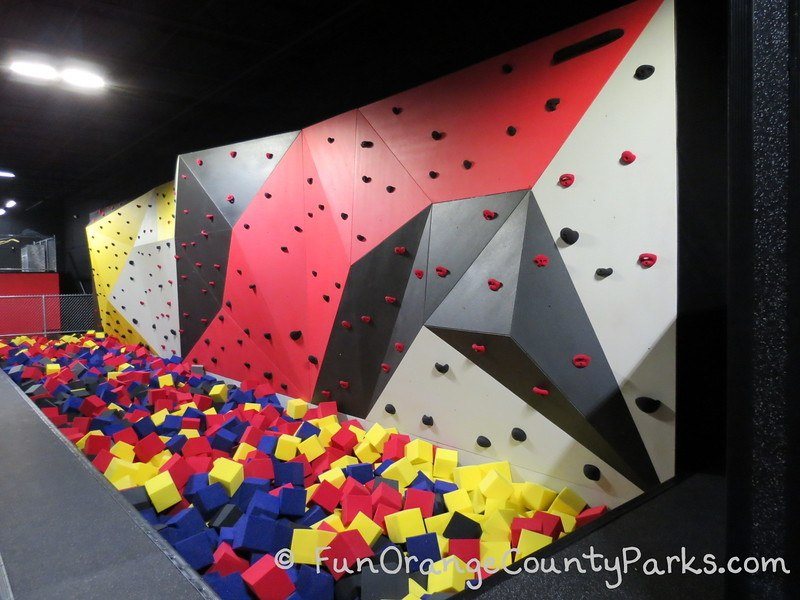 If your kids are fans of American Ninja Warrior, I predict they'll go nuts for this place. I immediately thought of all the different kids I know who happen to be high energy and agile, naturally do parkour, or are just athletically inclined. But swinging, jumping, climbing, playing dodgeball, air dunking, attempting obstacle courses and riding ziplines are fun even if you're not extremely athletic.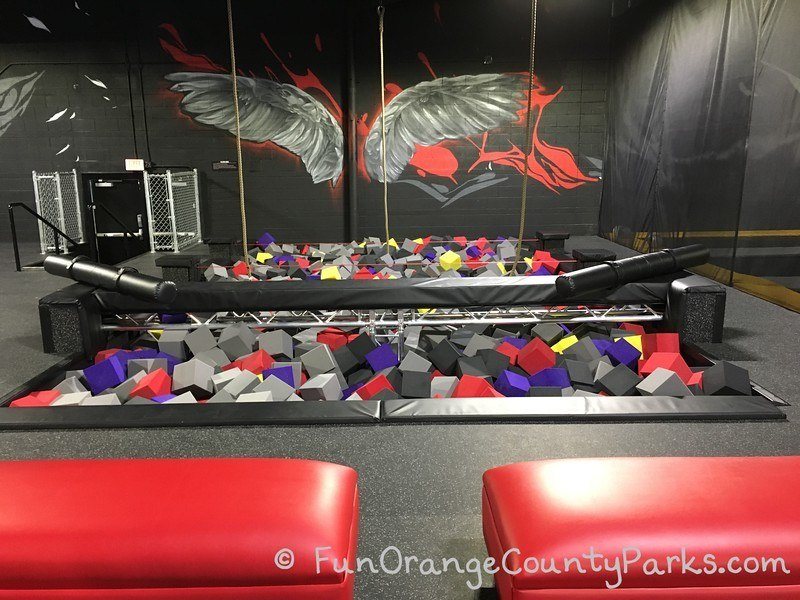 The Basics
Always default to their website for OFFICIAL information. The following "Basics" are my take on how it all works. How I might explain it to a friend . . .
You will need to sign a waiver (duh!) and everyone gets a safety talk before they enter the arena. Waivers can be filled out ahead of time online. You can read the safety information and watch a safety video ahead of time online, too.
For safety, you will need to buy their required Grip Socks for $3 on your first visit – and then you can just remember to bring on subsequent visits
Ticketing is based on time and the time period is called a "Flight." For instance, you can get a "60 Minute Flight Ticket" or a "90 Minute Flight Ticket." And then you can add additional 60 minute chunks. I feel like it's somewhat comparable to the system when you are bowling.
You can "walk-in" — but they recommend buying Flight Tickets in advance online so you don't have to wait. Also, Flights can sell out.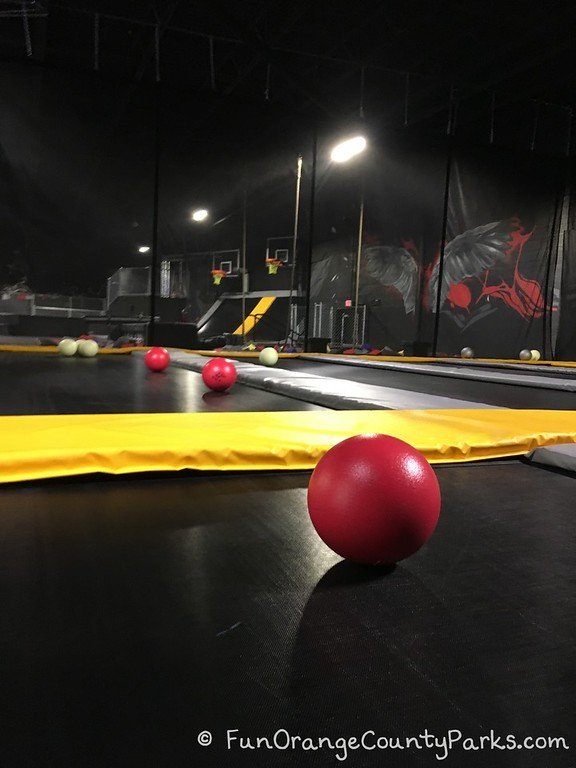 The entire play space is called The Arena and once you gain entrance you have access to the entire arena.
The Flight Crew wear referee-style black & white shirts. They are the staff that are there to keep things safe. Probably a good idea to instruct your kids to "listen to the Flight Crew."
A new Flight opens every 1/2 hour — and you should make sure you arrive 15 minutes before that so you are ready to go when your time starts. When you buy your Flight Ticket, you get color-coded wrist bands to signify when your Flight ends. An announcement will come over the loudspeaker saying something like "Green Flight ends now, please exit the Arena." At which point, you exit the Arena to either leave or buy more time and get a new color-coded wristband.
Parents must accompany children 13 and under – and remain on site. But what are you supposed to do? Do you have to pay? If you are going to jump and participate, you need to buy your own grip socks and pay to play. If you are just there to supervise, you can be on the Arena floor, but you MUST have a waiver confirmed and you'll get a special "Observer Wristband." Otherwise, you can hang out in the lobby which sits a half level below the Arena floor or up on the mezzanine which boasts a view of the whole arena with couches and desks with barstools.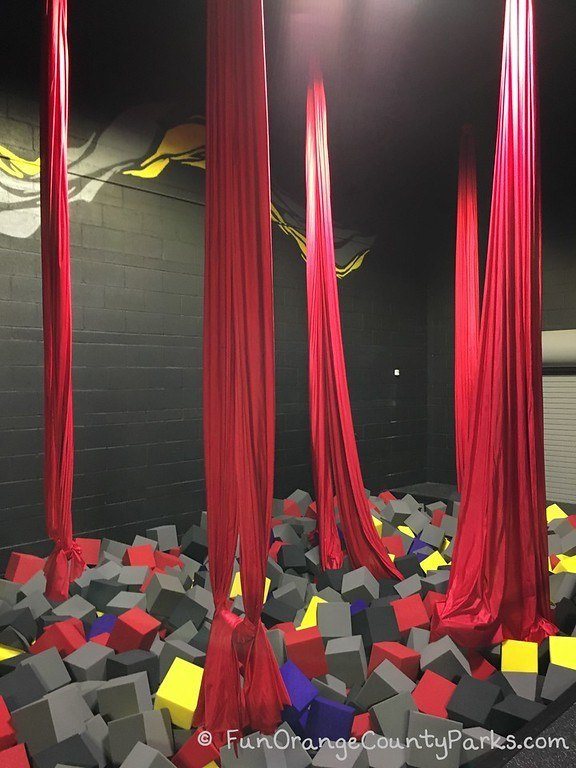 Pricing starts at $13 for the 6 & Unders — and $17 for the 7 & Overs. Weekday Monday through Thursday prices for additional hours are less than the weekend Friday through Sunday prices. That first hour pricing is the same no matter what day you go, unless there is a special activity block.
Special activities are blocks of time reserved for certain groups. For instance, KidJump is every day from 9am-10am (excluding Thursdays and Sundays). And ClubTrix is on Fridays and Saturdays from 9pm-Midnight only for 15 and over. FamilyNights are Mondays from 6pm-9pm. See their Activities page for details.
There are lockers to keep your shoes, phones, belts, keys, or anything sharp you might have in your pockets. No jewelry.
TONS of birthday party options with 3 party rooms (bring your own food), and a larger lounge area upstairs where you can view the whole arena.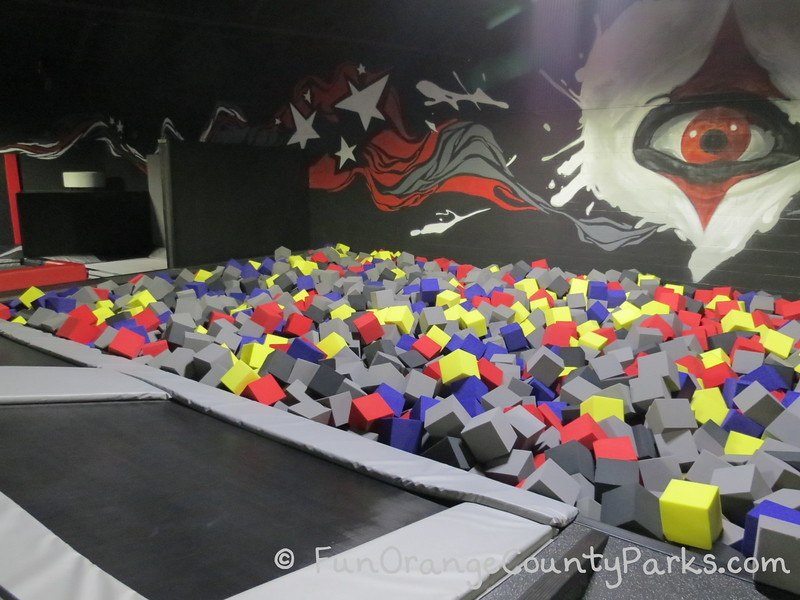 Location: It's located off I-5 in Mission Viejo, between the La Paz and Oso Parkway exits. I know this area as "The Pit" and it's where the old Borders bookstore used to be. It sits below the freeway near Toys R Us and Cost Plus World Market. There is only one way in and out of "The Pit" and that's taking Cabot Road and turning onto El Paseo. Drive all the way past Krispy Kreme Donuts, past Bed Bath Beyond, and past all the other retail until you dead-end into Circus Trix. (Address: 25222 El Paseo Road, Mission Viejo, CA 92691) MAP TO CIRCUS TRIX OC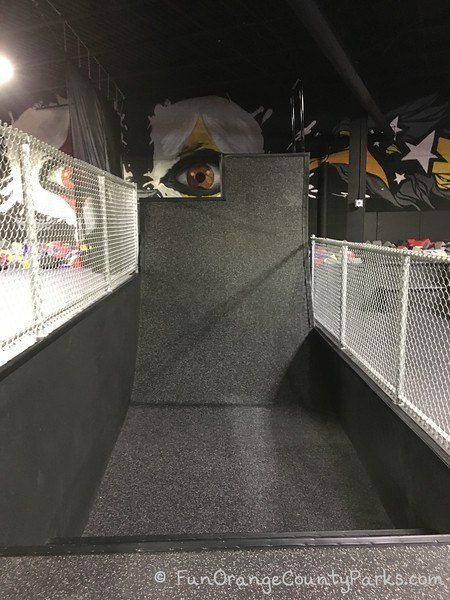 Highlights:
In talking to my friends on the management team – their top priorities are safety and keeping things sanitary. They have a rigorous cleaning schedule. I'll give you a brief overview of the different Activity stations, but I think the photos speak for themselves. There's so much and I feel like you just have to see it and experience it to figure it all out.
Free Jump – Trampolines
The Cage – extreme dodgeball court
Air Dunk – basketball
Slacklines and Jousting – different degrees of difficulty
Spiderwebs – aerials on silks
X-Swing – swing over and land in the foam pit
Flybar – trapeze bar
Zipline – long track over foam pit
Air Mat and Long Trampoline – superior gymnastics style flooring for long runs with obstacles for vaulting into foam pit
Warped Wall – run to conquer the wall and climb over into the foam pit
Launch Pad – jump from a platform, land on a trampoline, and launch yourself into foam pit
Super Tramps – for tricks where you walk up the padded wall and land on your back to bounce back up (you kinda have to see it!)
Parkour Course – area separated from the rest of the arena where you can set obstacles for yourself
Ninja Obstacle Course – a super tough course that takes you on a loop – out and back – of obstacles to navigate over a foam pit
Climbing Wall – where the wall is color-coded for difficulty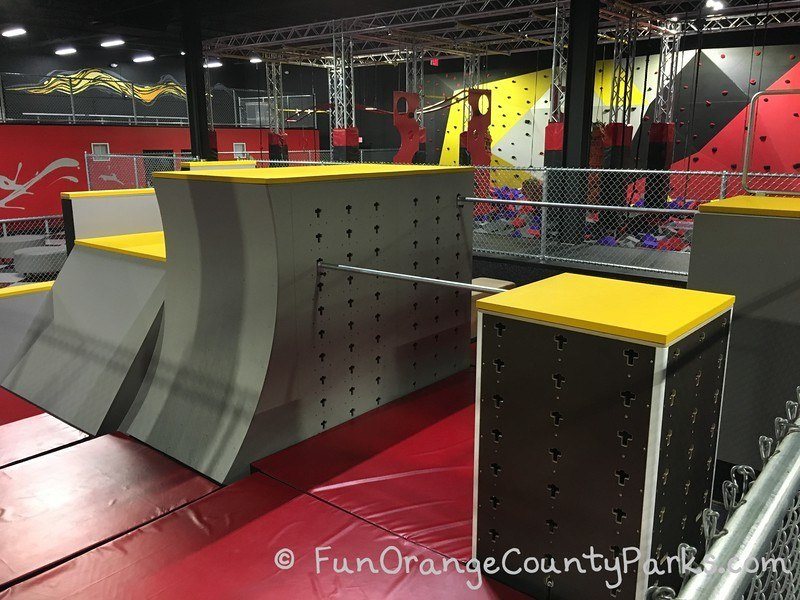 Deals and Discounts
FamilyNight is probably the best deal for the whole family to come
Ask them to find out how you can get a small discount if you share on social media with their #circustrixsoc hashtag (remember, trix with an "x" because spelling matters in hashtags!)
Group discounts for homeschool groups, field trips, corporate team events, etc.
Again, consult the OFFICIAL Circus Trix OC website for details and discounts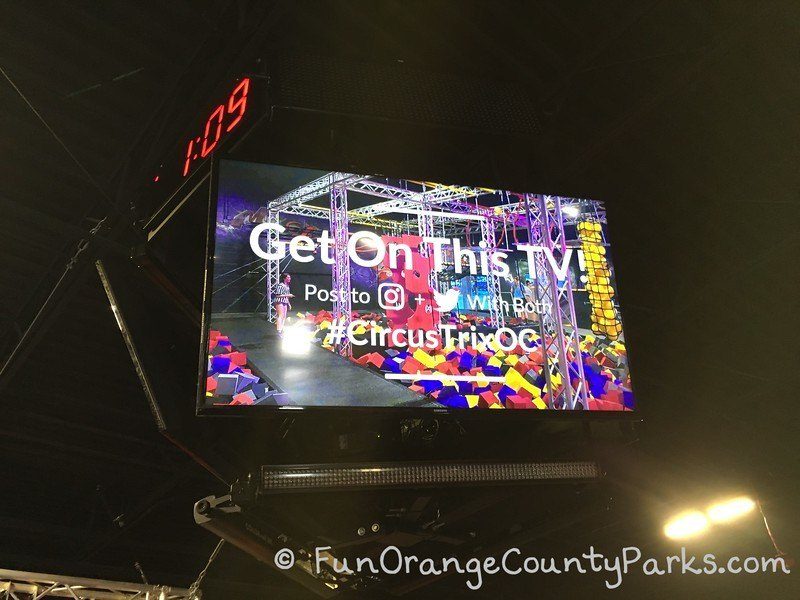 Disclosure: Again, part of the management team, are friends of mine. But, of course, all opinions are my own. Read my full disclosure policy.