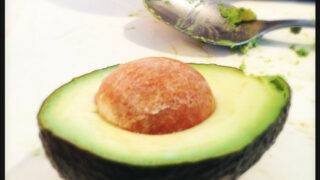 This easy guacamole recipe for kids to help cook isn't really actually cooked, but more like for kids to help "prepare."
I'm spoiled with the abundance of avocados at my California farmers markets and local produce stores. I grew up playing in avocado trees and snacking on guacamole.
It's my nephew's absolute favorite snack. Yet, somehow it still feels exotic and special.
Restaurants charge $10+ and serve it up tableside! Did you know that 71.4 million pounds of avocados were consumed on Superbowl Sunday? I didn't realize it was such a "thing."
Even though it's a splurge when you go to get restaurant guacamole, you can make it at home pretty easily as long as you can get your hands on some good avocados.
How Do I Make My Own Guacamole?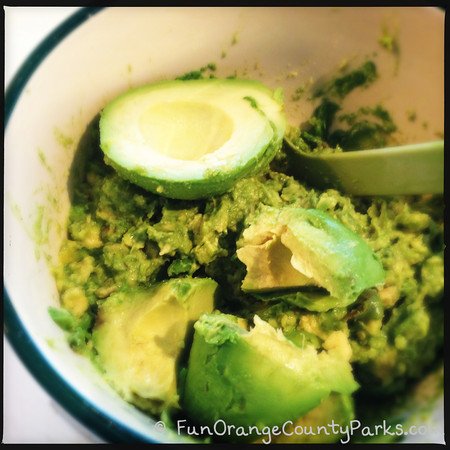 I want to share my easy guacamole recipe with salsa. I have to admit right off that this is NOT an authentic guacamole recipe. This is just one of many recipes that bring me closer to my Mom — and connects me to all the memories of time spent in the kitchen with her. I'm so happy to make things for my kids that she made for me.
Where to buy avocados?
Hass are my favorite avocados for guacamole. I've also tried Reed avocados available at my local farmers market, but I still prefer Hass.
Farmers Market — a trick is to buy a few that are ripe today and a few that will ripen in a couple of days. The best part is that the farmer is there to pick for you!
Costco has some really good avocados sold in netted bags, but only if they are almost ripe. I've bought the ones that are green and it takes them too long to ripen.
Trader Joe's (4 per bag hanging by the chips at my store)
Sprouts often has discounts if you buy more than one avocado
Ripe avocados are almost black or a black-brown. Unripened avocados are green.
Can I buy guacamole already made?
The short answer is "yes." But you'll be missing out on the "cooking with kids" concept and I always find the flavors are a little off — either there is too much filler with sour cream to make it softer or it's a little sour from too much citrus. When you make guacamole from scratch, you really taste the avocado more than anything. And I love having chunks of avocado.
The only one I might recommend would be Trader Joe's Avocado's Number Guacamole in a flat square tray. It boasts 5 avocados in each package and I can spice it up to my liking.
What chips are best with guacamole?
My kids like Corn Dippers or Frito's Scoops which are just super thick corn chips. I prefer restaurant style tortilla chips that are salted. I don't salt my guacamole very much because I count on the salt from the chip to round out the flavor.
Easy Guacamole Recipe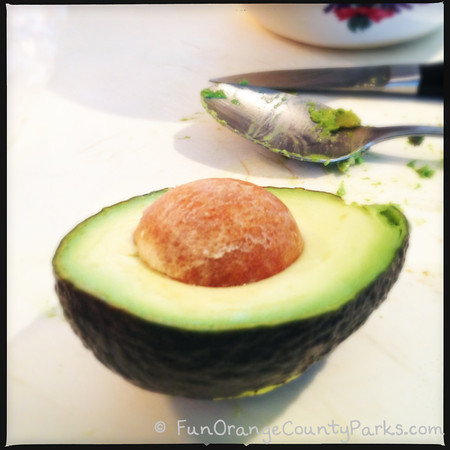 An easy recipe to make with the kids. I'm not including amounts for ingredients, because you will flavor it to your own taste.
Ingredients
Hass avocados
Best Foods mayo - to make it creamy
Chipotle Tabasco
Your favorite salsa (I like fire-roasted restaurant style varieties, but you can even use pico de gallo)
Lawry's garlic salt
Instructions
Cut avocados in half lengthwise. Remove the skin or scoop the avocado out of the skin.
Put avocados in a bowl and mash with a fork.
Add a spoonful of mayo, a dash of Tabasco, a couple of spoonfuls of your favorite salsa (some people like to use lime to keep the guacamole green, but I find that the salsa does the same trick). Finally add a few dashes of garlic salt.
Mix and serve with your favorite tortilla chips or Mexican food dish.
How long will guacamole last? And how do I make guacamole last longer?
If possible, plan to eat it in one sitting without leftovers. Avocados are tricky to keep fresh and it honestly tastes best right after its made.
If you MUST save it, I would only say it's good the following day. I've found the best luck by covering the dish with plastic wrap, but making sure the plastic wrap is touching the guacamole with no air in between. Then, when I pull off the top layer, any browned bits come off and I'm left with green guacamole.
What do you eat guacamole with?
Corn chips or tortilla chips. I'm a little bit of a purist here. That's the flavor combo I like.
Mashed avocado does NOT equal guacamole, but if you've bought your avocados in bulk and need other avocado recipe ideas . . .
Make bacon, lettuce, tomato and avocado sandwiches on sourdough
Grab a spoon and eat them right out of the skin (with lemon pepper)
Put avocados in salads
I like to serve omelettes with avocado and tomato slices on the side
Mash them up and put them on a turkey sandwich – or use them as a spread for wraps
Slice or mash them up and spread on a toasted bagel with lemon pepper (my favorite!)
More Avocado Recipes
My go-to recipe site is Jenny Flake at PickyPalate.com
There is a Hass Avocado Board website with all sorts of insider tips on Guacamole and avocados.
Why is there a guacamole recipe on a park website?
Because more than anything, this website is about spending quality time with family — whether its outdoors or in the kitchen. When my kids help me cook – it brings so much joy to family meal times or snack times. That's why you'll see "Cooking Love" as one of my categories so there's more time to play!