If you drove by a Volunteer Fire Company and saw that their fire truck was for sale for $18,000 — would you buy it? I might.
After you bought it, would you pour more than 5 times it's value into it to create a "green" mobile pizza-making machine? I couldn't have dreamed that up.
Pizza chef, Christopher Owens already owned a popular pizza restaurant – Pizzetta – in Mystic, Connecticut so it wasn't a big leap for him.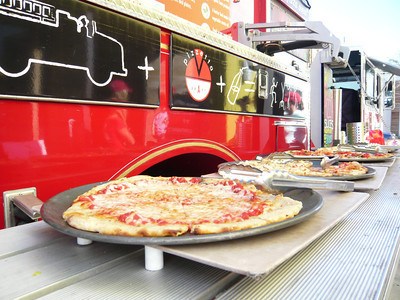 Company 77 Mobile Pizza Unit began as a side business to Pizzetta in 2008. After spotting that truck for sale, Christopher spent some time circling the truck, figuring out if there was a way to make his new vision–a pizza-making fire truck–a reality. In addition to being proprietor of several pizza restaurants, Christopher also spent the last couple of decades restoring old lighthouses, Victorian houses and sailboats. So, if anyone had the skills and imagination to make the transformation, it was Christopher.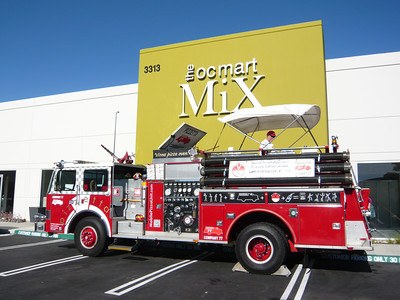 He took the plunge in July 2008 and started to pull 17-hour days dismantling the truck and rebuilding it into what it is today. The work to transform Company 77's fire truck was done in a boatyard in Mystic. There, Christopher was able to use devices designed to lift boats in and out of the water to remove pieces from the truck and place heavy kitchen equipment in the truck. The fire truck color is red, but the "green" features are a bio-diesel-fueled engine, a solar powered electric system and a biodegradable waste stream.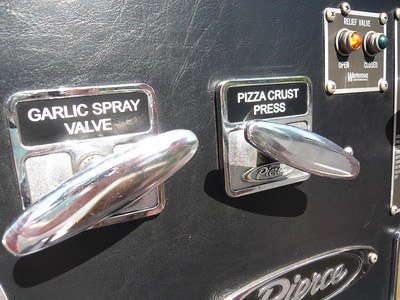 The truck is an ever-evolving playful project that, in addition to a full pizza kitchen, currently has a full sound system and video monitor, a photo booth, keg hook ups, a ladder shelf for food distribution, real fireman garb for kids (and adults) to wear, lots of custom knobs to play with, and the friendliest pizza chef this side of the Rockies. The truck even has a roof mounted water cannon to cool off the kids on a hot afternoon! (I wish I got to see that cannon in action!)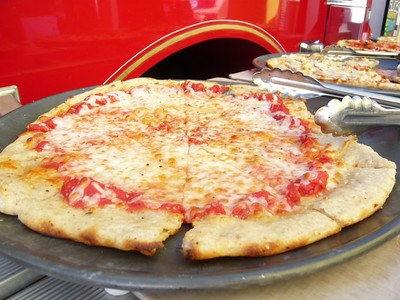 Christopher is all about community. Charities he's worked with include the March of Dimes, Big Brothers/Big Sisters, and Make-a-Wish Foundation. In addition to corporate and private events, he's looking forward to working with area schools on fundraising events to help in the wake of state budget cuts. We are lucky to have him in our community now.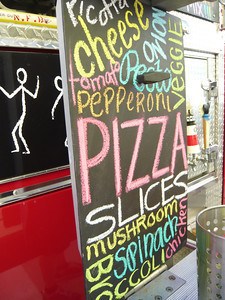 What about the pizza? I loved it. You know when you have something really fresh and good – and then you crave it afterwards? That's how I'm feeling. The crust is crispy on the bottom and light on top. I could taste that all the ingredients were fresh. They came out onto the ladder tray hot, and often. My son liked the Buffalo Chicken Pizza and I got a taste of a gourmet veggie with artichoke hearts. Christopher offers vegetarian versions and gluten free crust upon request.
Learn more on their Company77.com website or find Pizzetta Company 77 Mobile Pizza Unit on Facebook.
Disclosure: My family received complimentary slices of pizza at the media event. As always, just reporting my honest impressions.