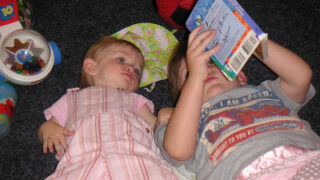 If you're like me, I get fixed on the easiest way to get content from my favorite blogs and websites. Just wanted to let you know your options, since a few of them are new:
E-mail

(NEW!)

– There's a box underneath the sponsors where you can enter your e-mail address and Feedburner will send each new post directly to your e-mail inbox. You will get a little teaser and if you want to read the complete post, you just need to click on the hyperlinked title.
Kindle Subscription

(NEW!)

– Just search for Fun Orange County Parks Blog and read it like an online magazine. All the pretty photos don't show up, though. It'll cost you $1.99/month, but you can get a 14-day trial for free.
Subscribe in your Reader (RSS) – See that little orange icon up in the top right corner of the page. Press that button to get a subscription to the RSS feed in your reader. If you have NO idea what I'm talking about — here's a great tutorial about how to set up a reader and subscribe to RSS feeds.
Facebook News Feed – If you're already on Facebook, this is a fun one. I like to give little tidbits of info to introduce posts and link to other websites of interest. Even if you're not signed up with Facebook, you can still see our Facebook page by going to: https://facebook.com/OCPlayParks. You can also see what other readers are saying about the posts.
Bookmark Us – Easy, huh? Just bookmark the site and come back to visit often. I'd also recommend bookmarking the playground map so you can search the map when you're traveling to a specific location.
Mobile Version – We have our site optimized for viewing on smart phones. Of course, the videos don't always show up and it's not as pretty, but at least you can do a search and learn more about a park while you're out.
Play Trips Newsletter

(NEW!)

– Only one edition of the Play Trips Newsletter has gone out so far, but it was fun to create and I hope to convey more unique content over the coming months. I'm thinking summertime will be a great time to send you more detailed coverage and ideas. Just sign up for our mailing list in the sidebar where it says "Sign Up for Our Newsletter." You'll probably receive TOO FEW rather than too many newsletters from us. You can always unsubscribe if you get annoyed.
Have fun and play often!