Irvine Park Railroad is located inside of Irvine Regional Park in the foothills of Orange, California. A few days ago was the first time I've visited the park in October. It's the 7th year they've offered their pumpkin patch attraction inside the "Locomotive Loop." It's a restricted area most of the year, so it's a special treat just to go inside the normally off-limits area.
Visit OCParks.com for official information about admission to regional parks. At Irvine Regional Park, it's $3 weekdays and $5 weekends – more on holidays. If you don't have an annual pass, you should. The pumpkin patch is open 10am-5pm on weekdays and 10am-6pm on weekends.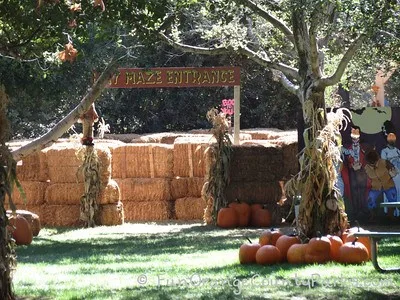 There are pumpkins of all sizes grouped around the oak trees and sycamores. The cost is anywhere from $5-$22, depending on the size chosen. Tickets for the booths and train are $4 each or buy a pack of 15 for $50 (which is a $10 savings).
FREE:
Free admission into the patch.
Walk around inside the Locomotive Loop.
Navigate through the Giant Hay Bale Maze.
Explore the spooky Haunted Hotel.
Take your own photos of the kids among the pumpkins or behind the photo stands.
Little ones can play pretend cowboy on hay bale horses with saddles.
Measure up besides the "How Tall This Fall" stand.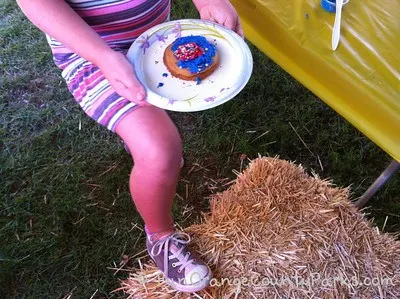 ONE TICKET:
Train ride – the tunnel is decorated with black light so wear white to "glow"
Hay ride – a shiny green tractor pulls a trailer with hay bales around the park road
Halloween bounce house jumper – kids get 10 jumping minutes
Cookie decorating – freshly-baked cookies (read allergy notice at the booth)
Carnival games
John Deere tractor racers – for 5-8 year olds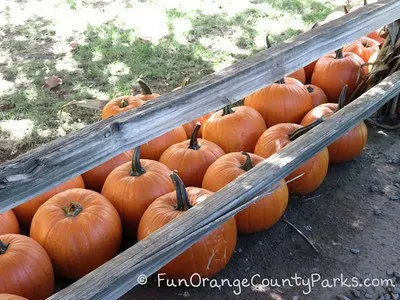 TWO TICKETS:
Face painting (weekends only)
Panning for gold (5 minutes of panning)
Additional Cash:
Snack bar
Gift shop trinkets
Custom professional photos
Purchase pumpkins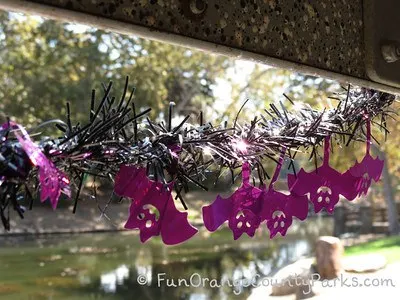 Purchased separately:
Entrance into Irvine Regional Park ($3-$5)
Pony rides
Orange County Zoo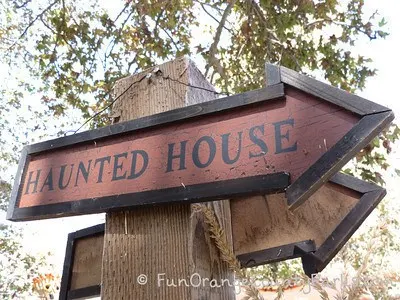 Special 2012 tips:
Arrive early! Lines to enter the park can be long on busy special event weekends.
I've had a burger at the snack bar and it was really good! I was pleasantly surprised.
Buy tickets near the snack bar.
Cookie decorating and the Halloween bounce house are in the lawn area near the snack bar. There are also many picnic tables to enjoy a meal in the shade under patio covers or sycamore trees.
Restrooms are outside the main railroad area in a small red building in the back corner of the parking lot – near the reserved party area.
It's easy to walk to the OC Zoo, Wheel Fun Rentals, Nature Center and lake from here. As you take the train ride, you can check out the lay of the land and figure out your route back to the lake. There's even a small playground on the way! (Stroller-friendly paths.)
I thought it was going to be unbearably hot with this extended heatwave, but there was plenty of shade and it was fine from 10am-Noon.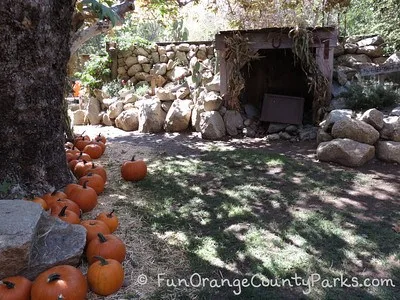 Check the Irvine Park Railroad Pumpkin Patch page and website for coupons and their Facebook, Twitter and Flickr links.
*Our family received complimentary admission while researching this post. Irvine Park Railroad did not state any requirements that I express a particular point of view. Link here to full disclosure policy.