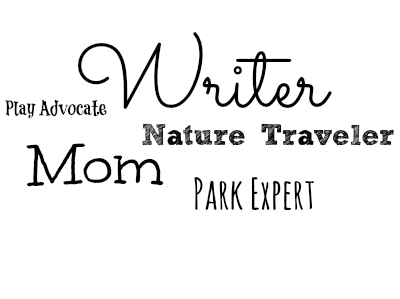 I'm mainstreaming nature for families
by sharing play trips, park tips and nature travel ideas.

My mission: Empower families to prioritize nature and play time.
Writer. 
I like to share. Probably a little too much. If you run into me at a park, I'd most likely quiz you on what you like in a play experience with your kids and then I'd start brainstorming with you about play trips that are "musts" for an OC childhood!  Or, if I'm hungry, I might start chatting up a local restaurant I know that bakes up cinnamon rolls and serves them right in a mini cast-iron skillet with whipped cream dripping over the side. Have you tried that place? Oh! You MUST try that place.
See, I can go on and on. It's the simple things that get me excited. 
Pretty soon, I'll have a book of The Best of Orange County Play Trips and Park Tips so you can carry around my 6+ years of park knowledge.  If you can't wait for that, you might see my writing pop up elsewhere on the web or in the family section of the OC Register or OC Register Family Magazine.
Nature Traveler.
Or, you might catch snippets of some of my travel writing about hotels and restaurants and places to go and camping. You'll know my stuff, because I always write with families in mind – because families travel quite a bit differently. Don't we?
After I'm done blathering about local play trips, then I'll start sharing my lists like the Best Mexican Food Restaurants for Families Visiting California (Trekaroo.com) or maybe I'll share about a family hotel find in Arizona. Books are on the way in this category, too. My "First Time Family Trips" book series about family nature travel will debut with nitty-gritty specifics and resources for a first family trip to Yellowstone National Park, followed by one on Alaska.
Mom.
I'm a mom. So, I just get it.
I get how there's no time for PLANNING and how I can make it easier for you to head to fun stuff by telling you EXACTLY what to expect.
I hope I make you braver to try new things and take your kids new places because you trust me to give you the real scoop.
Play Advocate & Park Expert.
I told you I like lists – so here's one for ya. To sum it up:  I've been doing this for a while, I'm truly dedicated to play as a cause, and some people have noticed.

After all my talking, you might think I sound like I know what I'm doing and want to hire me for speaking, design, content marketing – or plain old freelance writing. Learn more on SmartMichele.com.
See! I share way too much.
OCPlayParks@gmail (dot) com
Mailing Address:
Play Parks Creative LLC
c/o Michele Whiteaker
P.O. Box 52451
Irvine, CA 92619-2451
949-466-3959
Photographs available for purchase by digital download on Play Parks Creative Photography. Email me if you are searching for a specific photo.
Download Media Kit
High res. images available upon request